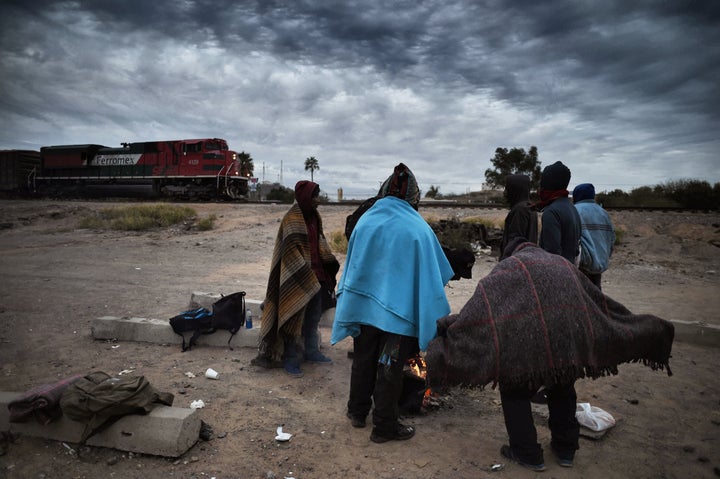 "They put a knife on my neck, so I did not resist," said a refugee woman from Honduras, describing her alleged abduction and rape en route to North America. "I am ashamed to say this, but I think it would have been better if they had killed me." 
The unnamed 35-year-old was attempting to reach Mexico for the fourth time when she was seized by "a group of delinquents" aided by federal police, she told Doctors Without Borders, also known as Médecins Sans Frontières. They handed her over to gang members, who abused her, she said.
These kinds of stories are "painfully normal," MSF's U.S. executive director, Jason Cone, said Thursday at a press event to launch the group's latest report.
Hundreds of thousands of people cross into Mexico each year, according to the United Nations, many of whom are headed toward the U.S. from El Salvador, Honduras and Guatemala, a group of countries known as the Northern Triangle of Central America. 
Canada, meanwhile, has also become a common destination for asylum seekers fleeing through Mexico from the NTCA and other crisis-afflicted regions of the world. Canadian immigration officials have observed a recent surge of asylum claims and illegal border crossings from the U.S. 
"For millions of people from the NTCA region, trauma, fear and horrific violence are dominant facets of daily life," MSF reports. "Yet it is a reality that does not end with their forced flight to Mexico."
The humanitarian medical organization spent two years gathering information and interviewing hundreds of migrants and refugees to document how people fleeing danger and violence in the NTCA are "re-victimized" along the northern transit route.
The findings were grim. Sixty-eight percent said they had been victims of violence in Mexico, and almost one-third of the women reported being sexually abused. Their assailants allegedly included gang members and members of the Mexican security forces, migrants told MSF. 
"Many of those making their way to Mexico through the Northern Triangle have been terrorized," Cone said. "We need measures to protect these people, not push them into the arms of people who are smuggling them."
But the U.S. and Mexico's heightened immigration enforcement, including the use of detention and deportation, threatens do just that, MSF warns in its report.
Despite the extreme levels of violence and homicide in El Salvador, Honduras and Guatemala, the number of related asylum grants in the U.S. and Mexico remains low. Last year, the Mexican government deported 141,990 people originally from the NTCA.
"This is an overwhelming crisis. It requires not only for the Mexican government to adhere to its own laws and international laws, but for the U.S. and Canadian government to be partners to the solution," Cone said Thursday. "No person should be sent back to a country where they fear persecution or death." 
Calling all HuffPost superfans!
Sign up for membership to become a founding member and help shape HuffPost's next chapter