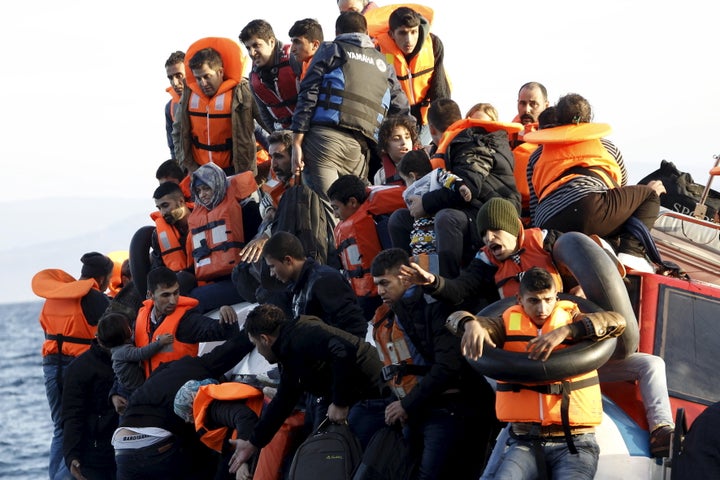 You can see it in new state primary polls: He's lapping the rest of the GOP presidential field in several of them. In the crucial New Hampshire contest, you can see it in the poll numbers and hear it in the political chatter.
Any doubt that Trump could take the Granite State in February is fading in the aftermath of the Paris terror attacks, locals say.
"I think Trump is going to win the Republican primary," predicated Rep. Ann McLane Kuster, a Democrat but one with Republican family roots and a keen sense of where the middle lies in New Hampshire.
In another telling sign, Gov. Maggie Hassan has become the only Democratic state chief executive to support a total "freeze" on the admission of Syrian refugees into the United States. Hassan, not coincidentally, is running for a seat in the U.S. Senate next year.
Fellow state Democrats were not publicly pleased with Hassan, to say the least, but privately said they understood the move.
"What she is doing is undemocratic and it isn't even factually valid," said a prominent local Democrat, who declined to be quoted. "The vetting process in place now [for refugees] is very strict."
"But I get what she is doing," this person said. "She is meeting the voters where they are, and where they are is very afraid."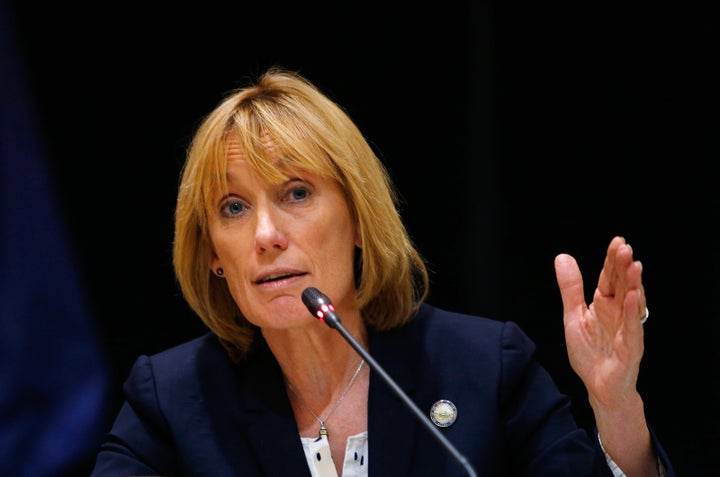 How New Hampshire views the world matters to the world: The small New England state is a swing vote in U.S. presidential elections. Its first-in-the-nation primary often is key to deciding each party's ultimate nominee. And its Senate race, pitting Hassan against incumbent Republican Sen. Kelly Ayotte, could determine which party writes congressional legislation, no matter who wins the White House.
New Hampshirites say the Paris attacks have turned up the volume on what was already a loud message of disgust and impatience with the outside world: with immigrants of all kinds entering the U.S., with Chinese manufacturers flooding the U.S. with cheap exports, with Middle East terrorists.
If there is a sound track in U.S. and European politics today, it could easily be the mournful old Nashville standard "Make the World Go Away."
Trump, more than any other American presidential contender this year, has staked his candidacy on playing the full medley of fears of the world. Now he's leading the way in conflating how to handle Syrian refugees with how to fight Islamic State militants.
Even GOP politicians who view themselves as fully engaged in the world are, in their own way, rank isolationists. Their impulse at this point is not only to destroy the extremist group that many call Daesh, but to somehow erase its militant message from the minds of millions.
Politics in New Hampshire is moving in the direction of fear and simplistic answers, said Joe McQuaid, publisher of the Union Leader, the state's largest newspaper and leading local news site.
"Paris is playing right into it, and Trump was there first," he said.
McQuaid is a conservative stalwart, but one who believes "we should elect someone with experience." He is no fan of Trump's. The aftermath of last week's terror "means I have to work harder to find someone who can beat him," said McQuaid.
But the people he is looking at are, for the most part, racing as fast as they can to match, if not outdo, Trump's rhetoric.
That includes former Florida Gov. Jeb Bush, who is scheduled to stop by the Union Leader's headquarters in Manchester on Thursday. The supposedly thoughtful and rather establishment-oriented Bush said the other day that the U.S. government should continue to admit Syrian refugees, but only if they're "clearly" not terrorists. He suggested letting in orphans and Christians.
In an op-ed Wednesday morning in the Union-Leader, Hassan defended her call for a complete freeze until the U.S. government can "ensure robust refugee screening."
"This should be a temporary measure," she wrote. "The federal government can and must work in a timely fashion to conduct a thorough re-evaluation of every step in the screening process, including ensuring proper resources for departments responsible for carrying out these screenings."
In fact, the State Department and the Department of Homeland Security vet refugees. There's a move in Congress now to add the FBI to that process.
Any such bill is sure to pass overwhelmingly -- and may be only the beginning.
Calling all HuffPost superfans!
Sign up for membership to become a founding member and help shape HuffPost's next chapter