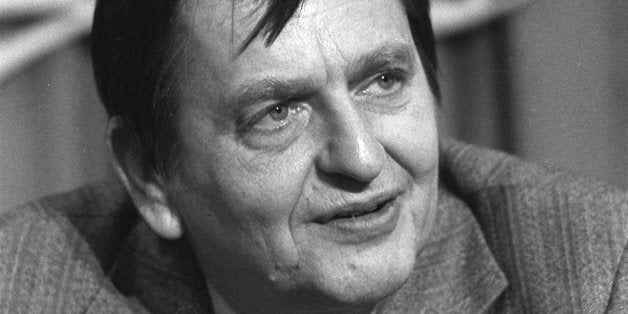 ATHENS, Greece -- Some decades ago, I was walking through the streets of old Stockholm when my family was living in exile. I turned to a passerby to ask directions to a small coffee shop I was looking for. The passerby greeted me with a hearty and helpful hello. To my surprise, he was Olof Palme, the prime minister of Sweden, who was returning from the local supermarket with his wife Lisbet.
"Hey, Yorgos, where are you going?" he asked me.
After helping his wife Lisbet drop off the shopping bags at their doorstep, he then showed me the way to the cafe and sat to chat while sharing a beer with a group of fellow Greeks then living in Sweden. He left alone, walking home without bodyguards. His simplicity and accessibility may today seem naïve and dangerous for such a high-profile politician. Indeed, he was assassinated 30 years ago this week, strolling alone with Lisbet on the way home from the cinema.
Olof's life stance was a conscious choice. It epitomized his vision of a society of equality, democracy and non-violence. Peace was one of the many causes he championed throughout his political career.
He came to know me as a refugee in Sweden. Our family, fleeing from the dictatorial regime of the Greek colonels in the late '60s, found both refuge and warm support from the Swedish people and its progressive governments. When our dictators called us terrorists, the Swedish government replied that we were fighting for our lost freedoms. I will always be grateful for this welcome.
'Don't forget that when we open our arms to the persecuted of the world we not only make permanent friends, we not only enrich our own culture, but we also help change the fate of these countries under authoritarian rule.'
For me, as for so many other refugees I met in those days from Eastern Europe, Latin America and South Africa, it was a time of learning. Our vision and our fight for better societies was no illusion, and our lives in Sweden proved that there were alternatives. It became a deep conviction that our countries need not suffer from authoritarianism, injustices, corruption and clientelism. Democracy, social justice, human rights and transparency could go hand in hand with prosperity, competitiveness and creativity.
Olof Palme remembered me when he campaigned to become prime minister in 1982. By then I had returned to a newborn democracy in Greece and had just been elected to the Greek Parliament. He asked me to join his campaign. I stood by his side as he spoke to neighborhood gatherings in Stockholm about the importance of Sweden's refugee policy.
"Don't forget," he would say, "that when we open our arms to the persecuted of the world we not only make permanent friends, we not only enrich our own culture, but we also help change the fate of these countries under authoritarian rule."
In his speeches, he would recall Willy Brandt, former chancellor of Germany, Bruno Kreisky, former chancellor of Austria and Oliver Tambo, former president of Nelson Mandela's African National Congress, all of whom had sought refuge and found support in one form or another in the Nordic countries. He would then call on me to speak about my experience as a refugee, in the language of my adopted country, Swedish. The event would always conclude with the songs of Mikis Theodorakis in Swedish by Finnish singer Arja Saijonmaa.
Could this spirit prevail in Europe today? Not all seeking refuge from the atrocities in Syria will be returning to their homeland. But many will.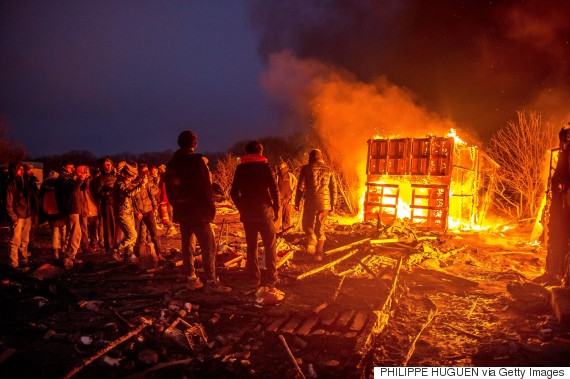 Migrants and refugees stand near a fire burning a shack in the southern part of the 'Jungle' camp in Calais, France, as part of the camp is dismantled. (PHILIPPE HUGUEN/AFP/Getty Images)
Europe has an historic opportunity, if not a duty, to develop a major plan for a sustainable Mideast where the exiled communities will play a critical role. Europe can, and must, utilize this opportunity to prepare and empower the return of so many who will be called upon to rebuild destroyed societies. Crucially, they will become the architects and engineers of new societies that can withstand the authoritarianism of dictators, fundamentalists and populists. It is they who will create accountable, transparent institutions that will protect diversity, unlock the potential of women and men and guarantee human rights while making effective and sustainable use of their natural resources.
This responsibility means we must reshape our narrative about the millions coming to Europe's shores. Certainly, it is no easy task to manage today's mass exodus. As a Greek, I am more than aware of the daily difficulties of this humanitarian crisis. But let's not lose this historic opportunity.
Just as Olof Palme invested in those of us who were refugees in an earlier era, so, too, we must invest in the Syrian families coming to Europe today. They will be the ones who one day will lead the Arab renaissance. We must ensure that they learn from Europe's history, its teachers, citizens, institutions and democratic practices, just as we did back in the 1960s. They must not only learn how Europe overcame ethnic cleansing, dictators, racism and intolerance in its past, but also witness how we are fighting against the rising scaremongering spreading across our countries today. They need to see that we Europeans are bold enough to challenge the ultra-nationalism and xenophobia arising anew, to stand up to all those in our countries that are trigger-happy and ready to exploit fear, hatred and insecurity -- those who want to build new walls and blind us to real solutions.
Collectively, we need to rally our resources and use this moment to teach and learn from each other. This is part and parcel of any concerted effort to build new societies in the Middle East.
To honor the best of the traditions of what the European Union can and must stand for would be the most fitting commemoration to a great leader -- Olof Palme -- who we remember this week.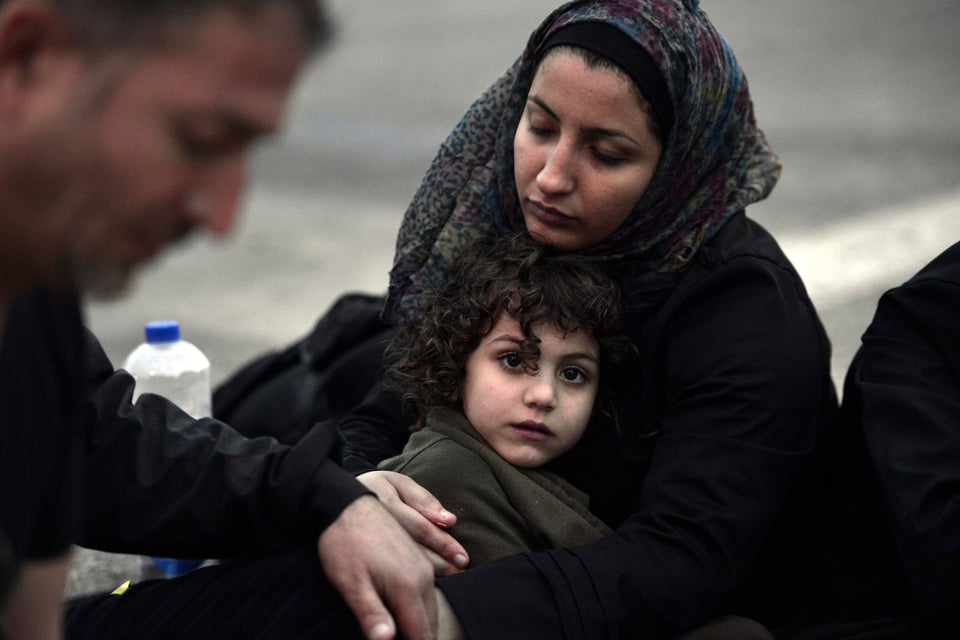 Heartbreaking Photos Of Migrants Arriving At Lesbos
Related
Popular in the Community