Angry refugees protested on Monday as bulldozers moved into the "Jungle" -- the makeshift refugee camp in Calais, France -- razing tent structures that housed hundreds of people. 
French authorities say the demolition is meant to discourage refugees from coming to Calais to attempt a perilous journey to Britain. It began peacefully, when a handful of public works employees started dismantling the southern part of the camp early Monday morning, pulling apart tents and other structures by hand and throwing away debris, AFP reported. Two anti-riot vans waited as police arrested one British activist, according to The Guardian.
But conflict began when police told refugees they had one hour to evacuate.
Riot police fired tear gas on about 150 protesters, causing some homes to burst into flames, British aid organization Help Refugees told The Guardian. Police used water cannons to put out the fires, the BBC reported. A video on Twitter showed refugees throwing rocks at police. 
Authorities finally decided to suspend operations at around 5 p.m. local time after arresting four people, La Voix Du Nord reported.
The French government has said that up to 1,000 people living in the area would need to be evacuated, but volunteer groups put the figure at 3,400. Authorities claim the move is a humanitarian one. "We will aim to protect refugees by continuing to mobilize all of the housing solutions already in place," France's interior minister, Bernard Cazeneuve, said Thursday.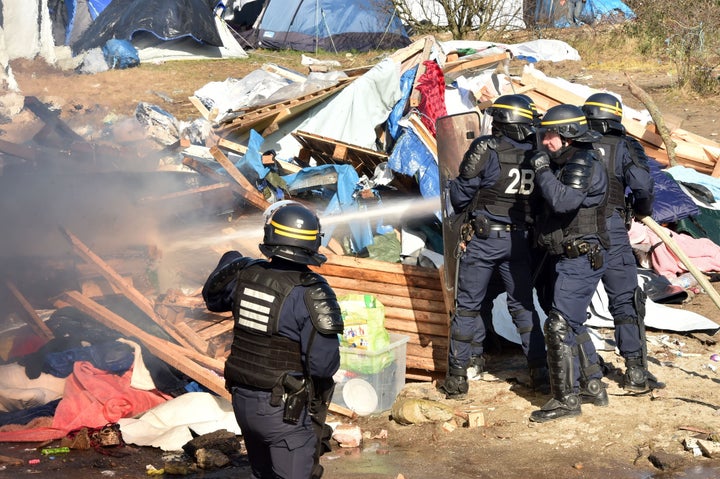 Although the Jungle has existed for years, its population swelled in 2015 as a result of the influx of refugees to Europe. The camp is strategically located near the entrance to the English Channel, which connects France to the U.K. Refugees squat in the "Jungle" as they attempt illegal crossings into Britain.
Now, refugees are stranded and left to choose between a series of difficult options.
"It will only serve to increase the feelings of despair, tension and levels of violence at the camp," Vickie Hawkins, executive director of Médecins Sans Frontières U.K., also known as Doctors Without Borders, told The WorldPost.
"They are very unhappy, they are nervous, they don't know what they're going to do," added Clare Moseley, founder of the Care4Calais charity.
The demolition is particularly risky for the Jungle's children, said Caroline Anning, a media manager at Save The Children. The portion of the camp slated to be torn down houses 400 unaccompanied children.
There aren't enough safe and suitable places for children to move into, Anning said, and a lack of communication means that children don't trust authorities and won't listen to advice about relocation options once they're kicked out.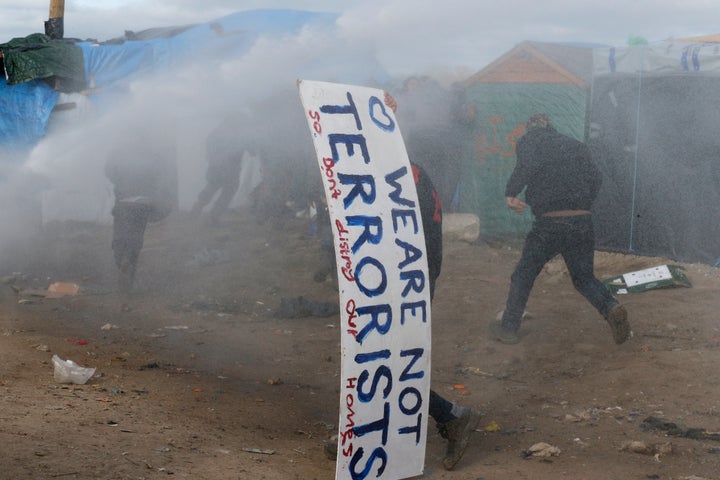 Refugees in the Jungle who are being displaced have the following options:
Option One: Welcome Centers
The French government has opened several "welcome centers" in small communities across the country, which currently house around 2,700 people -- most of them from the Jungle -- according to the Interior Ministry. Authorities have also installed provisional welcome centers near the Jungle where people live in heated containers and can access government services.
"They don't want to go to the [refugee welcome] centers around France because most people are in Calais for a reason," Moseley said, explaining that many refugees view the city as a temporary stop before reaching the U.K. Moving further away from the English Channel, she added, only detracts from their goal of reaching Britain.
Option Two: Grande-Synthe/Dunkirk Camp
In anticipation of the demolition, many people are considering or have already relocated to the Grande-Synthe camp just outside of Dunkirk, France, where conditions are infamously deplorable. But the more crowded it gets, the worse the quality of life becomes.
MSF has been working with Grande-Synthe's local government to build a new camp nearby that contains safer structures and more sanitation. But the new camp, which hasn't even opened yet, "has only enough capacity for people currently in the Grande-Synthe settlement, and will not be able to absorb new arrivals from Calais," Hawkins noted.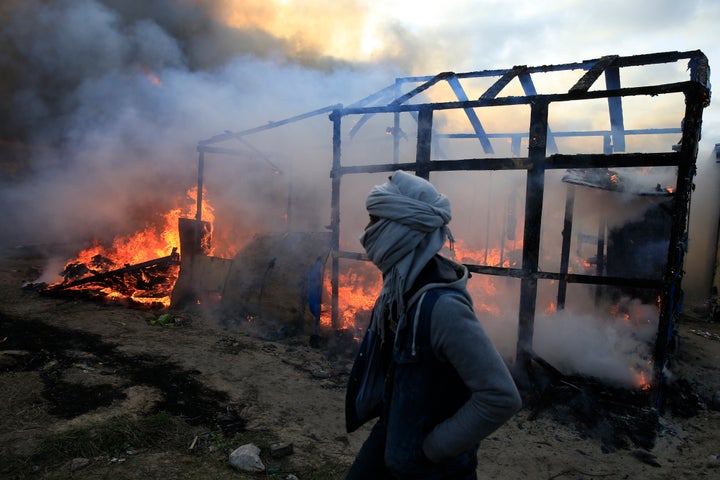 Option Three: Apply For Asylum In France
Some refugees who had been living in the Calais or Dunkirk camps decided to abandon the U.K. dream and apply for asylum in France. "But it's not a great option," Moseley said, "because the asylum acceptance rate is very low, 1 in 5."
Option Four: Keep Trying To Get To The U.K.
Since entry into the U.K. is illegal for refugees (Britain is not part of the Schengen Area, which allows free movement between E.U. countries), people living in camps in northern France enlist the help of smugglers to jump onto moving trains and trucks crossing the English Channel.
Many have given up on the endeavor after several people died attempting the perilous trip. But others are determined to make it work, one way or another, Hawkins said.
Meanwhile, unaccompanied children can legally join their family members in the U.K., but many of them don't have access to adequate legal advice.
"If an unaccompanied child has family members in the U.K., then they have the right to be reunified with that family member," Anning said. "But it's a quite complicated legal process -- you have to apply for asylum in France first, then in the U.K., but kids don't really understand it."
Calling all HuffPost superfans!
Sign up for membership to become a founding member and help shape HuffPost's next chapter
BEFORE YOU GO
PHOTO GALLERY
The Inhumane Conditions Inside Of A French Refugee Camp