But the rush to meet the target before Friday's deadline has created a surge of arrivals over the past few months. A huge influx of people in a short period has left the nine government-affiliated refugee resettlement agencies strained for resources. It means that refugees who have arrived in the past few months have received scant attention, are less likely to be placed in decent housing and have limited access to the only people they can call for help.
The new beginning in the place they're now supposed to call home is off to a rocky start.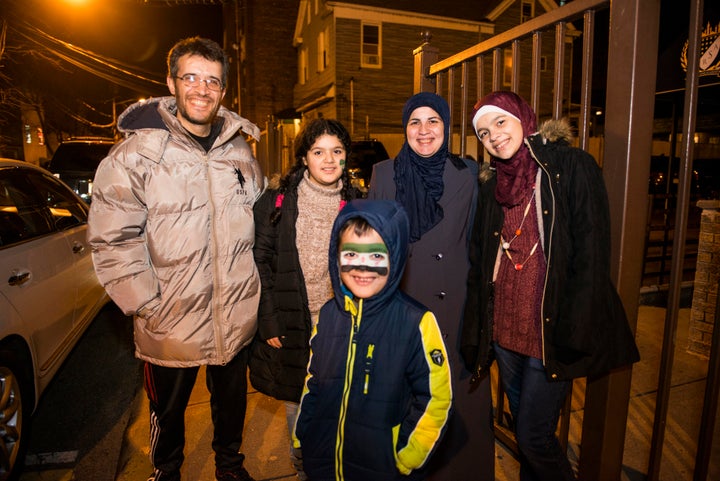 The settlement conditions were more or less satisfactory for the Darbi family, originally from Homs, Western Syria, when they arrived in America from Jordan in July 2015. The Huffington Post has been following them for more than a year.
Church World Service, the resettlement agency that helped the Darbis sent someone to pick them up at the airport, found them a home and helped with paperwork, including social security, food stamp and green card applications. It also assisted in their job search and enrolled the Darbi children in school.
Mohamed Darbi found a new job in construction that more closely resembles his time as a carpenter in Syria than his previous U.S. jobs in a bakery and a deli. Amira Darbi, his wife, just enrolled herself in community college. Their daughters, Nabiha and Hajar, are almost fluent in English and often take on the role of interpreters between Syrians and Americans.
Some of the more recent clients of CWS have not been as lucky. The Abarah family arrived in Jersey City in August from Jordan, where they had lived for a few years after fleeing Syria.
Kamar Abarah recalled the moment she walked into the house that she would be required to sign a one-year lease. "The situation of the house was really bad," the mother of three told HuffPost. "We were in shock and so afraid that we spent the first few nights at [a Syrian family's home], who lived downstairs because we couldn't reach the CWS office."
Soiled mattresses and rodents littered the apartment, she added.
"I won't forget my son crying the day we came. It was the hardest thing for me to see," she said. "All my kids crying and refusing enter the apartment on how terrified and horrible the condition was."
It's thanks to community volunteers that families like the Abarahs have received some of the items that they desperately need. A local charity, Muslims Giving Back, raised money to totally renovate the family's apartment after a worker saw the squalid living conditions one night while dropping off food.
The family's relationship with CWS has improved slightly since they first arrived, Abarah said.
The organization recently brought on a new director, Megan Johnson, who has been trying to heed families' calls. 
CWS had previously only agreed to subsidize two months' rent, but they have since offered 120-180 days to her family, Abarah said.
The charity acknowledged that its Jersey City case load increased more than expected. "More arrivals at one time makes it harder to find housing, find jobs and even find schools,"Johnson said. "It can be a challenge in our capacity but I know that CWS as a whole is very excited about increasing resettlement numbers."
It had relied on volunteers and donors to help furnish apartments over the summer and brought on a temporary worker to help with the heftier caseload, she added.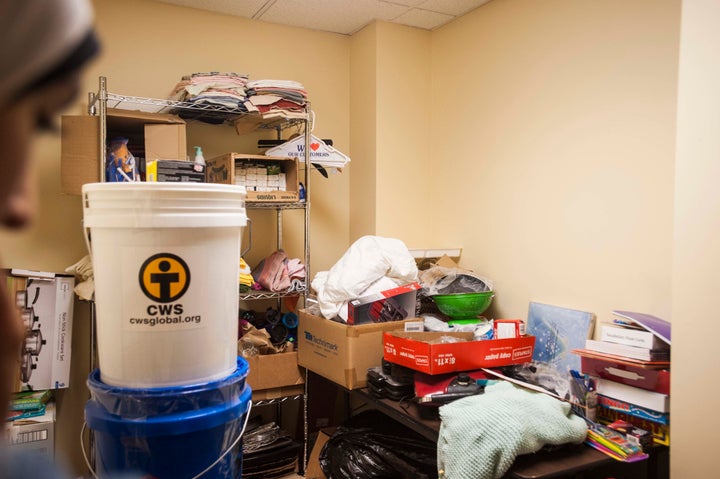 About 20 miles north in Paterson, New Jersey, the International Rescue Committee has also been busy resettling Syrian refugees.
One woman arrived with her family from Jordan on Aug. 15 and spent their first two days in a hotel. IRC volunteers sent dropped them off and didn't return for 48 hours, forgetting to bring them food, she said.
"We were left in the hotel, confused and hungry, with no one to call for help," she said. She wouldn't give her name out of fear for the safety of relatives still in Syria but referred to herself as Um Jamal.
The mother of five said she doesn't understand why they were placed in such a dangerous area of Paterson, a city with a large Arab population that mainly lives far from their home.
HuffPost was at the family's home one afternoon when police suddenly banged on the front door. The officers said they were looking for a resident who is known to sell drugs. Um Jamal's children answered the door without flinching, as if they were used to greeting cops.
"We left fear and terror to come in a place still filled with fear and terror," she said.
Um Firas, another Syrian woman who lives upstairs with her husband and their three children, showed photos she took of an unconscious man in their stairwell, his pants partly removed. She said people are constantly abusing drugs and alcohol in the building. The smell of marijuana wafts through the walls and windows regularly.
"We are mainly concerned for the children," she said.
And the language barrier hasn't been easy for her. When she called the IRC to alert them to their safety concerns, they sent a staffer who didn't speak Arabic and tried to communicate via Google Translate. 
"We left fear and terror to come in a place still filled with fear and terror."
When the IRC brought them their lease, the families living in the Paterson building initially refused to sign, Um Jamal said.
"But we were forced into a one-year contract," she added. And she said the IRC required that they put the additional money given to them by the agency toward the apartment security deposit. 
The IRC only agreed to pay one month of their rent, she said.
"If I had enough money I would go back to Jordan," said Um Shadee, who has four children and is the third Syrian mother living in the building.
The IRC did, however, send an Arabic speaker to help them enroll in schools and apply for food stamps, she said.
And the agency is taking full responsibility for the areas in which it knows it needs to do better.
"We have been having conversations with our clients about their housing and if they do have concerns in terms of safety and whether the housing is sanitary we work really closely with the landlords," said Avigail Ziv, the IRC's director for New York and New Jersey.
If safety continues to be an issue, especially for some of the Paterson families, Ziv plans to move them to a new location, she added. The office is in touch with police about any dangerous developments in their neighborhood.
They don't intentionally place families in harm's way, but it has become increasingly challenging to find housing that can accommodate large families ― some new families have seven or eight children ― that are affordable on a meager salary, she said. It takes time to forge new relationships with community members in order to find more ideal housing options.
"If I had enough money I would go back to Jordan."
Even this 30 percent increase requires agencies to hire more people in their local offices if they are expected to provide every new refugee with the same quality of service.
Resettlement agencies are eager to accept as many refugees as the government will allow, but any type of surge "taxes our structure," said Mark Hetfield, chief executive of HIAS, one of the nine resettlement agencies. 
HIAS brought on more temporary case workers and relied on community support and volunteers this summer, he said. But he acknowledged that this structure would have to expand next year ― and that can only happen if they're properly funded.
Refugee resettlement organizations are by no means intended to be a panacea for all of the support that refugees require once they're placed in a new country. But the more refugees that are accepted into the U.S., the more these agencies need to plan ahead to ensure that they are better equipped to handle the load. 
With some new full-time staffers in the local offices and unprecedented community-based interest in helping refugees, next year's surge will hopefully look a lot brighter.
The Huffington Post is documenting the rising wave of anti-Muslim bigotry and violence in America. Take a stand against hate.
Sign up for the HuffPost Must Reads newsletter. Each Sunday, we will bring you the best original reporting, longform writing and breaking news from The Huffington Post and around the web, plus behind-the-scenes looks at how it's all made. Click here to sign up!
Calling all HuffPost superfans!
Sign up for membership to become a founding member and help shape HuffPost's next chapter
BEFORE YOU GO
PHOTO GALLERY
Syrian Refugees Resettled in New Jersey Meet For The First Time