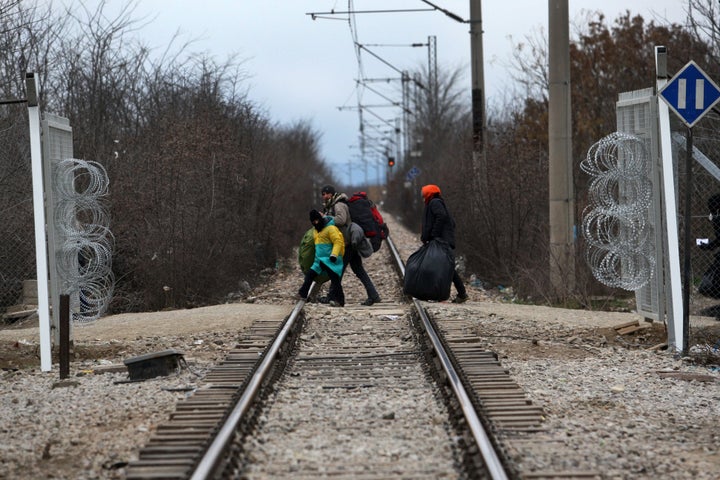 Every week, we bring you one overlooked aspect of stories that made news in recent days. Did you notice the media forgot all about another story's basic facts? Tweet @TheWorldPost or let us know on our Facebook page.
ATHENS ― Hundreds of thousands of migrants and refugees from war-torn and poverty-stricken countries have arrived on the shores of Greece's picturesque islands in the past year. They braved the dangerous crossing of the Aegean Sea from Turkey, dreaming of establishing a new home in the countries of northern Europe.
Many plan to follow what is now a well-established route. From the Greek islands they travel to mainland Greece and cross the border into Macedonia near the Greek village of Idomeni. From there, they continue their journey to northern Europe.
But in November, Macedonia closed its border to asylum-seekers not from Syria, Iraq and Afghanistan ― three war-torn nations whose citizens are considered refugees and stand a good chance of receiving asylum in western countries. Tens of thousands of migrants became effectively trapped in Greece.
A DESPERATE SEARCH IN ATHENS
Of the 70,623 migrants and refugees who arrived in Greece in the month of January, 62,297 came from Iraq, Afghanistan and Syria, according to data collected by the Greek police. Most of the Syrians, Iraqis and Afghans immediately left Greece and traveled on to northern Europe. But more than 8,000 people came from Iran, Lebanon, Bangladesh, Pakistan, Eritrea, Morocco and Somalia, among other places. They were not allowed to continue their journey.
Many migrants from the latter group travel to Greece's border with Macedonia anyway, Antonis Rigas, head of the Doctors Without Borders mission in Idomeni, told The WorldPost. Rigas explained that often, they will first stop in Athens and try to obtain fake passports by meeting with traffickers at the city center before heading north.
TRAGEDY IN IDOMENI
When Macedonian border guards in Idomeni catch migrants without proper documentation, they send them back to Athens on buses commissioned by the Greek police. According to data from Doctors Without Borders, 3,032 people were sent back to Athens in January.
But some migrants avoid the trip back, and instead try to get through the border fence, despite reports that Macedonian border police beat up people caught trying to break through.
Meanwhile, the situation in Idomeni has become increasingly tense. The UN's refugee agency and Amnesty International set up a camp near the border to provide migrants and refugees with temporary shelter ― but only Syrians, Afghans and Iraqis are allowed to stay. There have been reports of scuffles between migrants and the police when migrants have launched repeated demonstrations and sit-ins to protest Macedonia's border policy shift.
BACK TO ATHENS
The Greek government, overwhelmed by its own financial and social crisis, has struggled to accommodate the growing number of migrants returning from the border.
The government has set up temporary shelters, most of them in and near Athens. While one of the camps, in Eleonas, is designed for families and accommodates people for extended periods of time, the other three shelters only allow people to stay for a few days.
The majority of people who leave the shelters are subsequently stranded in Greece without legal status. When Syrian migrants and refugees arrive on the Greek islands, they are usually given a permit that allows them to stay in the country for six months ― but the others receive one-month permits. Once they're out of the shelters, they usually have little time remaining on their visas.
Many are forced to make do however they can, from washing car windows to becoming illegal street vendors. The sight of migrants struggling to make a living on the streets of Athens has been part of the city for the past two decades, but the numbers have skyrocketed in recent months
Having left their countries in dire economic need, and having just paid smugglers thousands of dollars to make it to Europe, only a few of the migrants seem to even consider the possibility of going back.
But even when migrants want to go back, choosing whether to return is often beyond their control.
About seven hundred Pakistanis, for example, want to go back home, but have been denied documentation or any assistance from their government, Javed Aslam, president of the Pakistani community in Greece, told The WorldPost. Aslam explained that up until recently, the European Union funded the tickets of people who were willing to return home voluntarily. But the EU stopped the policy, and many Pakistanis are now unable to pay the large fees the Pakistani government asks to process travel documents.
"Recently 70 Pakistanis were thrown out of the Elliniko shelter. Where will they go?" Aslam said.
Several Pakistani migrants have camped outside the Pakistani embassy in Athens for months to protest their predicament.
"People have drowned trying to get as far as here and then, they are trapped," Aslam said.
Refugees Arrive on The Shores Of Lesbos, Greece
Related
Popular in the Community