A few months ago I was in Greece documenting the Island of Lesbos where the refugees would arrive via small boat from Turkey. After arrival they are registered and then sent along the migration route to Europe. Now, I'm in Northern Greece next to the Macedonia border which is fenced, heavily guarded by police, and closed to refugees. The conditions here are no less dire. This camp is called Idomeni and the refugees have been here for over 40 days, left in limbo with nowhere to go.
I met a few amazing characters at the Idomeni camp and documented some of their stories in the videos below.
Mohammed is fifteen, and one of the few people in the camp from Iran. In the video, you can see the poor conditions of the camp environment. The pond in the area is a mixture of rain water and portable toilet run off. I call it 'Living in the Shit'. It's not a surprise that Mohammed's family, and many others in the camp, are sick.
Omar, a Syrian refugee, is an artist whose work has been inspired by recent events and his current living situation. In the video below, he explains his latest work in detail.
Until recently the protests in the Idomeni camp have been somewhat peaceful. Here is a Syrian man sharing his newfound heart flag with Greek Police at the Macedonia border which is blocked by 2 police busses.
Now, Idomeni sees rubber bullets and tear gas, as they make the camp more permanent or send the refugees back to Turkey.
Stay tuned for more coverage as I follow the refugees.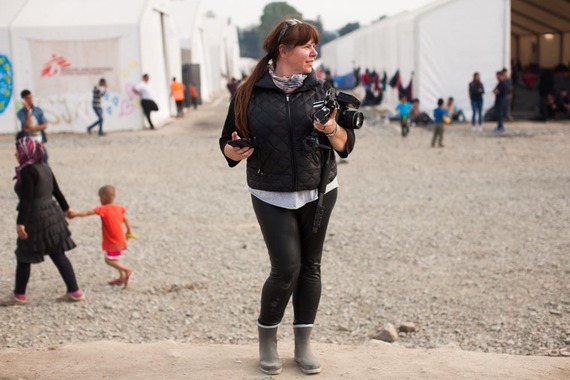 REAL LIFE. REAL NEWS. REAL VOICES.
Help us tell more of the stories that matter from voices that too often remain unheard.