Roughly 77 percent of the world's population lives under conditions of strict religious restrictions and hostilities, according to Pew Forum. But as waves of refugees leave their home countries in search of freedom, those seeking asylum in the U.K. on religious grounds may face daunting challenges riddled with religious bias.
Some Home Office officials conducting interviews for asylum on grounds of religious persecution have taken to quizzing applicants on "Bible trivia," hiring unqualified interpreters and allowing their own religious biases to shade decisions, according to a new report by a nonpartisan group of U.K. parliamentarians.
The country received 41,563 asylum applications for the year ended in March, largely from nationals of Iran, Pakistan and Iraq, according to the United Nations High Commissioner for Refugees. The Home Office doesn't tally the number of applications that specifically cite religious persecution.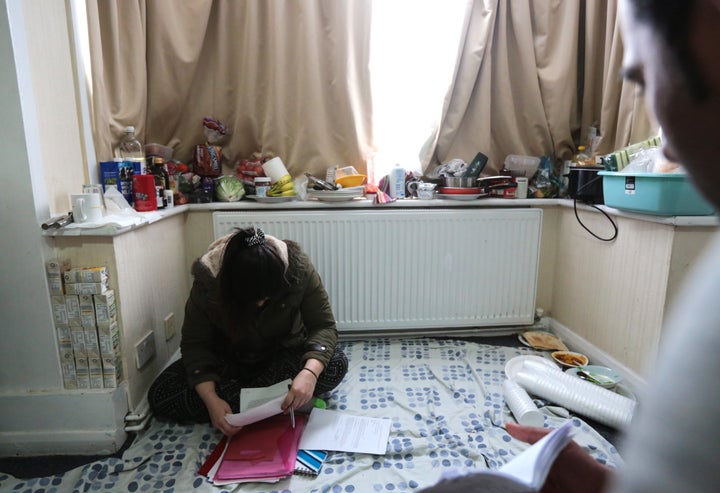 Based on evidence from the U.N. and various advocacy and religious groups, the report concludes that U.K. officials conducting asylum interviews lack essential religious literacy needed to understand the complexity of religious-based applications.
The findings "signal a lack of understanding and misperceptions of religion and belief among decision-makers working within the U.K. asylum system," the report says.
Asylum seekers applying for refugee status in the U.K. face steps that include an interview with a Home Office representative. Caseworkers assess the credibility of the applicant's claim, which can be compromised if the applicant delivers inaccurate or inconsistent information.
But the line between truth and falsehood often gets blurred by the complexity of religious issues. Not all Christians or Christian converts can recite the Ten Commandments or the Lord's Prayer, for instance. But according to the report, some applicants have been asked to do so during interviews.
The report also found that interviewers asked asylum seekers to answer questions about the biblical story of Adam and Eve, name the apostles, give the meaning of Lent, and say whether Easter is celebrated on the same date each year.
"One question they asked me was very strange -- what color was the cover of the Bible," Mohammed, an Iranian Christian convert whose initial application for asylum was rejected, told the BBC. "I knew there were different colors. The one I had was red."
Issues of religious literacy arise in cases of asylum seekers from Muslim, atheist and other faith backgrounds. But in the cases of Christians -- and particularly Christian converts -- the Home Office takes special care.
Being Christian theoretically should neither help nor hinder a person's application, said Stephen Rand, a press representative for the parliamentary group. But there's growing concern that migrants may fake conversion to Christianity, thinking it will improve their chances at being granted asylum.
"I think there is a perception in the Home Office both that individuals will pretend to be from a persecuted minority -- which is usually Christian because of the country they are fleeing from -- to get asylum, and that individuals will pretend to be a Christian because they think the U.K. will be more sympathetic to Christians," Rand said. "The Prime Minister is always saying that the U.K. is a Christian country."
Asylum seekers must submit evidence to back up certain claims in their application. In the case of religious conversion, that might include letters from clergy and proof of church attendance.
Rand said the Home Office might be more inclined to believe a claim backed by physical violence or social ostracism in their country of origin than a claim of conversion after arriving in the U.K.
Reports of mass conversions in European churches have led some to challenge the legitimacy of refugees' conversion to Christianity.
This may help explain why U.K. officials quiz applicants on details from the Christian gospel. But the report says such questioning is "too simplistic a way to judge if an individual is, for example, a genuine convert. Furthermore, anecdotal evidence has shown that some people are learning as much as they can so they can be prepared for the Home Office interview."
"Questions must be carefully prepared and decision-makers should not expect an unrealistic level of specialist knowledge," the report continues.
The Home Office sidestepped accusations in the report, saying in an email to The Huffington Post: "In all asylum claims, including those based on religious beliefs, caseworkers carefully assess protection needs against the background of published country information ... and a wide range of other reputable and publicly available sources."
"While it is reasonable to expect the claimant to demonstrate some understanding of the faith, caseworkers are trained to ask questions tailored to the individual case," said a Home Office press representative. "Guidance on the interviewing and consideration of religious claims is regularly reviewed and takes into consideration the views of religious groups and other stakeholders."
The report acknowledges that the Home Office has provided training for staff in recent months that includes dealing with religious cases. But even these guidelines fail to capture the complexities of applications citing religious persecution, the report says.
"In practice, there remain gaps which compromise applicants seeking asylum on grounds of religious persecution being given fair and effective credibility assessments," the report says.
Fair assessments, it continues, would include checking with interpreters before interviews to ensure that they have an understanding of religious terminology and can accurately translate questions and responses. Caseworkers should also take into account that some asylum seekers may fear their interpreter belongs to a religious or ethnic group that persecuted them in their home country -- another issue that arose in several instances cited by the report.
The vast majority of asylum seekers have genuinely experienced atrocities in their countries of origin, said Mohammad Eghtedarian, a refugee from Iran who converted to Christianity. He now serves as a curate at Liverpool Cathedral and has helped other refugees in their conversion and in applying for asylum.
Eghtedarian has seen the desperation in refugees' faces, he told The Guardian, and he acknowledged that some will lie to improve their chances. But as a clergyman, Eghtedarian said it isn't his job to verify a person's faith.
"There are many people abusing the system – I'm not ashamed of saying that. But is it the person's fault or the system's fault? And who are they deceiving? The Home Office, me as a pastor, or God?" Eghtedarian asked.
This perception of the deceitful migrant is emblematic of the refugee phobia that has taken hold in many developed countries, particularly those in the European Union that have accepted tens of thousands of refugees fleeing war and religious turmoil. But fears of migrant invasion are disproportionate with reality.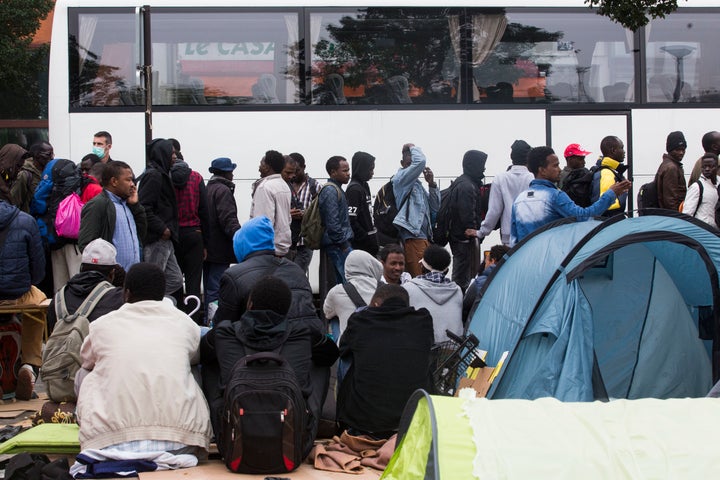 The number of asylum applications the U.K. receives is considerably fewer than in many other countries in the European Union. The U.K. also hosts fewer refugees than many developing countries around the world.
"The perceived population of refugees in the U.K. is often sensationalized by the media, however out of an estimated 60 million, or more, refugees in the world as of mid-2015, the vast majority remain within the region of their countries, with 86 percent hosted by developing countries," the report says.
Still, the number of refugees fleeing religious persecution and seeking asylum in the U.K. and elsewhere is likely to increase in the coming years, the report acknowledges. Greater religious literacy and sensitivity is key.
"Whatever your nationality," Rand said, "assessing the truth of someone's religious convictions is not easy."
Related
Before You Go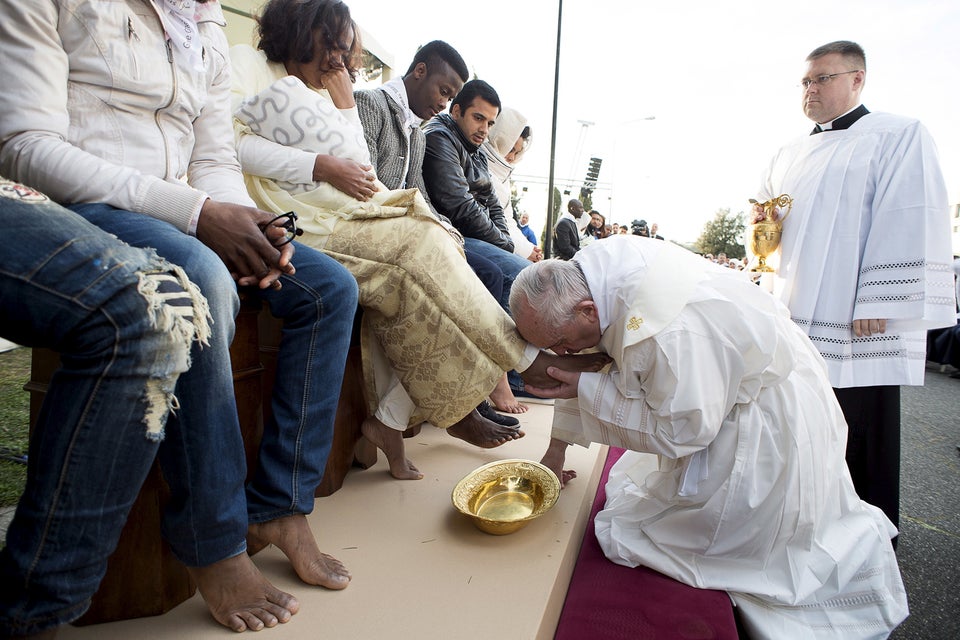 Pope Francis Washes Refugees' Feet For Maundy Thursday
Popular in the Community