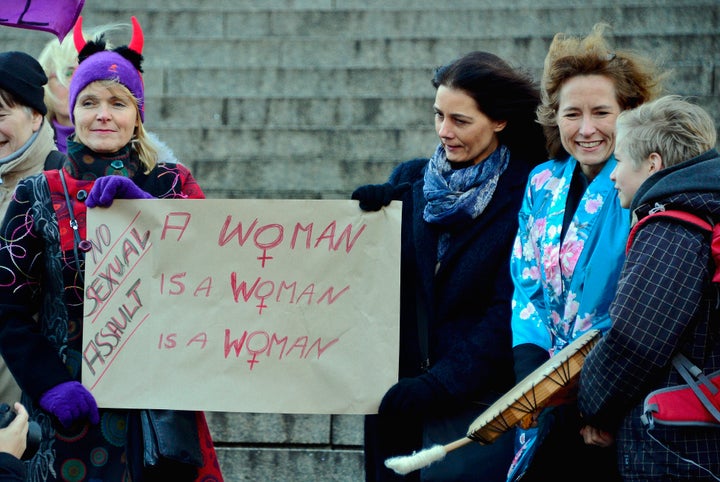 After more than 100 women reported being sexually assaulted or robbed in Cologne, Germany, on New Year's Eve, police said the perpetrators appear to be from "the Arab or North African region," leading some in the country to question Germany's policy on welcoming refugees. In response, a group of Syrian refugees wrote a letter offering their compassion and explaining how they are "ashamed" that the acts appear to have been committed by asylum seekers.
Tom Aslan, a spokesperson for the initiative Willkommen in Köthen ("Welcome to Köthen," a city in Germany) told The Huffington Post that a small group of Syrian men decided to express their feelings about the Cologne attacks in the form of a letter written in Arabic addressed to the women of Germany. With the help of an Arabic-speaking student, members of the organization translated the message into German. The letter, which has been published in German online publication Spiegelfechter, has been translated into English below:
Dear women of Germany, 

We are men from Syria and refugees who arrived in Köthen in the past year. Some of us are here with our families; some of us without them. We wanted to say that we are ashamed of the disgusting, inhumane events that happened on New Year's Eve in Cologne. 

We arrived in Cologne to a wonderful, warm welcome. We are happy and thankful to have found peace and refuge here. Many of our helpers and supporters here are German women. For us, the women of Germany are like sisters, aunts, mothers and daughters. It is no question for us to treat you with respect, and in this time of need, we believe it is our responsibility to protect you from any attackers. 

Now, after the events in Cologne, we fear that Germans, especially women, may fear us. Please do not have fear. We are here because we want to live in peace, not to harm or frighten anyone. 

We thank all the people in Germany and especially the many helpers, who welcomed and supported us here. What happened in Cologne does not show the true Syrian people; the attackers in Cologne are criminals. We hope that you understand us and wish the best for you, especially the victims in Cologne. 

In gratitude, 
Refugees in Cologne 
As of Jan. 8, German officials had identified 32 suspects in the attacks, 22 of which were asylum seekers, according to The Wall Street Journal. Aslan described to HuffPost how the initial news of the attacks affected both the initiative's volunteers and refugees in Köthen.
"Right after publication of the happenings in Cologne there was a gloomy mood among them as it was also among the roundabout 400 refugees here in Köthen -- especially the Syrians," he said. "Despite the fact that there wasn't yet any criminal offense committed by them one could really notice that they feel ashamed for what obviously has happened with participation of some compatriots in the night of Silvester [New Year's Eve]."
Aslan said the letter has received a "great response" since being published.
PHOTO GALLERY
Images Show How Syrian Refugees Live And Why They Left
Calling all HuffPost superfans!
Sign up for membership to become a founding member and help shape HuffPost's next chapter