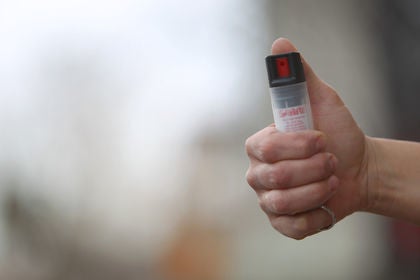 For more than 25 years, Rev. Ronald Apollo has been a military chaplain in the U.S. Air Force or its reserves, as a member of the Church of Our Lord Jesus Christ of the Apostolic Faith, a Pentecostal denomination.
For the past decade, he's been employed by the Federal Bureau of Prisons (BOP), and currently serves as the head chaplain of a medium-security federal prison in Bennettsville, South Carolina.
But since August, a conflict between Rev. Apollo's views of his religious duties and what BOP says a federal law requires has kept him from entering areas of the prison, where over 1,200 male inmates are present. The doctrine of Rev. Apollo's denomination calls for church members to shun "weapons of human strife." In his time as a military or civilian chaplain, he was never required to carry a weapon or wear protective equipment, even in combat zones.
But because he refuses to carry a canister of pepper spray, which uses a concentrated form of the chemical which gives peppers their hotness as a disabling device, Rev. Apollo is not allowed to enter prisoner areas. He has instead been relegated to a desk by the warden's office.
The chaplain says the pepper spray is equivalent to a weapon, and carrying it while visiting inmates would identify him with correctional officers, compromising his role as an impartial counselor and clergyman. BOP, for its part, says it's a recently enacted federal law — the Eric Williams Correctional Officer Protection Act of 2015 — which requires the head chaplain to carry pepper spray while in inmate areas.
The law was named for a federal corrections officer who, while working alone and unarmed in a housing unit containing 125 inmates, was fatally stabbed by an inmate in Wayne County, Pennsylvania. It directs BOP to routinely issue pepper spray to any "officer or employee" in its employ who's not working in a minimum or low-security facility, and who might be required to respond to emergency situations.
The killer in the Wayne County incident, a Mexican gang member already serving a life sentence for two previous murders, was convicted this summer for Officer Williams' slaying, but escaped the death penalty when the jury divided on that issue; instead, he faces a mandatory sentence of life without parole.
The new law, signed into law by President Obama on March 9, 2016, also allows BOP to furnish the protective spray to other people with a need for it, and requires training in its use before staff can receive it, with annual refresher instruction. Further, the law mandates a Government Accountability Office study, within three years after BOP's roll-out, both on the effectiveness of issuing pepper spray in reducing violence and crime, and the cost and advisability of extending to lower-security facilities the requirement for staff to carry pepper spray.
Rev. Apollo notes that shortly before the new law passed, a BOP newsletter reported chaplains would not be covered by its provisions, and that same claim was made in a later agency memo. But shortly after President Trump was inaugurated, BOP mandated all staff not in low- or minimum-security facilities to carry pepper spray. Apollo won a temporary exemption, but was told this June he would have to comply. His response: the Department of Justice "should be ashamed."
Christopher Zoukis is the author of Federal Prison Handbook: The Definitive Guide to Surviving the Federal Bureau of Prisons, College for Convicts: The Case for Higher Education in American Prisons (McFarland & Co., 2014) and Prison Education Guide (Prison Legal News Publishing, 2016). He can be found online at ChristopherZoukis.com and PrisonerResource.com.
Popular in the Community