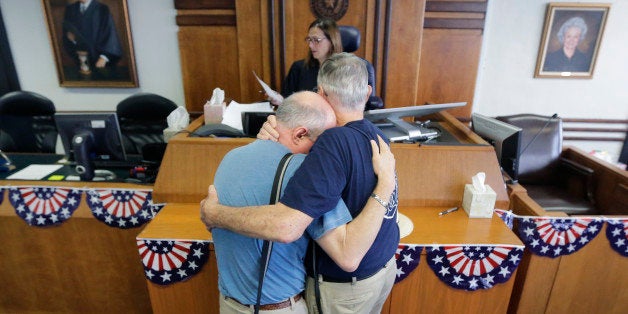 Clerks have granted marriage licenses to convicted murderers while still in prison despite the Commandment that thou shall not commit murder, but some clerks have decided to draw the line at same-sex marriage licenses--apparently, in their view, a much more serious offense to their religious principles. Have these same clerks refused to grant a marriage license because one or both of the applicants has violated one of the Ten Commandments? Do clerks inquire as to whether the applicants have taken the name of the Lord in vain or failed to keep the Sabbath holy? Have they denied licenses to those who have been convicted of theft or committed adultery? Do or have Catholic clerks refused to give licenses to persons who have been divorced? Can Jewish clerks deny licenses to applicants who eat pork? Critics of the Supreme Court's decision protecting same-sex marriages, such as Ted Cruz, have suggested that not only is the decision a "violation of the justices' oath" and a threat to democracy, but it represents an intrusion into religious liberty as well. Nonsense.
As to the first claim, "thwarting the will of the majority" is the duty of the Supreme Court when the majority seeks to impede or interfere with the equal rights of some of its citizens. Neither the states nor Congress have the option of enacting laws that discriminate and violate the Constitution. Matters of constitutional law are decided by the courts---not by the public or its representatives. But the further charge that the decision impinges upon religious liberty is even more absurd. The claim is made that government employees may be required to grant marriage licenses in violation of their religious beliefs. As set forth above, they have had no trouble doing so for much more serious violations of universal religious teachings.
I have no doubt that there are many persons opposed to same-sex marriage for sincere religious beliefs, but I sense that the sudden refusal to grant marriage licenses supposedly based on religious conviction is based more on politics and bigotry than scripture.