 An abbreviated and edited excerpt from 'Clean Tech Nation: How the U.S. Can Lead in the New Global Economy.'
On September 22, 2011, the U.S. House of Representatives' Committee on Oversight and Government Reform held a hearing titled "How Obama's Green Energy Agenda Is Killing Jobs." The session came three weeks after federal loan guarantee recipient Solyndra, a solar cell manufacturer in Fremont, California, declared bankruptcy and shut its doors. During the proceedings, Republican committee chairman Darrell Issa of California joined several colleagues in severely criticizing federal financial support of the U.S. clean-tech industry. Issa said the Obama administration had "systematically waged a war on carbon-based energy in pursuit of new green energy." On the same day that Congress was battling it out on Capitol Hill, Chinese solar PV manufacturer Hanwha SolarOne secured a five-year, $100 million loan from Standard Chartered Bank, the Korea Development Bank, and other large lenders. German steelmaker Dillinger Hütte announced that it would enter the wind power market by building a €135 million ($178 million) factory to make foundations for offshore wind platforms. And KMC Constructions, a major infrastructure builder in India, said it planned to issue an IPO to raise funds for its entry into the solar energy market.
More than a decade into the 21st century, the U.S. is still struggling to find its footing in the transition to a clean-energy economy. With partisan sniping and legislative gridlock seemingly at all-time highs, at least at the federal level, there's been little national prioritization of clean tech. Goals like an increasingly domestic and low-carbon energy supply, clean air and water, technology innovation, global economic competitiveness, and, above all, job creation all enjoy deep support across the American political spectrum. Yet inside the Beltway, the U.S. often seems stuck in a battle between old and new energy sources, with partisans choosing sides along the same red-vs.-blue, Fox News-vs.-MSNBC divide that infests so many other critical national issues.
Mustering the necessary political will, across-the-aisle collaboration, and national leadership to make clean tech a top national priority will not be an easy task. But it is critical to our future as an innovative, prosperous, and thriving global economic leader. As the Economist magazine put it, in a broader U.S. economic context in November 2011, "As the superpower's clout seems to ebb towards Asia, the world's most consistently inventive and optimistic country has lost its mojo."
The following Seven-Point Action Plan represents our ideas on how the U.S. can best remain a viable and competitive clean-tech leader in the face of significant global competition. The Action Plan is designed for the broadest bipartisan support.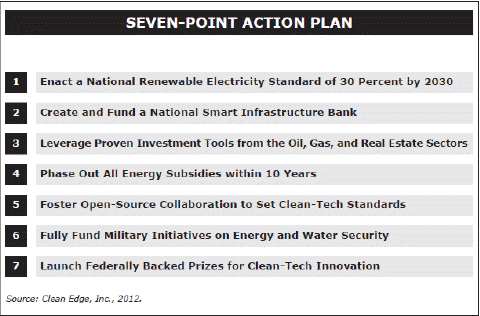 The drivers for action are clear and multifold. They span from the macro down to the personal, and will determine everything from the types of vehicles we drive to how we generate, store, and transmit energy to how we construct our buildings and guarantee fresh water supplies. The coming decade will determine what types of clean-tech products, services, and models the U.S. develops and innovates for its own consumption and -- even more important for global economic competitiveness -- exports to the rest of the world.
Make no mistake: Like past industrial shifts, from railroads and telephony to airplanes and computers, U.S. leadership in clean tech is not a fait accompli. It will require carefully orchestrated business, investment, social, and political actions, with great and far-reaching implications. The choice is clearly ours. The steps we take in the next decade will define who we are as a people and determine whether we are able to ensure our status as a robust and competitive Clean Tech Nation.
From the book 'CLEAN TECH NATION: How the U.S. Can Lead in the New Global Economy' by Ron Pernick and Clint Wilder. Copyright © 2012 by Ron Pernick and Clint Wilder. Reprinted courtesy of HarperBusiness, an imprint of HarperCollins Publishers.
REAL LIFE. REAL NEWS. REAL VOICES.
Help us tell more of the stories that matter from voices that too often remain unheard.