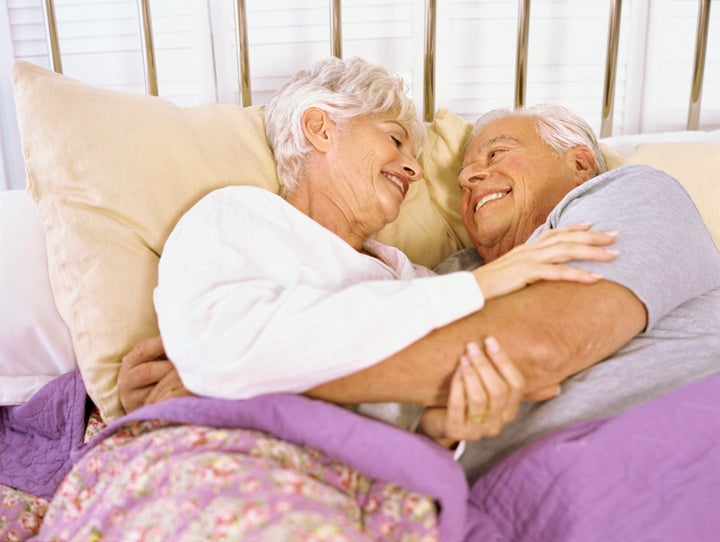 Young'ens can cover their ears (eyes?) if they want, but here's a truth: Older people still have sex. While societal perceptions may lead some to believe that older folks' love lives are ancient history, a new study suggests otherwise. 
Many seniors consider sexual activity essential to their well-being, happiness and quality of life, found a joint study published in Leisure Sciences.
Researchers Liza Berdychevsky, a professor of recreation, sport and tourism at the University of Illinois and Galit Nimrod of Ben-Gurion University of the Negev, Israel, examined the importance of and constraints on sexuality in older adulthood. They analyzed a year of conversations about sex that occurred within 14 online communities that target English-speaking people age 50 and over. 
What they "heard" made their ears ring, apparently. While some seniors were content with retiring from sex, many others emphasized that they "remained sexually able, interested and active," the researchers found.
"Although some older adults reported abstaining from sexual activity due to health conditions or loss of interest, others refused to renounce sexual activity. Their health problems or society's ageist stereotypes that portray seniors as asexual were not going to become excuses to give up on life ― or sex," Berdychevsky said in a press release.
In fact, it was a sense of their looming mortality that inspired some older adults to cast aside sexual inhibitions or stereotypes that constrained their behavior when they were younger and to begin exploring new activities or aspects of their sexuality, according to the study.
Rather than diminishing with age, some seniors' libidos re-ignited and sexual activity took on greater importance with their abundance of leisure time in later life. Let's face it, would you really rather play golf?
But while people may have more time to explore their sexuality later in life, they do run into numerous cultural, social, psychological and biological roadblocks, Berdychevsky said.
"Many seniors were willing to negotiate these constraints, resist them and find various cognitive and behavioral strategies to continue having sex," Berdychevsky said.
Truth is, older people having sex has already manifested itself in the climbing STD rates in this age group. The Centers for Disease Control and Prevention reports that between 2007 and 2011, chlamydia infections among Americans 65 and over increased by 31 percent and syphilis by 52 percent. Those numbers are similar to STD trends in the 20- to 24-year-old age group.
In the online forums, frequent topics of discussion were how to continue enjoying one's sexuality after the loss of a mate and the risks associated with dating and sexual relationships in later life. While some seniors swapped advice about where to find new partners and trying things like sex toys, other older adults wrote that embarrassment and fear of social stigma stopped them from trying these activities.
Hmmm ― so now you know what Grandma is doing when she doesn't answer the phone?
Calling all HuffPost superfans!
Sign up for membership to become a founding member and help shape HuffPost's next chapter
BEFORE YOU GO
PHOTO GALLERY
Grandparents' Best Marriage Advice