This is an abbreviated version of the multimedia "Ecopolis Appalachia" theatre show performed on Feb. 17, 2017 in the Grandfather Ballroom at the Appalachian State University in Boone, North Carolina, by author Jeff Biggers and singer-songwriter Alexa Rose.
We don't get to see my grandchildren very often, but we never miss the King family reunion in Boone. The kids always want to know how it happened. How did Boone become an Ecopolis, the first regenerative city in North Carolina?
There's only one way to answer that question, of course. When we return home to Boone now, we arrive on the emission-free hydrogen power speed train, and are met at the train station, where kinetic panels power the electrical grid. The kids always want to take the kayaks into town along Boone Creek, or race their bikes downtown along the green wave—now that our pedestrian center is car-free. But me:
I feel there's only one way to understand our town―and that is by walking.
Boone began as a vision on foot, standing along a creek, and then along a garden, a Cherokee garden.
My great- great-great-grandfather, James King, was an immigrant from Ulster, who picked this spot; stood right on this bluff, gazed out at these amphitheatre of valley and sky, the miles of hardwood forests along the creek and mountains, and had the audacity to envision a community of risk takers, innovators, visionaries. Like many pioneers, long before Daniel Boone, he had drifted over from the Watauga Association across the ridge—where they had already declared their independence from the crown in 1772. Appalachian Common Sense: When Thomas Paine declared to Philadelphia in 1775 that "we have it in our power to begin the world over again"—well, we had already done that in the North Carolina mountains.
As old man King always told the story, Boone was not unoccupied― the remnant of a garden of those who had been displaced, what he called The Indian Gardens, full of beans, squash, corn, berries, kept him alive the first seasons. Dodiskvsi Duyu. "Pass the beans." This was Cherokee country.
The King family reunion, of course, takes place on the Creek. It's a troublesome creek—but we were a troublesome family.
Grandpa, grandpa, my kids shout at me, tugging at my shirt. At the creek, I play a game with my grandkids: What's that? Burdock. What's that? Chickory! Let's make some coffee. What's that? Wine berries. Elder. Plantain. What's that? Chickweed. Ah, the jewel of our green salad, so rich in vitamin C that the pioneers ate it to ward off scurvy. Another gift from the native people.
And then, there was our water, the creek: a-ma a-wa-ya.
What a wonder now: The native fish have returned to the creek.
This all seems so beautiful tonight, just another beautiful evening, hot evening, in the serenity of this place of academia and Appalachian hollers.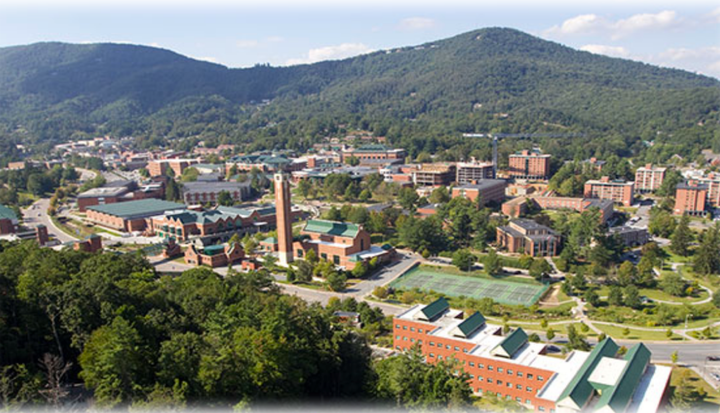 So, it's hard to explain what led to the "great crisis."
You see, everyone said it would never happen. A megadrought has about the same chance of happening as the Chicago Cubs making it into the World Series, they said. It'll never happen. The news reports about climate change came like tourists, and we just acknowledged them; tried to tolerate their inconvenience to our roads and lives, but we didn't really pay attention.
The temperatures rose. The warnings kept coming. The Paris climate summit agreed that if temperatures went beyond 1.5C or 2 degrees Celsius, we would have set in motion a chain of events from CO2 and methane emissions that we could not survive, and yet we arrived at 1.5 degrees higher in the fall of 2016, and it didn't even make the headlines.
The drought came. And we announced we could mitigate climate change—adaptation, we called it. But what if you are adapting to a failed system?
And the drought lasted. And lasted. And lasted.
The creek—the water. You must understand the water. You must understand our watershed. The Cherokee warned us.
An elder had asked the question back in the 1980s: The question is whether we do the right thing now or wait until the expense shall have increased a hundredfold.
When the fires came, there was no time to debate whether the rangers had done the right thing in conservation, whether the forests were too dense, why forest fires in Appalachia had increased by 75 percent in intensity and heat.
When a fire lays waste to your home, the chatter ends, and you have two choices: You leave town, or you pick up the pieces and rebuild.
And Boone was laid to waste…
A crisis is never a crisis until it's validated by disaster—and that is exactly what happened when the megadrought and fires hit Boone. It was 2017—I forget now, the year doesn't matter. We were slightly distracted by the darkness of Sauron that had entered the White House.
At first, we waited for city hall to act. I mean, come on, we elected these people, fix the world now. It's your job, not mine. I mean, I recycled my bottles—when I remembered to load them in the car. I know it's hard to imagine—but we didn't have curbside recycling and composting in those days. My wife drove a Prius, and we bought organic (most of the time, well, sometimes, well, at least the first week of the month when we could afford it). But we knew we were part of the problem—that 60% of the grid, burning fossil fuels, came from coal. We didn't pay attention to the drought, the retreating land. We were just trying to do less bad. Be sustainable, you know. That was a comforting word, disingenuous at best, as if a burning stack of wood was sustainable. We knew nothing was sustainable.
My grandchildren don't believe me when I tell them about my generation in the year 2017.
They mock me. Grandpa, you burned toxic fossil fuels, even though you knew it had a huge health and environmental cost and produced the highest CO2 emissions…and you knew Germany and Scotland and Denmark already had 100% renewable energy regions? You imported 90% of your food in Boone? You couldn't even eat the fish in your river because of mercury and other problems?
Grandma said you ate asparagus imported from Chile? And tomatoes picked by the hands of a 7-year-old migrant worker in Mexico?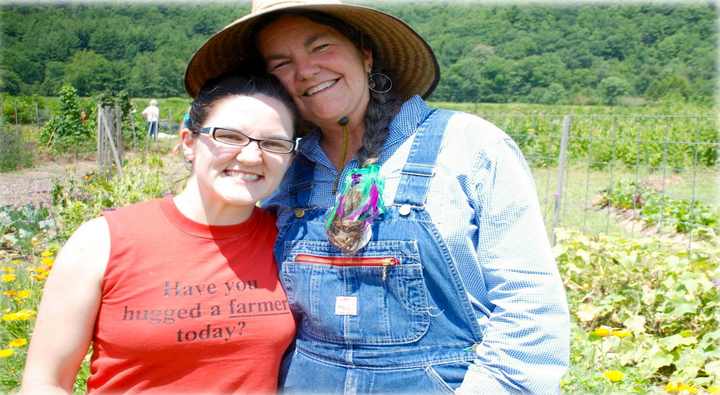 We were standing in line for rations—you see the fire had knocked out the roads of commerce, the food stores. And these women were smiling, just beaming. They didn't need rations. They brought boxes of food from a farm. And so did another man, and the folks from the Food Hub and the Gardens at Hospitality House, and then App State students arrived with load after load. And then, Miriam Alarcon from la tienda arrived and said, ellos tienen que comer. I will make tamales. And the Farm Café, we'll help cook. And we'll do it for free.
And then Mary from Junaluska said: Can I get a few hands to help me with my garden. I have plenty to share.
Mary smiled at the crowd. It's time to sit down together and eat and talk about our future—as we have always done. You see, real pioneers know that there were never any rugged individualists in our parts. Land was tilled together; barns raised together; wells sunk together; all with food and drink.
And everyone set a table. And the table grew. And people brought food. And a food truck arrived. And the table grew across main street, across the creek. And Boone came together at the same table, native and newcomer, rich and poor, transplants all the way from Raleigh and Rochester and Blowing Rock and Brooklyn hippies from Asheville, for a table that grew 3-miles long.
And then I heard a voice: it was Laura England , the great environmental justice hero in our town, and she stood up with her glass, rang a bell, silenced the table, and said: It's time for Boone and App State to rethink our ways in an age of climate change, to rethink ways that regenerate our energy, our food, our land, our ways of getting around--beyond sustainability, we must heal our damage to this land. We must begin the process of healing.
We need to go back to our roots as a garden on the creek.
Listen to this beautiful letter from Mrs. King to her sisters. "From this day forward, a new era will commence in the destinies of our land. We are no longer dependent upon others for our imports nor are we subjected to the labor and expense of drawing across the country all articles brought from abroad. From this day forward, blessed with this beautiful creek and forest, we shall depend upon ourselves for our livelihood."
This town—the great garden, would become self-sufficient.
We lived in an agropolis in those days. A circular town with a creek, houses adjoined by gardening, ducks and dairy, surrounded by woods, surrounded by three-tier diversified farms and livestock.
Agropolo—what you see in Italy today. La citta, circondata dall'agricola, allevamenti, le vacche, le pecore, poi il bosco. This is why we spend thousands of dollars and love to tour Italy-- this ancient, beautiful rapport between people, the city and nature. Oh, look, people hang out their laundry. Take a photo, Bill. Look at those buildings made from rock and stone and wood that last centuries, not dry wall years. Walking. Walking. Eating real food from the open markets. Oh, Agnes, I've never eaten so much food and drank so much wine—and I still lost weight.
Who has a problem with that? Well, Thomas Edison and Mr. Francis Peabody the coal baron did. So did Wall Street, bankrolling their coal fired plants and factories. Keeping the dirty secret of coal mines and their burial grounds from the world. Henry Ford had a problem with it, too, and built his cars, as we took a dragline to our communities, widened the roads, built the suburbs, segregated ourselves from people who didn't look like us, and created the Petropolis. Petro-towns. Petroleum states of mind.
The circle was gone. The road became linear. We brought in our energy, we spewed out the waste, like coal ash. We brought in our food and goods, we spewed out the waste and created landfills. For every bag of grocery, we had six bags of plastic. We started cutting our grass in tidy squares and using pesticides to stamp out evil weeds.
We forgot where our electricity came from; where did our water come from; where did our waste go?
We lost the circular metabolism of the town---in all the cities in our country.
No other town has such a connection to nature as Boone. No other town on draws people from around the world for the wonder of its natural heritage.
And compared to other towns, Boone had already done so much. We had already maintained a commitment to environmental protection. We had committed to going 100 % renewable. We had a legacy of environment action and sustainability. We loved these mountains, this valley of wonder, this creek. We understood the need to check uncontrolled development.
But did we also lose contact with our role as part of this nature—not simply keepers of the gate, photographers of its beauty; to realize that humankind has not woven the thread of life, we are just a thread in it.
Did we lose our connection to the medicinal plants, the oaks, the native foods, the creek?
Of course, we weren't the only people facing this realization. Back in the 1990s, the Germans, among others, began to rethink this linear relationship, especially with their energy. And they asked a simple question: Why don't we produce our own energy, especially electricity? In the US, of course, there were plenty of reasons---namely, the powerful lobbies of big utilities and oil and coal companies whose profits depended on subsidized fossil fuels.
Yet, the Germans, thanks to the ragtag efforts of the Greens, passed a feed-in tariff, the first seed of energy independence. The first step back to the Ecopolis. Feed-in tariff? The excess energy you produce, you can sell back to the grid. And here in North Carolina, we kinda understand this, as the utility giants made an attempt to end solar buybacks and maintain its monopoly. But the writing was already on the wall—or rooftops rather.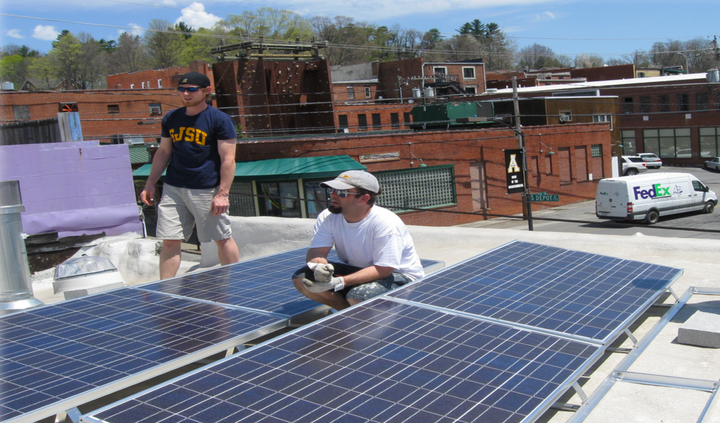 The solar panels kept spreading, across rooftops, doctor's offices, churches, parking lots, and the Boone Community Solar Station and Clean Energy Boone project, in a kind of decentralized revolution that couldn't be stopped. We could finally beat Duke on our own decentralized term.
We set benchmarks, that were soon written into city ordinances; that new campus and community buildings had to produce 20 then 40 % of their electricity through energy efficiency and solar; while older buildings would be retrofitted with the same.
That Boone residents became a people of the sun, recognizing that the true cost of their electricity from a coal-fired or fracking gas plant had been astronomical to their lives, if we tallied all the external costs from the fallout of toxic air and the water among those just across the mountains in central Appalachia where the coal mines toppled their homes and ways into the valleys; the emergency room bills of coal ash; the drain of climate chaos on budgets that could no longer cover the fires and floods; nature's tax on the 3rd worst contributor of CO2 and methane emissions in the nation.
That the stone age didn't end because we ran out of stones, but because we learned to live in a different way. Or as Harvard Ayers, the founder of Appalachian Voices, reminded everyone: the Energy Solution Comes Up Every Morning.
So, to make the first step, we decided to create a model eco district, based on 100% renewable energy and the highest energy efficiency standards, as a living laboratory for the residents to not only envision but experience a clean energy way of living. An ordinance was passed for Net Zero Energy Building development, and two goals adopted: a requirement for on-site renewable energy, energy efficiency standards of 70 percent below the regional average EUI, built-in recycling and composting; integrated edible landscaping; and water infiltration features surrounded by food-bearing plants.
We decided, as a town, to move neighborhood by neighborhood, from town to campus, from being a Petropolis to cultivating an Ecopolis.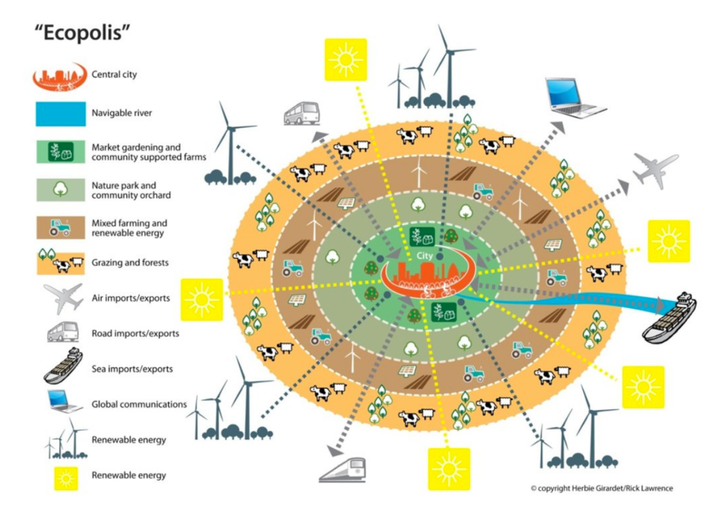 We sent an Appalachian down under. She returned: Do you know that a decade ago, Adelaide, Australia hired a "thinker in residence," then convened the town to rethink its use of energy, food, transportation, waste and urban design, and then committed to a regenerative city, put solar panels on 120,000 households, and created the model Lochiel community, among other neighborhoods, that are 100% renewable energy? Do you know that there are hundreds of 100% renewable energy communities in Denmark and Germany, like the Vaudan district in Frieburg. Dark, dreary, cold, miserable, cold, dark, dreary Germany got 60% of its electricity from clean energy last Oct 3rd—and 65% of it came from small decentralized producers.
Boone realized it had an incredible opportunity: Downtown was launched as the first EcoDistrict, as a walkable neighborhood, along the creek, with its solar-lit walking paths, solar sculptures and green infrastructure and gardens. Rain harvesting and collecting was mandatory on all buildings, saving so much money, and soon it became a national attraction.
Once the car-free pedestrian zone was established, the electric tram came next to deal with the traffic. And just like the Vauban eco district in Frieburg, Germany, the residents in the Boone EcoDistrict ultimately concluded they didn't need cars to get to campus, to work, the market, the dentist, the theatre, a restaurant, and a trail head. Within 3 years of living in Vauban, 80% of the residents gave up their cars.
But it wasn't as simple as just putting solar panels up. It needed to be a life style change. And it had to involve me.
Now, I didn't want to live in Boone's first EcoDistrict. It was my wife. She's like, we gotta do something about this climate change. And I'm like, can we wait until the game's over? This is a big game. App State is in the quarter finals of March Madness. We can finally beat Duke. And she turned off the TV. Climate change ain't no game, she said: Do you know where your electricity comes from? And I said, yeah, the plug, can you turn the frickin' game back on? And she said, no, not until you realize your juice comes from a frickin' utility company and while they get brownie points for solar energy credits, they mainly burn fossil fuels like coal and fracked-up gas that release global warming-inducing methane that makes CO2 emissions look like cool whip. So, no game until you get off the grid.
She wasn't done. But there's a catch, she added. We got to use less energy—a load limit, we gotta commit to a capacity-based tariff. You gotta get rid of your electric toothbrush, your mixer, and your large screen TV. She said: This is your new batting average: 2,000 watts a day. That's all you're getting—a bunch of Swiss people figured it out. That's all you can consume to keep this Titanic planet from going down. Capito? 2,000 watts.
Just out of curiosity, I said, how many of them watts do I typically use now? 12, 000 watts, she said, so open the windows and start getting some fresh air and light.
Of course, the EcoDistrict had to pay more to retrofit homes, build more efficient and smaller homes, commit to green roofs, solar water heaters or revamp some of the area for geothermal, and energy efficiency measures. But the savings paid off.
Still, it wasn't enough to generate our own electricity and reduce our carbon emissions. The answer wasn't just blowing in the wind. It was also under our feet.
So, we moved into the Ecopolis EcoDistrict. It required some adjustments. Energy efficiency means density, and walkable neighborhoods. We sold our car. It was like selling our dog. I saw our SUV disappear into the wide lanes near the Tangier outlet mall, getting smaller and smaller in the distance. We learned to walk or bike in cold weather―and like it. We had to give up our 2,500 square foot home and grass lawn.
Windows opened. And we had neighbors, lots of neighbors. One neighbor, Javier de Guatemala, was always badgering me to do more in the community garden.
Oye, como amanecio, have started your gringo kale garden yet? Those gringo professors from Raleigh across the street are already into their 3rd harvest. And his wife was always shouting for food—oye Javier, traigame mas huevos. That would make Javier turn to me: You're not buying huevos, are you? It's really stupid to buy huevos when you can send your kid to collect them in the chicken coop. His kid taught my kid how to use goats instead of the lawn mower.
My other neighbor, 87-year old Lisa, kept talking about hoop dreams―-those hoop houses that allow for year-round gardening. In hot and sunny Detroit, an urban agriculture ordinance led to a widespread revival of urban farming, throughout the year. In London, thanks to breakthroughs in hydroponics and LED light advances, organic vegetables were grown in underground bomb shelters and delivered to restaurants within hours.
We created an edible trail from one end of town to the other, all the way threw the campus, where anyone could get an entire meal by picking. I preferred the berries trail. We learned about being a healthy community, not medical community. We built a farm-acy, from medicinal herbs. To recognize the time spent outside and in the soil as part of our daily workout and stress relief—no less important than the gym or yoga.
You see this patch of our community garden, Sarah my neighboor, told me one day: 10 by 10 can get the nutrients for your family through much of the year. You just have to learn the stories of the food, he said ―-like our grandparents.
In the year of the great crisis, we set local food benchmarks: we imported 90% of our food back then, but within 5 years, we imported only 50%, then only 25 %, and now we produce 75% of our food. But we also knew urban farming, even with the breakthroughs, would not feed everyone in our cities.
In a regenerative city like Adelaide, in those days, a diverse semi-urban farm belt surrounds the city as a food network to meet local demands. With a "zero waste" strategy, 180,000 tons of compost are converted annually from urban organic waste, with 50,000 acres of nearby land dedicated to vegetable and fruit crops. Again, the circular function, circular metabolism of a city. The food comes daily into the center markets, consumes, resuses the waste as compost. Solar buses deliver the goods.
Here's the punch line: Regenerative organic farming, including diversified crops and rotation, veggie mulching, organic compost, doesn't just produce food. As the Rodale Institute recently showed in a study, regenerative organic farming is crucial in soil carbon sequestration. Farmers can play a huge role—perhaps more than anyone—in regenerating our soil and reducing CO2 emissions. We've lost 80 percent of the carbon stock in our soils. We need to bring it back to the dusty soil.
Which brings us to our crap. It was a great day when Boone and App State signed the Zero Waste Ordinance. No more landfills—no more trucking our crap down the mountain to other communities. If the college town of Boulder Colorado could commit to reducing their waste by 85%, emphasizing a closed-loop production and consumption system, mandating obligatory recycling, composting and reuse, we could do the same.
And gain from it. You're feeding the food, said Jenny, our Composter-in Residence, a new appointment at the campus. And reducing your methane emissions in the process.
Blooming like a garden, the EcoDistrict unfolded like a recipe.
My other neighbor showed me his row of veggies in a hoop house that looked like a quilt, with carrots, peas, beans, bell peppers, potatoes, cabbage and cloves—what he called the Boone sambusa.
Perhaps before we could say what kind of regenerative city we wanted, we had to ask: What kind of town do we want?? What kind of campus do we want? What kind of sign are we putting out to the world on our roads—national champions of what? Football.
Then perhaps we can learn from China or the New England Patriots and put solar panels on our stadiums, Solar Brewer Stadium—that if 40,000 people can fill a stadium to watch overgrown men chase a pig skin, perhaps we can use that opportunity to generate our electricity –like Brazil, where kinetic panels have been installed in the soccer stadiums to convert energy into electricity.
What is our relationship with our creek and forest? Our mountains. Are we still mountain people. Does the land still determine our way of life, and inspire us. Daniel Boone once wrote: Nature is here, a series of wonders, and a fund of delight. What can we learn from it?
Do we really live in the town inspired by an explorer like Daniel Boone?
What is our relationship with our communities? Did we recognize Boone as a smorsgaboard―-where all of our cultures are recognized. Where biodiversity and human diversity run together, not separated by walls. That the trails of our ways were first shaped by the Cherokee and other indigenous peoples.
That the banjo came from Africa, with Africans; like the guitar, brought up by black railroad workers. That African American guitarist Leslie Riddle from Burnsville collected the tunes for the Carter Family and helped to launched country music; that Nina Simone, from the woods of western North Carolina, forever reminded us that black lives matter, that it is beautiful to be young, gifted and black?
How could we put the roots of culture back into our neighborhoods? Culture. From the Latin root, colere. Cultivare. Cultivate. Food. Nature. Diversity. Restoration. Regeneration.
By restoring our relationship with nature—not simply in a series of more parks and ball fields, but a deeper commitment to healing and restoring our surroundings—we also found our sense of place, our sense of community. Adelaide planted 3 million mainly trees—that's stunning—not only as a carbon sink, but as a roadmap on how we orient our lives.
How do we move beyond doing less bad, and actually do something that enhances rather than harms our environment. To create an economy that replenishes the natural resources we consume. Like hemp products, for example. To give a new framework and vocabulary to our times—to begin the process of regeneraton. To begin the healing process. That climate action was not just about pulling the plug, but it was first and foremost about pulling back the carbon into the soil.
The soil will save us, my grandkids kept repeating in their mantra. The soil will save us.
To marvel at restoring a self-sustaining, and resilient riparian ecosystem, and thriving creek.
At that same long table, always with food, we asked ourselves: How do we heal or restore our waterways and neighborhoods, the new strata of segregation? How do we protect our water; how do we make sure those who can least afford the changes in electricity rates, the cost of food, the vector-borne illness from climate change, are in the forefront of our plans?
The EcoDistrict in Boone and App State began the process of answering some of those questions of who we are today in Boone in different ways.
We grappled with some hard truths. No true EcoDistrict could emerge without inclusionary zoning—and low income units mixed with higher income—older communities with new communities. Indigenous Immigrants. Urban immigrants. And my people—hillbillies all. And most importantly, senior citizens, the ranks who bring so much experience and wisdom and chutzpah.
That App State could continue the process of creative the regenerative campus—introducing each first year of students to a required curriculum that simply asks the question: What's your connection to Boone; to provide opportunities to live in dorms generated by 100 renewable energy like Berea College, gain credit for cultivating food on campus, and composting, and planting soil carbon sequestration projects; realizing, finally, what their connection is to Boone—and where their electricity comes from, where their water comes from, where their food comes, and where their waste goes.
In 2017, in the year of the great crisis, a new opportunity opened up down by the creek. The Chancellor of App State and the Mayor of Boone put up their homes as showcases of permaculture and 100 renewable energy, and then together they cut the ribbon for the region's first Climate Arts Center, a place to bring together our legacy of the arts and Appalachia and hold public events, workshops and community discussions on how climate action is "a central priority in strategic planning" and daily life.
Just like my ancestors in Indian Gardens—we had to re-envision ourselves. Regenerate ourselves. In order to survive. In order to thrive.
We didn't just envision the future; we cultivated it, ate it, and took comfort in it.
I tell my grandkids that the regenerative city in Boone and App State didn't happen overnight. It took ages just to talk it out, across the long table. But every day, new breakthroughs reminded us that we needed to think anew, and recognize watershed events as turning points. To not defer the pressing realities and mounting costs of climate change, but embrace them as opportunities.
How many droughts and fire did it take? How many billions did we have to lose before we acted? How many lives?
Economics lose meaning when we calculate the price of our own demise, of the declining hopes of our own futures and that of the next generations.
The best way for my grandkids to learn this, like my generation of crisis, was to talk to our new neighbors from Mexico who left drought conditions and understood foodways in an age of adaptation.
To walk in the ways of the Cherokee, and see their own challenge to adapt to changes, and create a restorative society. That the past is always a presence, as Mexican poet Octavio Paz once wrote, and the spirits of the past—of the people, and the land, the creek —still speak to us, if we listen.
And then I asked my kids the same question we asked ourselves during the great crisis: How can you be a catalyst for this regenerative city? What is my role—and the role of artists, innovators, engineers, entrepreneurs, and the retired? What is growing in my garden. And can I walk there? Where does your electricity come from?
It could begin with a simple act, like that of a concerned school parent, who worked to get the schools to halt the use of toxic pesticides on school grounds, and start using goats.
There are so many examples, but I keep seeing this image in Boone: The endless line of volunteers trying to stop a forest fire. A struggle of resilience―-but resilience, in this situation, was a state of loss, surrender and ultimately ruin. After the great crisis in 2017, we asked those same people who were heroes in a vain attempt to hold back a fire, to do the same for climate action now, in a real and possible way. To create the regenerative city, and the regenerative campus.
So, back to our family reunion at Indian Gardens. The grandkids laugh. At the creek, I play a game with my grandkids: What's that? Burdock. What's that? Chickory! Let's make some coffee. What's that? Wine berries. Elder. Plantain. What's that? Chickweed. Ah, the jewel of our green salad, so rich in vitamin C that the pioneers ate it to ward off scurvy. Another gift from the native people.
And then, there was our water, the creek.
Support HuffPost
The Stakes Have Never Been Higher
Related
Popular in the Community