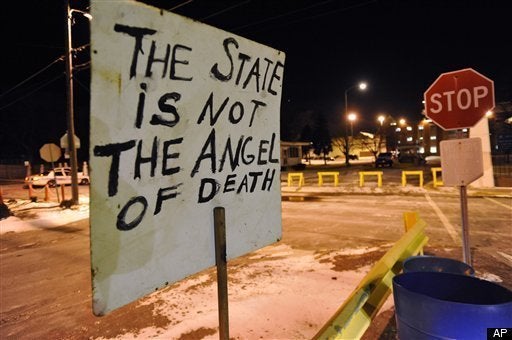 The case of Reggie Clemons represents everything that is wrong with the death penalty and the U.S. criminal justice system.
His case reminds us of Troy Davis, a black man who was executed by the state of Georgia in September, despite strong evidence of innocence, no physical evidence, another suspect and unreliable witnesses, not to mention worldwide protests.
In 1993, Clemons was sentenced to death in St. Louis, Missouri as an accomplice to the 1991 murder of Julie and Robin Kerry -- two white women who plunged to their deaths off the Chain of Rocks Bridge into the Mississippi River. He was 19 at the time of the killings, with a clean record.
He was beaten by police, denied a lawyer, and coerced into making a false confession. As Amnesty International reported, there was no physical evidence linking Clemons to the murders. Even the prosecution admitted that Clemons did not murder the victims, nor did he plan the crime.
Two other young black men, Marlin Gray and Antonio Richardson, were sentenced to death along with Clemons. Gray was executed, and Richardson had his sentence reduced to life. Two sketchy eyewitnesses were essential to Clemons' death conviction. Daniel Winfrey, a white co-defendant, pled guilty to a lesser offense in exchange for his testimony against the black defendants. Winfrey allegedly told a cellmate he would "say anything" to get a plea bargain, and "no one is going to believe a bunch of niggers." He is now a free man on parole.
Meanwhile, Thomas Cummins, the victims' cousin, originally confessed to killing the women, which he told police stemmed from an argument after he tried to have sex with Julie. Cummins also claimed he fell 90 feet off the bridge and swam to safety, which was unlikely given that he was dry and unscathed. Despite the inconsistencies in his statements, the charges against Cummins were dropped after he identified Clemons and the other suspects. Cummins received a $150,000 settlement in a police brutality suit.
Meanwhile, Clemons and Gray both claimed police brutality and coercion but were ignored. Clemons -- who had been beaten by police and was ordered hospitalized by the judge at his arraignment -- was coerced into confessing to rape. He did not confess to murder. And the audiotaped forced confession was admitted as evidence of his guilt.
This is where the problems for Reggie Clemons were only just beginning. To sum it up, he just couldn't win, and the system seemed to conspire against him. His defense attorneys were unprepared for trial and neglectful, and the deck was stacked against him, as was the jury. The prosecutor, Assistant Circuit Attorney Nels Moss, who was disciplined by the court and had a pattern of misconduct, disproportionately excluded black prospective jurors, leaving a mostly white pro-death penalty jury in this heavily black city.
And then there was the rape kit and lab reports from one of the victims, buried in police headquarters for years, and never revealed at trial. One could reasonably assume that if that evidence had been helpful to his case, Moss would not have hidden it.
Police torture and false testimony, crooked prosecutors and a stacked jury, incompetent defense counsel and missing evidence. Let's not forget raw racism. These are the key ingredients of a horrid dish called American justice. And sadly, this is why Reggie Clemons is facing execution. This is a prime example of what happens when criminal behavior in the police station and the courtroom sends an innocent man to his death. But unlike Troy Davis in Georgia, Cameron Todd Willingham, Ruben Cantu, Carlos DeLuna, or Larry Griffin in Missouri, Reggie Clemons is still alive. There is still time to save him. We can fix this.
On the other hand, we cannot fix our system of capital punishment. According to the Death Penalty Information Center, since 1973, 140 innocent men and women have been freed from death row in 26 states, each spending an average of nearly 10 years in prison awaiting execution.