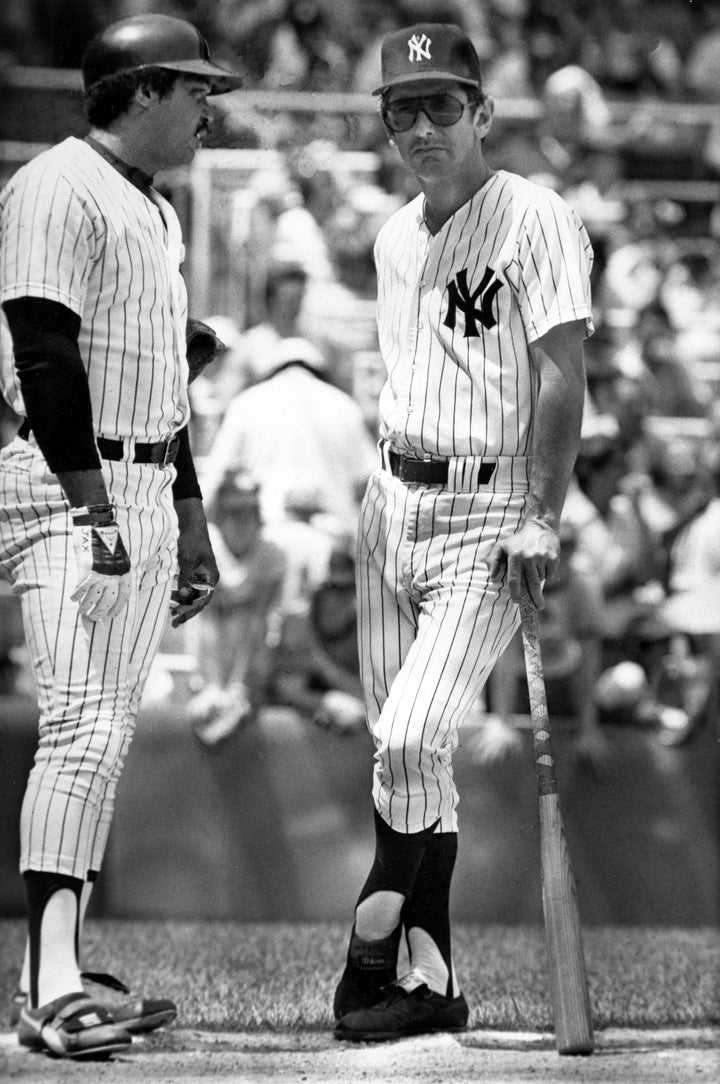 The New York Yankees are one of the most storied organizations in all of sports and few chapters in the team's history are as thrilling and contentious as the late 1970s. The symbolic moment of the "Bronx Zoo" era came on a Saturday in Fenway Park when bombastic outfielder Reggie Jackson and fiery manager Billy Martin nearly came to blows. Beloved Yankees Yogi Berra and Ron Guidry both had a front row seat to the pyrotechnics, as did a national television audience. The following is an excerpt from "Driving Mr. Yogi" by Harvey Araton. Araton is a longtime sports reporter and columnist for the New York Times, New York Daily News and New York Post.

Things came to a head on June 18, 1977, in a game against the Red Sox at Fenway Park. Although Guidry had been a Yankee for less than two years, he had already come to expect the unexpected at the sight of the Yankees' divisional rivals.
On this Saturday afternoon, in front of a national television audience, the Yankees were getting their heads handed to them by the potent Red Sox lineup. In the sixth inning of an ultimate 10–4 defeat, Boston's Jim Rice looped a ball into short right field. Reggie Jackson, playing deep for the right-handed slugger with good power to the opposite field, came in to field the ball after it had landed in the grass. He had misjudged its depth -- or so he would later claim.
In Martin's steadfast opinion, Rice had wound up on second base only because Jackson had loafed on the play. To Martin, an average talent who had succeeded as a player because he wouldn't take no for an answer, not hustling was an unpardonable major-league sin. No fan of Jackson's to begin with, Martin decided he had seen enough of his pitcher and his right fielder. Before he went out to the mound to remove his starter, Mike Torrez, he told reserve outfielder Paul Blair to pick up his glove and get out to right field.
Jackson was incredulous when he saw Blair coming his way. He had never been removed from the field during a game before, and he believed that Martin, frustrated by how the game was going, was taking it out on him. Much worse, Jackson also believed that Martin's general treatment of him was in no small part racially based -- an opinion he articulated to reporters soon after.
In the dugout, Guidry, sitting next to Martin's trusted pitching coach, Art Fowler, watched the potential train wreck unfold. With his stock rising fast, Guidry had become something of the class pet, required by Fowler to sit by his side between starts. That gave him a front-row seat for the spectacle about to take place.
Here came Jackson jogging in, smoke billowing from his ears, heading straight for Martin, who had already returned to the dugout and positioned himself in the corner right where Jackson would be descending the steps. But before Jackson arrived, the Yankees' coaching police, in the persons of Berra and Howard, were moving into lockdown position -- "like a movie scene, where the actors get up ac- cording to the script without saying a word," Guidry said.
With Martin champing at the bit to take on Jackson, Berra and Howard had to move tactically and in tandem -- two great catchers, Guidry noted, trained to foresee the possibilities of the game from the best seat in the ballpark.
"That's what was so amazing," Guidry said, "those two guys actually knew something was going to happen soon as Billy said, 'Blair, get your glove.' They both stood up. They had the smarts to know that this doesn't look good, something's going to happen here, I need to be ready. Nobody else did, just them. Me, I'm just sitting there on my butt, never even thought about getting up."
Actually, the thought did cross Guidry's mind as Jackson ran in from right field that maybe it was time for a physical altercation between Jackson and Martin. The two had been verbally sparring from the beginning of 1977, Jackson's first season in New York. Maybe punches were inevitable -- and preferable for everyone involved.
"At that moment, if you asked me, I would've said that we should have just let the sons of bitches go," he said. "Here are two guys that don't get along with each other, that's obvious. And now this has happened and Reggie's like, You challenged my honor, you slapped me in the face, let's take it out back and handle it."
The truth was that Howard was not much more enamored of Jackson than Martin was. Howard was the first African American to play for the Yankees, debuting in 1955, or eight long years after Jackie Robinson broke the color line. However belatedly, Howard had integrated baseball's most powerful franchise with a proud and quiet dignity. Given that, he didn't understand or appreciate Jackson's habit of calling attention to himself.
Nor did Berra, who loved to tell the story of how his good friend "Ellie" had once deflated Jackson after Reggie had asked Berra and Howard how he would have fit in on the great Yankees teams of the fifties and sixties. "Fifth outfielder," deadpanned Howard, which Berra thought was comically brilliant.
If Berra had no patience for Jackson's shtick, he did have an abiding respect for his big stick. As a longtime clubhouse kibitzer, he also enjoyed how Jackson unintentionally made himself the butt of his associates' teasing, even long after he retired. For example, when he was asked to throw out the ceremonial first pitch of the 2008 season at Yankee Stadium, Jackson asked Berra to accompany him to the mound. Berra didn't really want to but reluctantly agreed.
In the dugout, he muttered, "Why the hell does he want me out there with him?"
Standing nearby, Derek Jeter cracked, "Yog, it's because he doesn't want to get booed."
Whatever their personal feelings that day in the visitors' dugout at Fenway Park, Berra and Howard had their priorities straight -- first and foremost, they were Yankees. And they had a game to play and a pennant to win. They intuitively knew that Martin or Jackson -- or both -- could do serious damage to the other, not to mention the ball club. Martin was much older and smaller but was a notorious brawler who was known for landing punches on his own players and living to brag about it. Outweighed by sixty pounds, he wasn't backing off as Jackson hopped down the steps and got right in his chest.
"You never wanted me on this team in the first place," Jackson said.
"I ought to kick your ass," Martin replied.
"Billy was real furious," Berra said. "There was no telling what he was going to do."
Meanwhile, Ray Negron -- a young clubhouse assistant and a protege of Steinbrenner's -- tried to cut off the television audience by putting a towel over the camera closest to the dugout. But nothing of physical consequence really happened, mainly because Berra and Howard were on the job, reacting on muscle memory in the way they had once backed up first base to keep an errant throw by an infielder from rolling into the dugout.
As strong as Jackson was, there was no chance he was going to escape Howard's grip, Guidry said. Not that time or later that season when the Yankees were celebrating winning the American League pennant and Jackson got a little too carried away, spraying a bottle of champagne into Howard's eyes. Howard picked him up like a large potted plant and evicted him from his space.
As for Berra, he was much stronger than anyone imagined, Guidry said. Martin struggled to break free from Berra's grip, nearly falling onto the bench, but to no avail. "Once that little guy gets his monkey claws on you, you ain't goin' nowhere," Guidry said, vouching for Berra's ability, even well into his seventies, to hold a person in place with a firm grip of the shoulder or wrist.
"My point is, you learned that this guy was physical," Guidry said. "You realized that Billy, tough a guy as he was, wasn't getting away from Yogi, same as Reggie with Ellie. And by doing what they did, in a moment when the rest of us just sat there and watched, you realize now how smart they were and what might have happened had they not been."
Across the years, Berra and Guidry would share a laugh whenever the near brawl came up -- not that Berra was inclined to expound on his role in stopping it. That wasn't his style, and at least with Guidry, what was the point?
"We all were there; we all saw it," Guidry said. "But the big thing is that Yogi and Ellie, they knew it wasn't just us. You had millions of people sitting at home watching it around the country. And when you look back, you have to ask yourself, 'Is that how you really would have wanted the world to see how we are?'"
To the young Ron Guidry, it was a career lesson that he would never forget: how a Yankee acts and comes through in the clutch.
Excerpted from DRIVING MR. YOGI by Harvey Araton. Copyright © 2012 by Harvey Araton. Used by permission of Houghton Mifflin Harcourt Publishing Company. All rights reserved.
Calling all HuffPost superfans!
Sign up for membership to become a founding member and help shape HuffPost's next chapter