Now that November's presidential election is in the bag, America has turned to the next burning question: Who's the White House's hottest employee? 15,000 of you cast your vote -- and only about four of you pointed out that this wasn't serious news...thank you for that -- and the winner is 27-year-old Reggie Love, former Duke basketball and football star and current personal aide (also known as "body man") to President Barack Obama. He just barely beat out Jon Favreau, Obama's 27-year-old speech writer, who got 25.97% of the vote compared to Love's 26.06%.
*Scroll down for slideshow and video*
Here are the final poll results: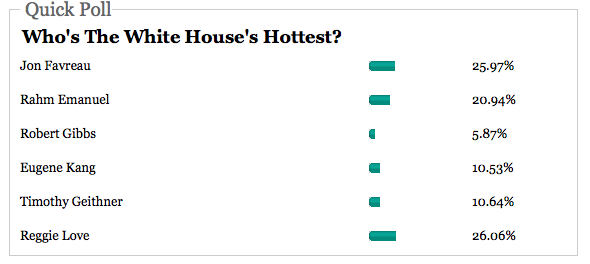 Here's what a few of you had to say about the winner:
KamAK:
Reggie Love is incredible to look at.
ZimboDude:
Reggie Love's head is like an egg
kindageeky responded:
A beautiful, sexy egg...
sammy cole:
Reggie IS the hottest because he's SOOOOO COOL, Obama's right!
Speakchic:
Reggie hands down! I'd like to make known his relationship status by becoming his status.
ediva75:
We gonna have to fight for the love of Reggie Love!! LOL
goddessNdiva:
Love is hotttttttttt....his name says it all. Yummy.
duze:
Reggie is love. He is so fine, tall, dark, handsome, strong, quiet with a beautiful smile.
OMG
TheStudentPundit:
Random question: Is the pumpkin being thrown to Reggie or is Reggie throwing it? [See the slideshow below]
Here's what his Wikipedia entry has to say:
He attended high school at Providence Day School in Charlotte, North Carolina, and graduated with a degree in political science and public policy at Duke University. He was a forward for the Duke Blue Devils basketball team, and played on the 2001 team that won the NCAA national championship. Love was suspended from the team in 2002 due to alcohol-related incidents, but returned and was a captain of the 2005 team. He also played wide receiver for the Duke football team, and tried out unsuccessfully with several NFL teams.

Love applied for an internship on Capitol Hill in 2006. He was interviewed by Robert Gibbs, Obama's communications director, for a position in Obama's Senate office. He was hired with the title "deputy political director."
Here's a slideshow of Reggie:
PHOTO GALLERY
Reggie Love
On January 23rd, ABC News named Love "Person of the Week":
Here's Love in an Obama campaign video:
REAL LIFE. REAL NEWS. REAL VOICES.
Help us tell more of the stories that matter from voices that too often remain unheard.