While Love said good-bye to the White House and his longtime boss this past November, he was out supporting Obama's second presidential campaign alongside the fashion designers, editors and celebs for the evening. But we made sure to nab the former Duke basketball player and ask him a few questions. This is how it went....
Reggie Love: We haven't played since November.
HuffPost: Now is that when he got his injury? Didn't he get some stitches or something ...
RL: Oh, no, that was a while back. I don't know how long ago that was.
HuffPost: Yeah, you definitely polled in some of them...
RL: I would say this: I never believe in polls. If I were to believe in polls, I never would've took my job in the first place.
HuffPost: Now that it's four years out and we're moving on to 2012, how do you look back on your experience with the campaign the first time around?
RL: I miss it. It was a once in a lifetime opportunity and I spent my entire adult professional career working for Senator Obama and President Obama, and hopefully at some point in time it will be able to come full circle.
HuffPost: What's your connection to the fashion world? Obviously you're here because it's about Obama support, but have you had any connection previously with Anna Wintour or Vogue?
RL: I'm here to be educated. It is a one hundred percent educational experience for me.
HuffPost: Are you sticking around for Fashion Week at all?
RL: Spring fashion week? Or winter?
HuffPost: Well the Fall 2012 shows are starting this week.
RL: Fall shows, ahh. Maybe I should, huh? I don't have it on my agenda currently, but maybe it could be worth the time...
HuffPost: Did you learn any fashion tips from hanging around with Barack?
RL: I will tell you (reaches for his his tie), the guy taught me how to tie a very professional knot.
HuffPost: Small knot or a big knot?
RL: It's not the knot, it's the dimple.
HuffPost: Ah. And President Obama taught you that?
Sigh. Need a refresher on who this former White House Hottie is? Check out the slideshow below.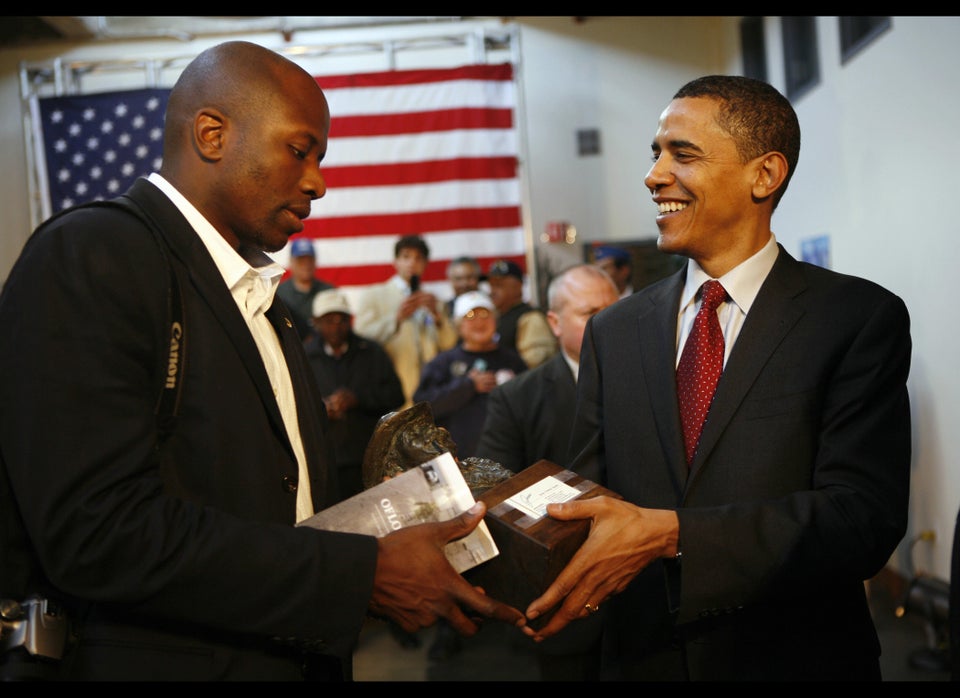 Reggie Love(CLONED)