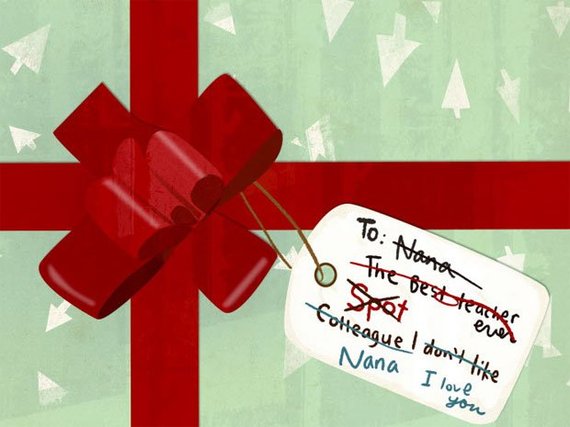 Several years ago I hosted a holiday brunch at my house and one of my guests gave me a hostess gift. When she left, I opened the bag and found a pretty candle tucked inside. I also found an envelope. When I opened the envelope, I discovered that it was addressed to her. I had just received a re-gift. I kept the candle but I never said a word to her.
Is it proper to re-gift something that you don't want or need? Many years ago etiquette experts discouraged the practice. But times have changed and so have our gift-giving habits.
After the recession, re-gifting has become more popular and acceptable. In fact, more than three in four Americans find re-gifting socially acceptable, according to a recent survey from American Express. And last year, consumers re-gifted an average of four presents.
Today is National Re-gifting Day. So if you plan to re-gift an item, follow these rules:
Re-gift in different social circles. Play it safe and don't re-gift to someone who might know the person who originally gave you the gift. For example, if your co-worker gave you a bad present last year, don't give it to someone at this year's office party. Same goes with gifts among friends and extended family. To make sure you don't break this rule, keep all potential re-gifts in a closet with a note attached to each item detailing when, where and who gave the gift.
Make sure some time has lapsed. Give a little breathing room between when you receive and re-purpose a gift to avoid having the original giver ask about it. If you give something perishable, check the expiration date to ensure that the item is still fresh.
Know the receiver's tastes. A re-gift has to come with the right intention, meaning it must fit the receiver's style and be something you would likely have purchased on your own as a gift. Maybe that scarf is not quite right for you, but you know your neighbor will love it. That's acceptable.
Don't re-gift with immediate family members. Skip the re-gift option when it comes to parents and siblings. If you have something that you know your sister would like just give it to her and tell her the situation. Don't try and pass it off as an original gift.
Don't give a used gift. Unless it's an heirloom or antique, a re-gift should be new. Don't bother giving something you got for free or an item with someone else's initials.
Keep the original packaging. A re-gifted product should be given in its original packaging. Always keep the seals intact and take the time to re-wrap it. And most important -- always double check to make sure a personal note wasn't added inside the boxed item.
Retire unwanted gifts. If you know you'll never use that old bottle of cologne, canned ham, stale fruitcake, or itchy sweater, give the item to charity or recycle it in the wastebasket.
Admit it if you get caught. If you get caught recycling a gift, own up to it. Yes, it will be embarrassing but don't dwell on it. Just address it, explain why you thought the person would like it and change the subject.