An Idaho woman faces felony and misdemeanor child abuse charges after police said they found her trying to "baptize" her baby in a ditch.
Regina Dilworth, 22, was reportedly high on bath salts and prescription painkillers when Nampa police arrested her on the morning of Aug. 1.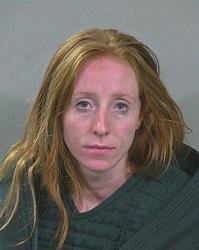 "We learned that a Good Samaritan, actually several Good Samaritans, had made contact with Regina," Nampa Police Sgt. Jason Cantrell told KTVB. "Regina was making weird statements and was incoherent when she was communicating with people who were out and about at that time of morning."
Witnesses said Dilworth was carrying her 9-month-old son as her 4-year-old daughter followed her. She approached a random person in a yard and asked the stranger to take her daughter and "save my girl." A concerned passerby followed the woman to the drainage canal and saw her put the baby under the water.
The passerby jumped in and took the baby from Dilworth, while others took hold of the mother and called police. 
At a court appearance Monday, Dilworth's public defender asked that she be evaluated by a mental health professional. She's currently held on $50,000 bond, and her children have been placed in protective custody with the state. 
Her mother, Rosie Dilworth, told the Idaho Statesman that her daughter was an A-student before she "got entangled in the wrong crowd and it led her down the wrong road."
Rosie Dilworth blames the state for not getting her daughter access to the help she may have needed.
"I feel like the system has failed my daughter," she said. "If she had a drug problem, they didn't push the issue. They didn't force her to go into rehab. They didn't force her to get help." 
Calling all HuffPost superfans!
Sign up for membership to become a founding member and help shape HuffPost's next chapter