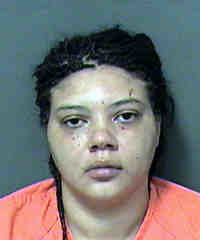 A North Carolina woman is in hot water after she allegedly burned six children -- one of them just 22-months old -- and two adults with a bucket of scalding hot grease.
Regina Terry, 33, was arrested this morning. Cops hunted her down after she reportedly threw the pot of grease on a group of her neighbors in northwest Charlotte because of an ongoing argument, the Charlotte Observer reported.
Terry allegedly went into her house during the argument on Sunday afternoon and came out of the door with a pot "big enough to cook crabs in," a witness told the paper. She swung the pot with two hands and drenched eight people, all of whom were sitting on the porch.
Witnesses described the scene as a horrific display of burned children running around in circles, screaming, and Terry fleeing just minutes later.
A 27-year-old woman, and one child were airlifted to the hospital due to their injuries. In all, two adults and four children were taken to a Chapel Hill burn unit. One of the other children was taken to a different hospital and the eighth victim was treated on the scene, according to the Observer.