What do Central Texas, Missouri's Kansas City, and Memphis, Tennessee, have in common? They're all on the list of places that are famous for a particular style of barbecue.
From dry-rub ribs to smoky beef brisket to spicy sausage, the American barbecue scene is hardly homogenous, as regional specialties have emerged over the course of centuries.
"Across most of the traditional barbecue regions, I believe the variations and styles were built out of necessity, using what wood and ingredients grew in the area and what animals were pastured nearby to form an identity," Shannon Bingham, a chef and pitmaster at Devil Moon Barbecue in New Orleans, told HuffPost.
"In contemporary barbecue culture, that has grown to include the influence of new immigrant groups and adapting techniques of the most traditional variations to make some really interesting and unique subsets: Tex-Mex barbecue in [Texas city] Austin, Korean Texan barbecue in Atlanta, and our Cajun-inflected barbecue with a foundation of traditional technique at Devil Moon," he added.
Initially, barbecue was a bit more uniform in its simplicity — digging a trench, filling it with wood-burning coals and cooking an entire animal, like a pig, lamb or quartered cow.
"Around the turn of the 20th century, you start to see barbecue moving from a rural context to an urban context, and that's when people started focusing on cooking smaller cuts of meats," said culinary historian Adrian Miller, whose book "Black Smoke: African Americans and the United States of Barbecue" won a James Beard Foundation Award. "That transition gives rise to a bunch of regional styles. There's also the influence of immigrants in that urban context. So you're dealing with a bunch of factors."
Below, you'll find a breakdown of some of the most popular regional styles of barbecue. This list is by no means comprehensive, as there's a seemingly endless array of hyperlocal barbecue styles across the U.S., but hopefully it can inspire some future culinary travels.
"One of the beautiful things about barbecue is how wonderfully diverse it is," Miller said. "You can celebrate everybody."
Kansas City
"Kansas City is an agricultural town, so there are lots of influences," Miller said. "You've got various cuts of meat like brisket and spareribs, but you've also got mutton and ham, as well as chicken and hot-link sausages ― a coarsely ground sausage that's spicy and very popular in the Black community."
Burnt ends are particularly flavorful pieces of brisket you'll find on offer at barbecue joints in the Missouri city. Some of the most popular spots are Arthur Bryant's Barbeque, Gates Bar-B-Q and Joe's Kansas City Bar-B-Que.
Whatever cut of meat you choose, it will likely be cooked low and slow over hickory smoke and served with the area's signature sauce. Kansas City barbecue sauce tends to be thick and sweet, prepared with tomato and molasses and then generously coated on the protein.
"In Kansas City, they like a lot more sauce ― they really paint it on," said Phil "the Grill" Johnson, the pitmaster behind Trapp Haus BBQ in Phoenix, Arizona.
Memphis
"Memphis is known for pork shoulder, usually chopped up, and spareribs," Miller said. "They're made in various ways, and one is what they call the dry method. That comes from the influence of a Greek immigrant who decided to charbroil ribs with Greek seasoning on them ― an example of how immigrants affected the regional style of barbecue."
Classic Memphis dry rub features spices like paprika and garlic powder. And if this dry-rub style isn't for you, consider ordering your ribs "wet" ― with tomato-based sauce brushed on top.
"The city is also known for pulled pork sandwiches, topped with coleslaw," Miller said. "Memphis barbecue is Funkytown ― you've got barbecue spaghetti and barbecue bologna."
There are more than 100 barbecue spots in the Memphis area, including favorites like Charlie Vergos' Rendezvous, Payne's Bar-B-Que, Central BBQ, A&R Bar-B-Que and The Bar-B-Q Shop.
Central Texas
"Central Texas is the 'it' barbecue right now because it's been highly promoted ― not only in the U.S. but around the world," Miller said, noting that he's seen this style on offer during recent travels to the Middle East.
The meat is the star of the show, with no-frills dry rubs and optional sauces made with vinegar.
"Brisket, ribs and sausage are king ― with super simple salt-and-pepper rubs and post oak fires for smoking," Bingham said.
You may find mesquite and pecan wood in the preparation process as well.
"The influence of Central European immigrants is there," Miller said. "The brisket is usually sliced for customers and can be served with sausages that they call 'hot guts.'"
Quintessential Central Texas barbecue spots include Franklin Barbecue, Kreuz Market, Louie Mueller Barbecue and Black's Barbecue.
East Texas
"East Texas barbecue is more African American influenced," Miller said. "Brisket, pork spareribs and sausages are the dominant things. The brisket tends to be chopped up rather than sliced, and they've got an interesting type of sausage ― the Cajun sausage known as boudin, but spelled as 'boudain.'"
Popular East Texas barbecue joints include Gatlin's BBQ, Stanley's Famous Pit Bar-B-Q, SouthernQ BBQ, Patillo's Barbeque and Bodacious Bar-B-Q.
Chopped pork and beef are often served as sandwiches with a thick tomato-based sauce that adds a hint of sweetness. Don't be surprised to find ribs that have been cooked over hickory wood for so long that the meat falls off the bone. And there are plenty of side dishes, from fried okra to potato salad.
South Texas
"South Texas-style barbecue is influenced by Latino culture, so you've got things like barbacoa, often made with 'cabeza' ― which is the cow's head," Miller said. "There's also 'cabrito,' which is goat. This style has more of an earth oven approach where you dig a vertical hole to cook it."
Given the region's proximity to the Mexican border, it's no surprise that you'll find a lot of Tex-Mex elements, with fixings like guacamole and salsa. South Texas is also known for its sweet molasses-based barbecue sauce.
There aren't a ton of traditional South Texas-style barbecue joints, but Vera's Backyard Bar-B-Que is a beloved establishment in the city of Brownsville.
St. Louis
"St. Louis is known for spareribs and something called pork steaks, which come from pork shoulder," Miller said. "There's also something called snoots ― they're snouts."
Often compared to cracklings, pork snoots are typically prepared with pig noses and cheeks, which are grilled until crispy.
When spareribs are cut "St. Louis style," it typically means the rack is in a neat and tidy rectangular shape with more cartilage trimmed away. In contrast to the regions where slow-smoking the meat and using dry rubs are the norm, the cooking process is often faster. And there's a thick and sweet tomato-based sauce.
Beloved St. Louis barbecue joints include Bogart's Smokehouse, Salt + Smoke, Pappy's Smokehouse, Sugarfire Smokehouse and Big Mama's BBQ.
Virginia
"I'd argue that barbecue started in Virginia," Miller said. "Early explorers saw Indigenous people cooking meat by digging a shallow pit, putting a mix of rocks and wood in the pit, and setting the wood on fire. The rocks would retain that heat, so you could put meat at the surface level and cook it for a long time."
"From that foundation, you add enslaved Africans and colonizing Europeans who bring their own meats and cooking traditions and techniques," he added. "Enslaved Africans and African Americans became the barbecue cooks, putting us on the road to Southern pit barbecue."
Historical records indicate that Founding Fathers like George Washington attended barbecues in Virginia in the 1700s. Today, the commonwealth is known for its chopped and sliced pork and a variety of regional sauces ― a tomato-based type in Northern Virginia, sweet-and-sour sauces in Central Virginia, sauce made with apple cider vinegar in the Shenandoah Valley, and vinegary tomato sauce with mustard in Southern Virginia.
Standout barbecue establishments in Virginia include The Pit Stop and Bubba-n-Franks Smokehouse BBQ.
Eastern North Carolina
Like Texas, North Carolina is split into multiple barbecue regions of note, with the general divide being between the eastern and western sides of the state. Eastern North Carolina is focused on the whole hog, which, as the name suggests, entails cooking an entire pig over the course of 12 to 24 hours.
Interested gastronomes can sample this style of barbecue at places like Skylight Inn BBQ, Grady's BBQ, Wilber's Barbecue, Sam Jones BBQ and B's Barbecue.
"As in Virginia, you have vinegar-based barbecue sauces in eastern North Carolina," Miller noted.
The meat takes the lead when accompanied by this thin, spicy sauce, and there's often a mayonnaise-centric coleslaw side.
Western North Carolina
"Western Carolina is more about the pork shoulder, and you've got a little tomato added with the sauce," Miller said.
Also known as Lexington-style or Piedmont-style, western North Carolina-style barbecue reportedly dates back to World War I. Around that time, German pitmasters introduced locals to a Bavarian dish with pork shoulder and started experimenting with tomato-based sauces.
Today, you can order a sliced or pulled pork sandwich on a bun with a sweet red sauce at places like Lexington Barbecue, Okie Dokies Smokehouse and Stamey's Barbecue.
In contrast its eastern counterpart, this region is known for "red slaw," or "barbecue slaw" ― which uses ketchup and vinegar in place of mayonnaise. You're also more likely to find hush puppies on the list of sides.
South Carolina
Moving farther south, you'll find more delicious pork and a sauce that's a regional specialty.
"You're going to see the whole-hog tradition down in South Carolina too," Miller noted. "But you have different sauces, with more mustard sauces in South Carolina."
Indeed, the tangy mustard-based "Carolina gold" sauce has become a household name over the years, though you can also find sauces that rely on tomato or vinegar and pepper in different parts of the state.
Beloved South Carolina barbecue joints include Rodney Scott's BBQ, Lewis Barbecue and Sweatman's Bar-B-Que.
Alabama
"Alabama is personal favorite for ribs," Bingham said. "The meat is undercooked ― in a good way ― compared to Texas and Memphis styles, and it's super saucy. Dreamland and Archibald's in Tuscaloosa both rule."
Big Bob Gibson Bar-B-Q, Saw's BBQ, Miss Myra's Pit Bar-B-Q and Full Moon BBQ are also popular spots in the state.
Alabama-style barbecue is notable for its thick white sauce, made with mayonnaise, vinegar and spices, but you might also find tomato-based and mustardy vinegar sauces in various parts of the state. Pitmasters and diners can slather these all over pulled pork or chicken.
"Chicken is much more prevalent in the Deep South," Miller said. "It can be bone-in or chopped up or pulled."
Georgia
"When you think of any Deep South style, there's some type of pork shoulder, ether sliced or chopped up, as well as pork spareribs and chicken," Miller noted.
He believes there's a lot of overlap in barbecue between states like Georgia, Alabama and Mississippi, though you see variation with desserts and side dishes. (Think Southern favorites like Brunswick stew). Expect to try a classic like a pulled pork sandwich with a tangy sauce.
"I find Georgia styles uses more fruits and sweets," said Johnson.
The state is home to many great barbecue spots, like Southern Soul Barbeque, Fox Bros. Bar-B-Q, Daddy D'z BBQ Joynt, Vandy's Bar-B-Q, Fincher's Barbecue and Poole's Bar-B-Q.
Kentucky
A notable feature of Kentucky barbecue is the use of mutton. In the western part of the state, several barbecue joints smoke sheep meat over hickory coals, slice or chop it up, and and serve it with a Worcestershire sauce-based dip.
"People focus on mutton and this one particular restaurant in Owensboro, but I think Kentucky barbecue is broader than that," Miller said. "They have pork shoulder that's either sliced or chopped up, and depending on how it's sliced, they can call it a pork steak. They've got spareribs as well."
You can find sandwiches with pulled pork, thinly sliced turkey breast or cured ham. Sauce styles range from the Worcestershire sauce dip to a variety of vinegar-based sauces with seasonings like cayenne pepper or chili powder.
Standout spots in Kentucky include Old Hickory Bar-B-Que, Starnes Bar-B-Q, Hutchens BBQ and Moonlite Bar-B-Q Inn.
Louisiana
"For us in Louisiana, our traditional smokehouse style starts with smoked sausage and other cured meats, which can be used as a foundational ingredient for many other dishes, like collard greens or pork and beans, or as the star player on the plate ― a versatility that feels unique for barbecue," Bingham said.
As with the rest of its cuisine, Louisiana's barbecue encompasses a range of styles, from Texas-inspired offerings in northern parts of the state to a French- and Creole-influenced approach in the New Orleans area.
"My favorite will always be what we do in south Louisiana with boucheries, boudin, andouille and the like," Bingham said. "South Louisiana barbecue is very pork-heavy, with nose-to-tail utilization. There's also lots of sausage, lots of spice and lots of cured items."
Notable Louisiana barbecue joints include Blue Oak BBQ, Hickory Stick and Devil Moon Barbecue.
Chicago
"South Side Chicago is an unsung regional style," Miller said. "It's basically barbecue rib tips, pork sparerib, chicken and hot-link sausage ― usually on a mound of fries and slathered in sauce."
Chicago's barbecue history involves Black pitmasters smoking meats on the South Side, and also Eastern European immigrants who loved sausages and boiled meats. Another key aspect is the use of indoor smokers that were adapted to keep people warm during the harsh Midwest winter.
Miller is a fan of Honey 1 BBQ and Alice's Bar-B-Que.
"I also like Q's Tips & Wings ― he's reflecting a more recent trend in African American barbecue where people are substituting turkey," the historian explained. "So you've got turkey tips, turkey hot links and things like that, in addition to the other stuff."
California's Central Coast
"It's hyperlocal but I think worth mentioning the beef tri-tip tradition in Santa Maria, California," Miller said.
The area is known for its wineries and emerging barbecue scene, thanks in part to the nearby cattle ranches. As with South Texas-style, Santa Maria's barbecue shows signs of Mexican influence, as it's often served with salsa and pinquito beans.
Generally speaking, Santa Maria-style barbecue entails seasoning tri-tip with a simple rub of salt, pepper and garlic salt, and then cooking the meat for a couple of hours over red oak before slicing it up. You can sample the delicacy at a local Elks Lodge or establishments like The Hitching Post, Shaw's Steakhouse & Tavern, and Jocko's Steakhouse.
Hawaii
Hawaii's iconic cuisine includes a long barbecue tradition that combines the flavors of the Pacific Islands with the influence of various global cuisines. Kalua pig is a signature dish in the state, and the cooking process involves an underground pit, volcanic rocks and banana leaves.
You can also try huli huli chicken or barbecue seafood. Or pick up a classic barbecue "plate lunch" with a range of meats and sauces, drawing from Korean, Portuguese, Filipino and other ethnic styles of cuisine.
L&L Hawaiian Barbecue is a great place to try Hawaii-style barbecue. You can also check out Ono Hawaiian BBQ, Helena's Hawaiian Food and Rainbow Drive-In.
New York
There are few clear parameters associated with "New York-style" barbecue, but it's worth acknowledging the creativity of pitmasters working to forge a new path inspired by the Big Apple.
"I'm originally from New York, born in the Bronx, and there was nothing better than coming home to my apartment building at dinnertime and smelling all the different aromas in the air from different ethnic backgrounds," Johnson said. "That was home to me, so I created my own style of barbecue based off my time in New York."
He created an original rub that he believes captures the diversity of his hometown.
"I have a bit of West Indian along with Spanish flavors in there ― a lot of things people aren't using in rubs," Johnson explained. "But there are so many flavors out there. I can create my own lane, a freestyle barbecue flavor. It has that sweet taste with fruits and other wild cards, but then you get a little bit of savory from cumin, which a lot of people don't use in rub. Then you've got that little bit of heat. Still, it all blends together and has a nice balance, so the protein is still the star of the show."
New York-style barbecue is about experimenting with nontraditional ingredients and preparation styles. It's about bringing different cultures together to create something unique.
"I don't shun traditional barbecue, but look at it as the base," Johnson said. "I can take an original recipe and remix it into something else, depending on my audience. I love the diversity of barbecue. We all have a lot to offer."
Before You Go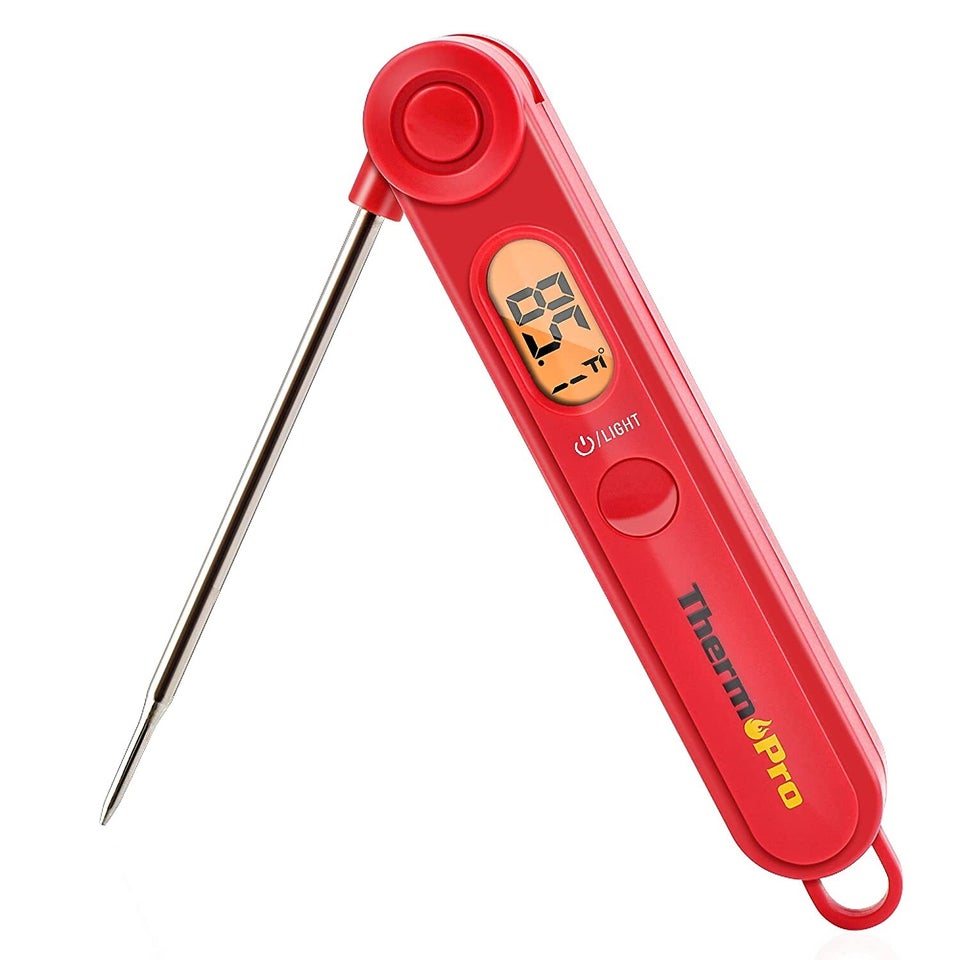 Meat Thermometers For Grilling: Editor's Picks