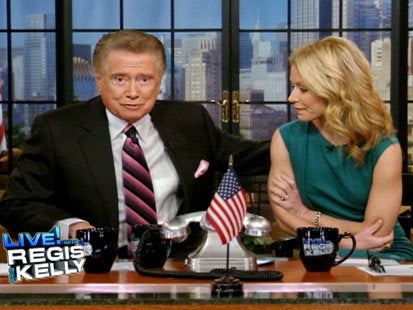 Regis Philbin says he's leaving the show that bears his name.
"This will be my last year on this show," the 79-year-old host said Tuesday morning on "Live! with Regis and Kelly." "It's been a long time, it's been 28 years since I've been here. And it was the biggest thrill of my life to come back to New York, where I grew up as a kid watching TV in the early days, you know, never even dreaming that I would one day have the ability, or whatever it takes, to get in front of the camera and talk to it. ...
"There is a time that everything must come to an end for certain people on camera, especially certain old people," he joked.
Philbin said his exit would occur at the end of the summer or in the fall.
"I think I can only speak for America and all of us here when I say it has been a pleasure and a privilege and a dream come true," co-host Kelly Ripa said. "And I wish I could do something to change your mind."
Watch Regis' announcement below:
Philbin and Kathie Lee Gifford launched "Live! with Regis and Kathie Lee" in 1988 and appeared together on-air through 2000. Ripa replaced Gifford the following year.
Related
Popular in the Community