SANTA ANA, Calif. ― Around 11 p.m. one Friday night in early October, Esther Lim and Daisy Ramirez, organizers with the American Civil Liberties Union of Southern California, stood with three volunteers holding clipboards, pens and voter registration forms. For a little over four hours, they waited for inmates to be released from the Orange County jail.
Around 3:30 a.m., Juan Torres, 28, walked out. As he tried to figure out how to get a ride home, Ramirez approached and asked him if he wanted to register to vote. He hadn't known he was eligible, but when he found out he was, he filled in the registration form, illuminated by a cellphone flashlight.
"I always thought that being a convicted felon you lose your right to vote," he said. "It feels good because you're winning back a right that was taken away."
In California, people with a felony conviction can vote as long as they aren't currently incarcerated in state or federal prison, on parole, or in county jail for a parole violation. Otherwise-eligible jail inmates are permitted to vote by mail.
Torres is one of the roughly 6,000 likely eligible voters who are detained in the Orange County jail at any given time that the ACLU of Southern California is trying to reach through a program it calls Unlock The Vote. They face a big obstacle: The Orange County Sheriff's Department, currently led by Sandra Hutchens, won't let them set foot inside the jail to talk about voting. Instead they must wait outside, across the street, where they approach inmates as they're released and ask them to register.
It's a mission that, at times, can seem quixotic. Around 30 inmates were released that Friday; the ACLU registered only four. But even if a fraction of those 6,000 current or since-released inmates vote in November, it could make a big difference.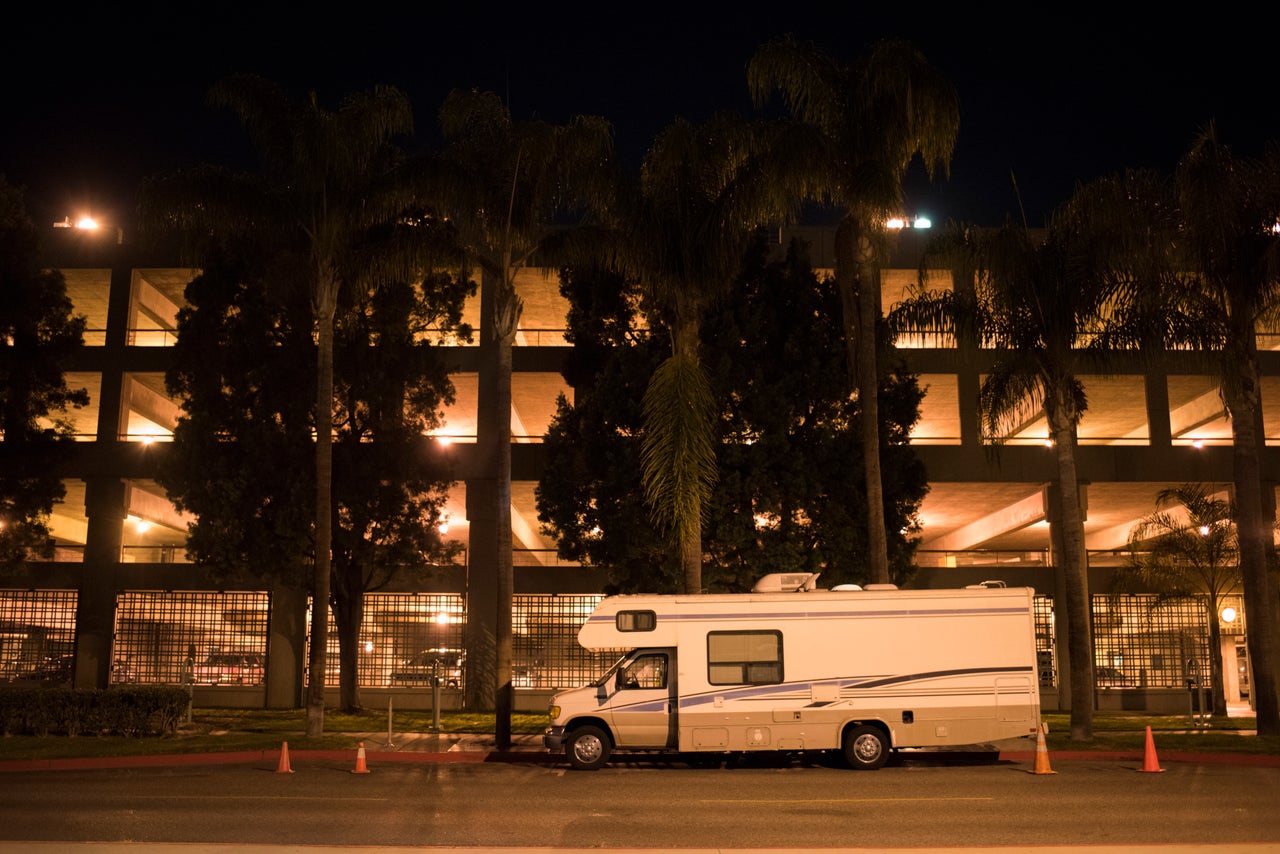 Orange County is home to a number of closely watched congressional races. There's a runoff election for sheriff ― the same official who runs the jail and determines whether the ACLU can have access to register people to vote. Also on the ballot is the local district attorney, a 20-year incumbent recently tied up in a massive jailhouse informant scandal along with the current Orange County sheriff's office. The ACLU is suing both the district attorney and the sheriff over the jailhouse informant program. The county's criminal justice crisis has led to investigations by the U.S. Department of Justice and the California attorney general's office. But in the years since those were launched, both agencies have failed to announce any findings or bring any charges against any officials, raising disturbing questions about the seriousness of the probes.
The local ACLU is undeterred by the difficulty in registering people in the jail to vote. Earlier this year, they began mailing envelopes stuffed with voter registration information to as many of the thousands of inmates as possible.
On weekends, they also try to get family members visiting a loved one at the jail to register themselves and to pass on registration forms to the person they're visiting.
Since the ACLU began the effort in February, they've sent about 3,750 mailers with voter information and talked with hundreds of people visiting their families and loved ones at the Orange County jail. But when it comes to voter registration, the numbers are much lower.
Ahead of California's June primary, 87 people had registered from inside the jail. (The number of inmates who have registered since the primary is not yet released.) By standing outside the Orange County jail before the primary and general elections, the ACLU registered another 85 people, including 42 inmates who were being released and 43 people who were there to visit inmates.
Not allowing the ACLU inside the jail also prevents organizers from following up with those who registered but are still behind bars to make sure they can actually vote. Only 16 of those 87 inmates got mail-in ballots for the primary and just eight actually voted by mail from the jail.
That Friday night, Ramirez told HuffPost that she had no illusions about how difficult this registration work is. It would be so much easier if the group were allowed to go inside the jail, she said. Still, the obstacles to registering people in jail underscored why it's important to target inmates as a population to register.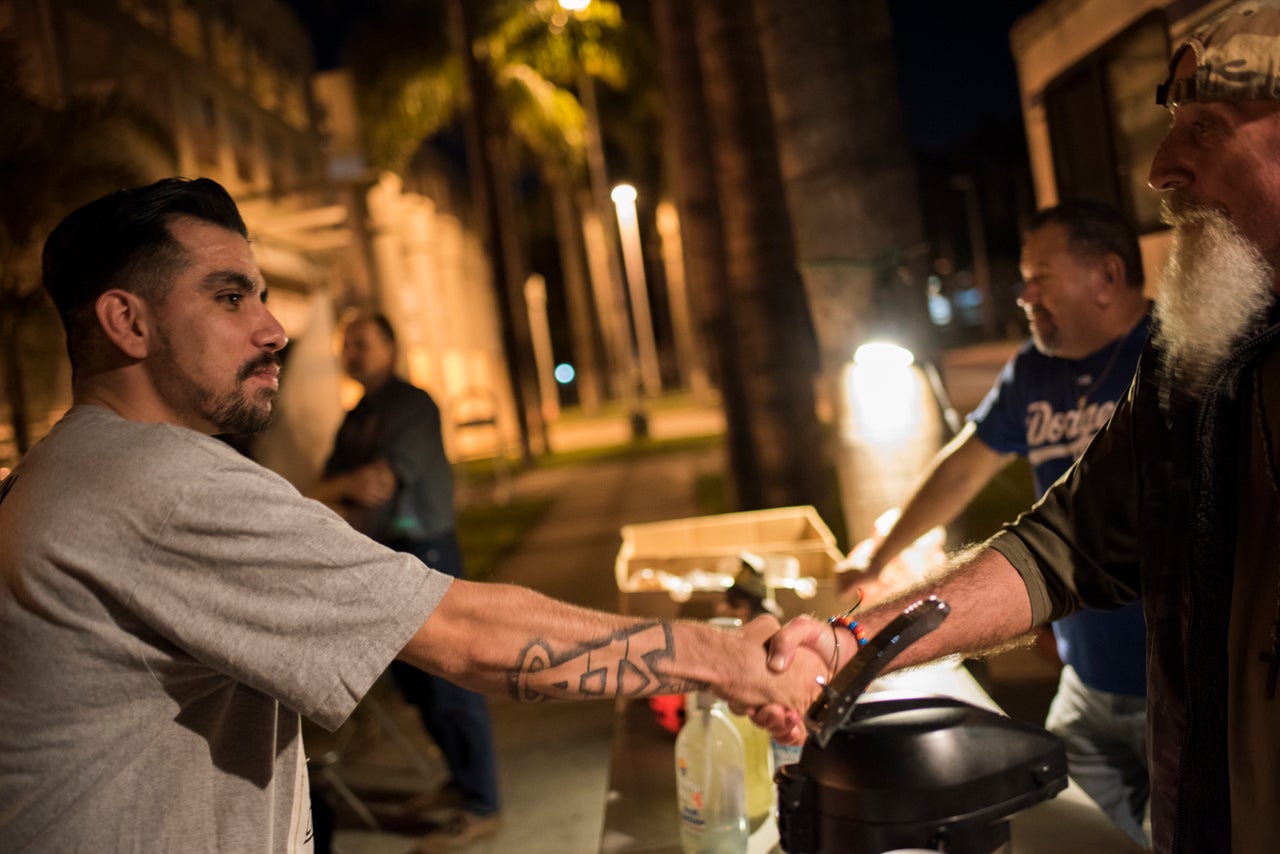 "It's very easy to say, 'Oh, they didn't let us in the jails. Guess we can't do Unlock The Vote here.' I feel like people bank on that being the case," she said. "It serves as more motivation to continue doing the work."
"There's obviously an incentive and a reason why people don't want folks engaged in that process," she said the next day, once again standing outside the jail. "There's a lot of untapped political power."
It doesn't have to be this hard to register people in jail. Just north of Orange County, the ACLU has been allowed inside the Los Angeles County jail to register inmates. They estimate they've registered about 4,000 people there. Efforts in jails in Chicago and New York, among other places, have also added new voters to the rolls.
Those numbers add up. There are 700,000 people detained in jails across the country who are likely eligible to vote, but don't know they can. Forty-eight states strip people of their voting rights after they're convicted of a felony. But people can still vote while they're awaiting trial in jail or if they're serving time for a misdemeanor (the specific policies can vary from state to state).
Registering inmates just after they've been released from jail is also crucial, experts say. Those people have had their freedom stripped away, and now the simple act of registering to vote can help restore their voice in society.
In fact, a 2004 study found a correlation between voting and lower rates of recidivism. Christopher Uggen, a professor at the University of Minnesota and one of the authors of that study, said that welcoming someone out of jail with a voter registration form can have a positive psychological impact.
"It's a positive human interaction to connect with somebody at that moment and remind them and assist them in taking up those rights and responsibilities of citizenship," he said.
Access Denied
Ramirez first approached officials about registering people in the Orange County jail late last year, but said she was rebuffed when jail officials cited worries over security, staffing capacity and a concern that the ACLU would begin inquiring into other jailhouse conditions. Months later, they approached the jail again about setting up a table in the lobby when families come to visit. They were rejected again.
Carrie Braun, a spokeswoman for the Orange County Sheriff's Department, denied repeated requests to explain why the ACLU isn't allowed inside the jail to register voters.
In a statement to HuffPost, Braun said the jail gives inmates access to registration forms and requests for mail-in ballots.
"While we have not allowed any outside organization to directly do voter outreach inside the jail, our Inmate Programs staff has been meeting regularly with the ACLU to aid in disseminating info and ensuring that inmates who are eligible to vote have access to the information regarding voting," she said.
When Ramirez first asked to see the jail's voting policy, she said they didn't even have the correct PO Box and ZIP code for the local election office. She said jail officials corrected that immediately when she alerted them to the problem. Still, she said, she doesn't know how many ballots may have been lost.
There has been some incremental progress. Ahead of California's primary election, the ACLU didn't include an actual voter registration form in its mailings to inmates out of concern that would violate the jail's policy on how detainees were supposed to request voter information. Since then, jail officials have clarified that the ACLU can include voter registration forms. Jail officials have also made it easier for inmates to request a ballot and have begun making announcements informing people inside the jail that they can vote.
But just having the materials available isn't enough, the ACLU argues. Inmates in jail often think they're ineligible to vote and might not know the process for requesting a mail-in ballot. Having someone in person explain to them their rights could mean the difference between voting and not voting.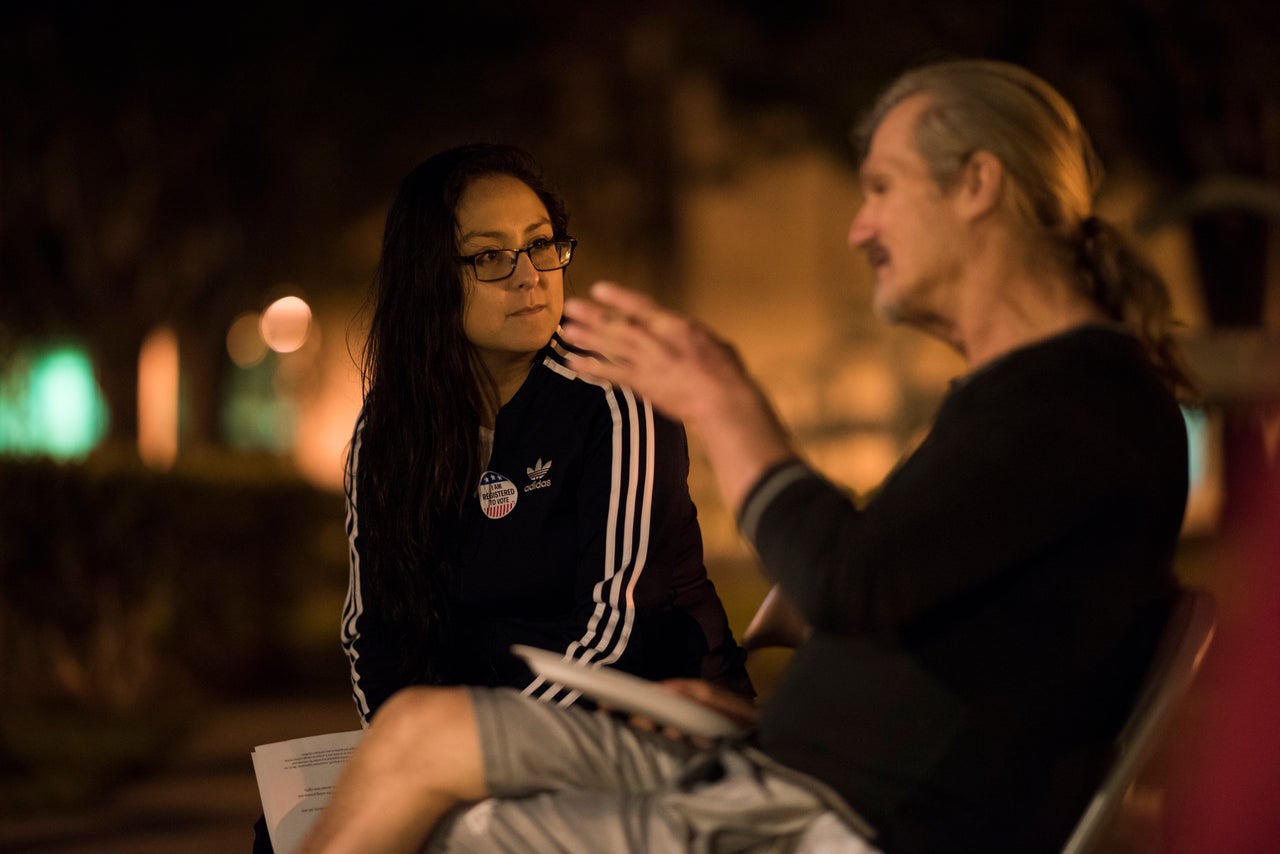 When Lim, the director of the ACLU of Southern California Jails Project, is in the Los Angeles County jail, she said she often encounters people who will initially say they don't want to register to vote, but then change their mind after watching her register a cellmate. Seeing the same people come through the jail again and again can also establish relationships and focus inmates on upcoming elections.
Uggen, the University of Minnesota professor, said that voter registration drives in jail can ignite valuable conversations reminding inmates that they have a stake in society and that their status in jail is only temporary.
"One of the real benefits is that just the act of thinking about voting and who's gonna be representing us on the outside gets people thinking about the outside," he said. "Projecting yourself forward in time, it helps you make better decisions while you're behind bars or to start to lay the groundwork for successful re-entry."
Even after the ACLU registers voters in the Orange County jail, it's difficult to know how many people go on to actually cast a ballot because until recently the Orange County registrar of voters did not specifically track ballots coming from the jail. They could only know for certain if someone was voting from jail if that person had used the jail's address as their voter registration address. The limited data available does not look good: Since 2008, just 39 people listing the Orange County jail as their address have voted. Officials have mailed just over 223 ballots to people in the jail.
Waiting, Waiting, Waiting
Some nights outside the jail can be slow. On the October evening HuffPost accompanied Lim and Ramirez, only a slow trickle of people emerged from the facility. As the temperature dropped, the volunteers put on sweaters. At one point, around 1 a.m., sprinklers on a patch of nearby grass suddenly turned on, causing the volunteers to scramble out of the way.
"I think it's important when someone comes out of jail to see that people care and letting them know that their voice matters and they have a voice to vote for who becomes essentially their caretaker, their babysitter. Who makes the rules, who has to abide by them," said Christy Guadarrama, 33, who began volunteering with Unlock The Vote after her partner was detained in the Orange County jail.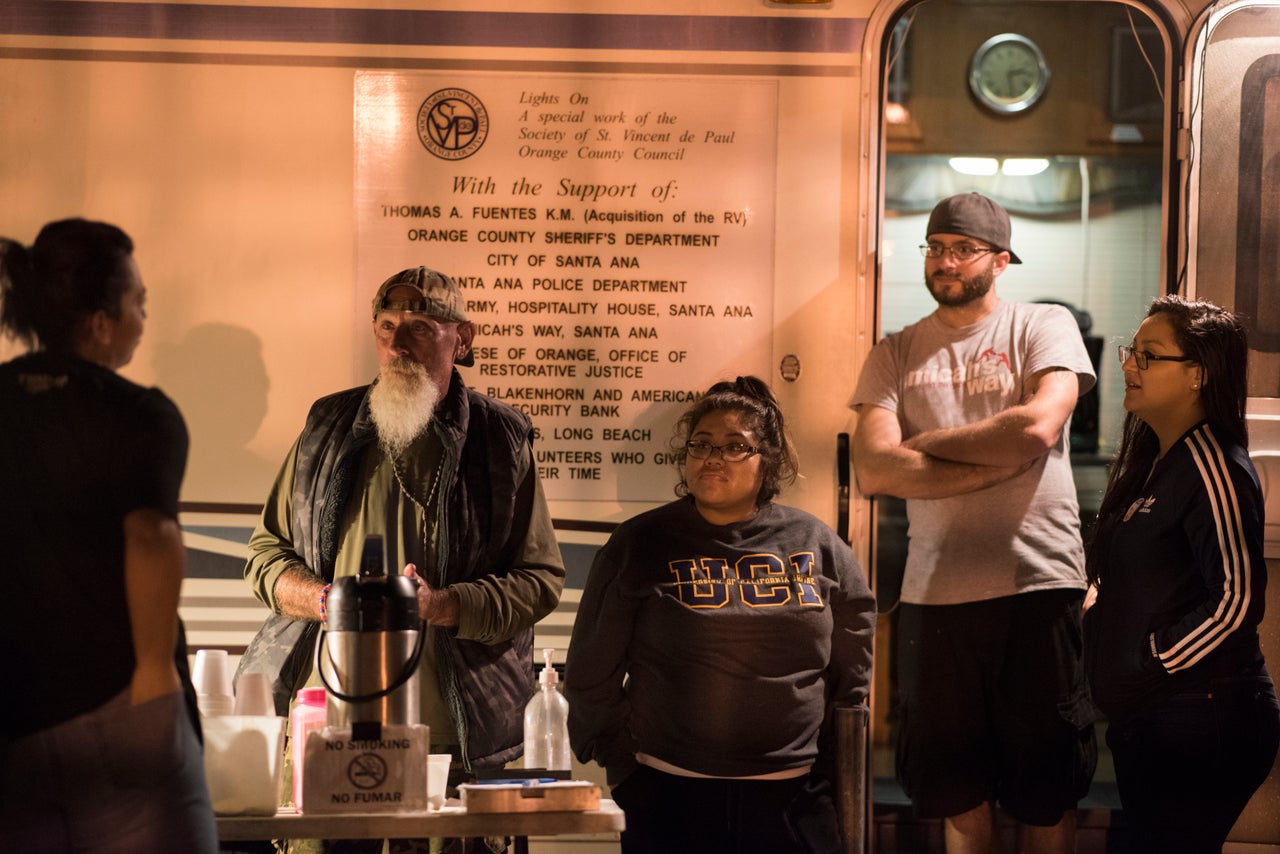 There are other complications in getting information to people inside the jail. When the ACLU sends its mailers, they have to cram a lot of paper ― a voter registration form, material on eligibility requirements and flyers about local races ― into a single envelope because they likely won't have time for a follow-up.
Earlier that Friday, ACLU staffers and volunteers assembled around a conference table in the organization's offices in Santa Ana to fold all those sheets of paper and stuff them in about 200 envelopes. But they didn't use official ACLU envelopes because Ramirez and Lim were concerned that jail officials might delay delivery if they saw mail with the civil rights group's logo on it.
Lim and Ramirez had also ordered trays of Mediterranean food for the handful of volunteers who had come to help. At first, they suggested that the volunteers eat while they folded, but then Guadarrama said they should wait. Any smudge of food that got on the documents, she worried, could give jail officials reason to say there was contraband in the envelopes and reject them. They ate after they'd finished preparing the mailers.
One Voter Registration At A Time
The next day, a Saturday, Ramirez, Guadarrama and Daisy Chavez, another volunteer, were back outside the jail. This time they had set up a small tent and table with a pile of stickers and candy. They stood with clipboards, trying to intercept people, as they walked to and from the jail to visit loved ones, and convince them to register to vote. Just feet away, representatives from bail bond companies were asking people if they needed help making bail.
Ramirez approached people on the street, speaking in both English and Spanish, to ask if they were registered to vote. She told them about the electoral races for local district attorney and sheriff, the outcomes of which could have a big impact on their loved ones.
She also asked the family members if they would provide the booking number and name of their loved one so that the ACLU could send voter information directly to those inmates, which the ACLU hopes makes it more likely they will register to vote.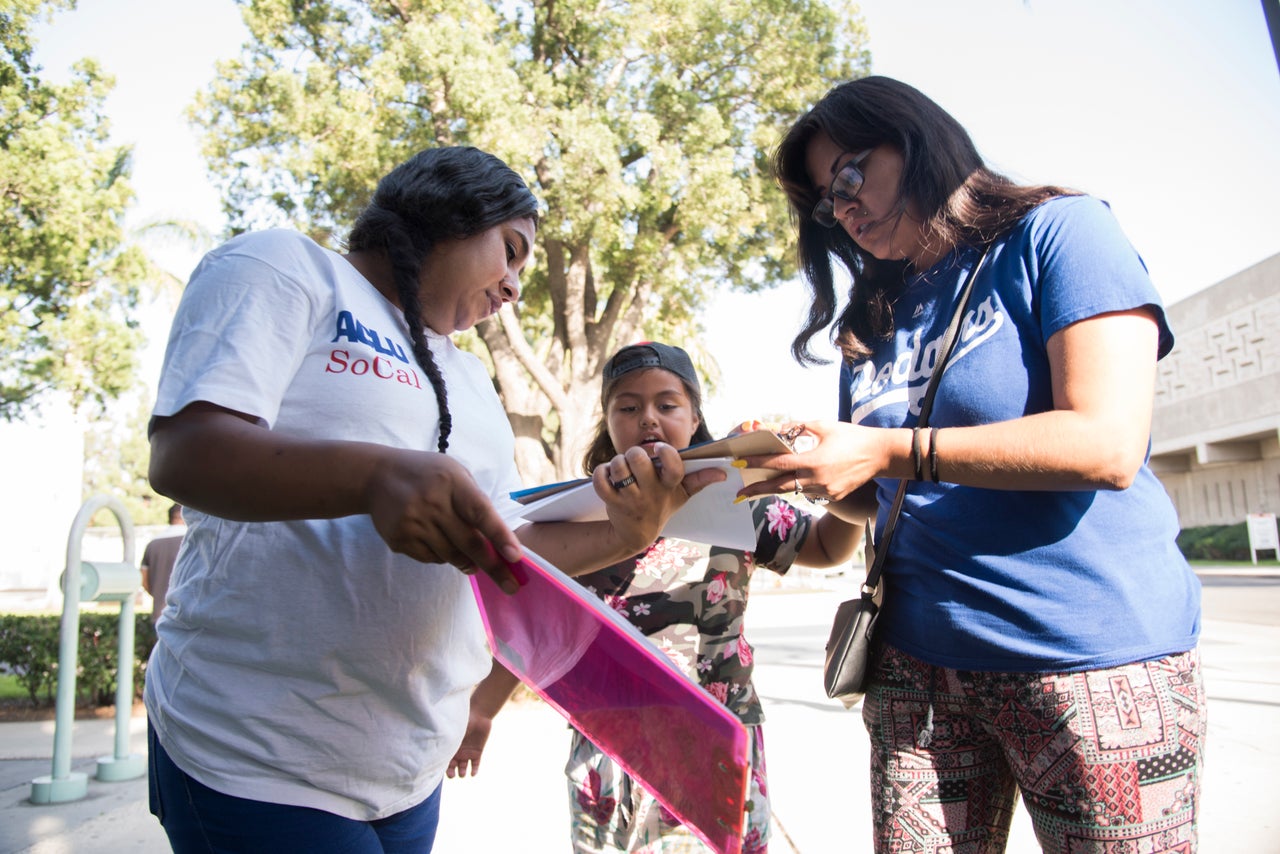 One man walking by the tent asked Ramirez what was the point of registering people to vote outside a jail when felons couldn't vote. When Ramirez explained that the man could vote if he wasn't on parole for a felony, he looked stunned and grabbed a voter registration form before heading to his car.
One of the people that Ramirez stopped, Nicolle Lopez, 37, hadn't voted in nearly a decade because she had a felony conviction and thought she was ineligible. Each Election Day for the last 10 years, she'd been angry because she felt like she "didn't have a say."
By 6 p.m., after some four hours of standing outside the jail, the three women had registered five people and accumulated the information for about a dozen others in jail to mail forms to. If organizers could go inside the jail, Ramirez estimated they could register hundreds.
"I think an ideal situation would be the department doing what it's supposed to do ― provide the ballots, have them readily available," Ramirez said. "If they were doing their job, we wouldn't have to do this."
Clarification: One reference in this story to felons who are allowed to vote has been amended to reflect the qualifications listed earlier in the story: Those who aren't currently incarcerated in state or federal prison, on parole, or in county jail for a parole violation are eligible.
Popular in the Community