Scientists have long promoted rain forest preservation as a way to mitigate climate change, but now it turns out that regrowing forests is just as important.
Newly grown tropical forests can capture harmful carbon from the atmosphere at a rate up to 11 times faster than older forests, according to a study published in the journal Nature on Wednesday. The study includes a map of Latin America (pictured below) that shows the regions with the greatest potential for carbon capture.
"It is about reducing carbon loss by reducing deforestation, and increasing carbon uptake by allowing young forests to regrow," Dr. Lourens Poorter, professor of functional ecology at Wageningen University in the Netherlands and lead author of the study, told The Huffington Post. "It is time to appreciate and value the role that these secondary forests can play in highly fragmented human-modified landscapes."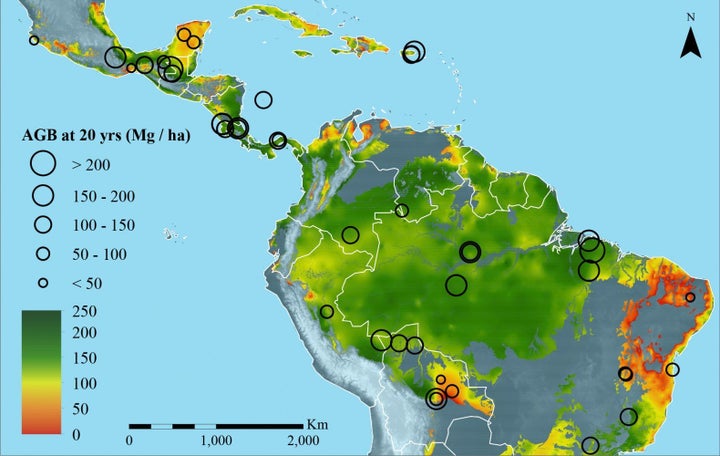 This data allowed the researchers not only to build the map, but also to analyze how much carbon secondary forests can take up -- which turned out to be more than expected, said Dr. Saara J. DeWalt, an associate professor of biological sciences at Clemson University in South Carolina and a co-author of the study.
"I was very surprised by how quickly secondary forests uptake carbon," DeWalt told HuffPost. "Younger forests capture more carbon because the trees are actively growing and are quickly converting carbon into leaves and wood. Growth of trees in older forests is much slower because of more limited space, sunlight and nutrients."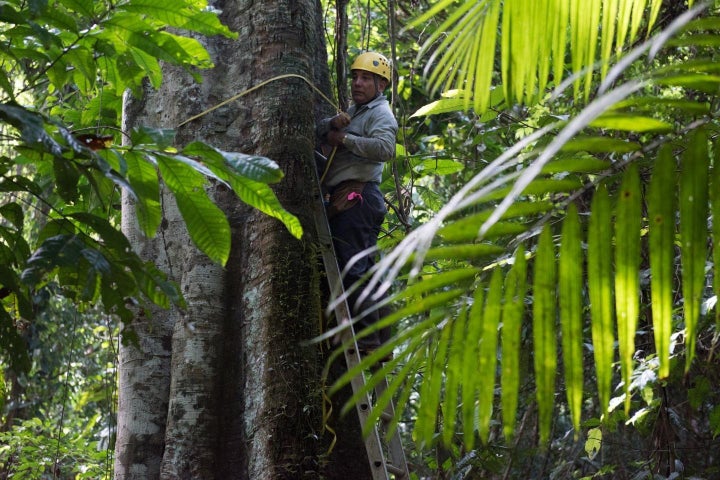 The ability of a secondary forest to grow and capture carbon depends mainly on rainfall, the researchers found.
"Rainfall came out as being the most significant factor," said Dr. Eben Broadbent, an assistant professor in the University of Alabama's geography department, in a statement. "That's really what's going on here ... Wet forests have a quicker recovery rate, and dry forests typically have a very low regrowth rate."
The researchers say their findings provide support for policies that minimize forest loss and promote forest restoration.
Rain forests are the largest terrestrial carbon sinks on Earth, as the BBC News recently reported, and deforestation is estimated to account for 20 percent of all carbon emissions, which play a major role in climate change.
""We should continue to actively promote protection of old-growth forests as well as to promote natural forest regeneration.""
It's a pretty big deal, then, that forests can absorb such emissions. And it shouldn't go overlooked, the researchers say.
"Globally, approximately half of tropical forests are in secondary state and half are old-growth," Dr. Angélica M. Almeyda Zambrano, an adjunct professor of geography at the University of Alabama and a co-author of the research, told HuffPost. "Highlighting the potential of secondary forests to uptake carbon simply by letting them regrow has very real policy implications. We suggest a two-pronged strategy."
That strategy first involves preserving old-growth forests and protecting them from being degraded or converted to other land uses, she said. The next step includes promoting the growth of secondary forests as much as possible, and focusing on developing such forests where they will rapidly take up large amounts of carbon.
"We should continue to actively promote protection of old-growth forests as well as to promote natural forest regeneration," DeWalt said. "Forests regrow without much help -- let's work with nature rather than against it."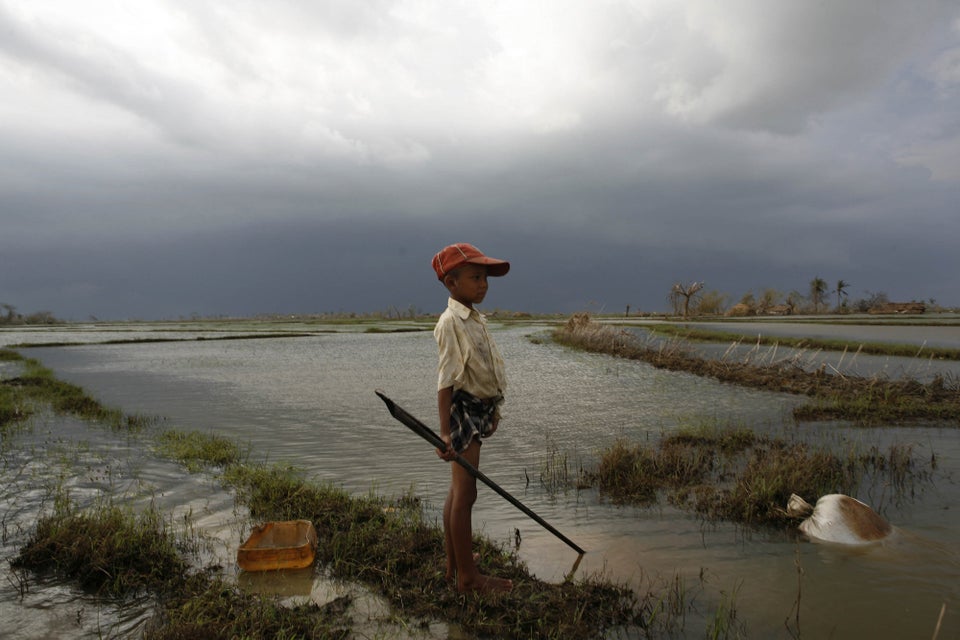 Climate change seen from around the world
Related
Popular in the Community