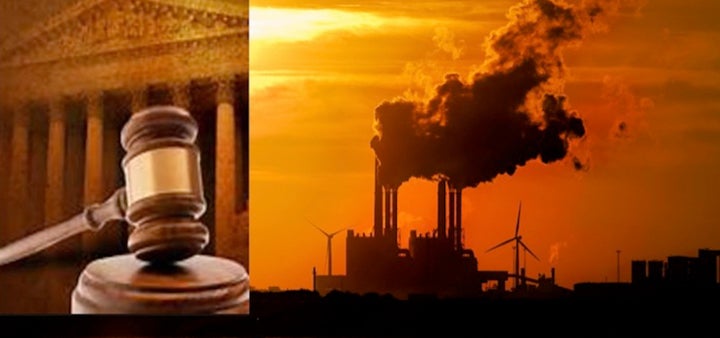 I've listened as the Trump Administration asserts that rolling back environmental regulations and weakening the EPA will unburden industries and bring prosperity to communities. It won't. Instead, it will usher in an era of regulation by litigation. We're not entering an epoch of unregulated industry activities, as many fear. Instead, industries are headed for a period of greater uncertainty and risk, when their ability to operate and make reliable financial forecasts is threatened. Environmental groups feeling compelled to prevent what many see as disastrous actions on pollution, climate change, and energy policy are mobilizing. Communities will be caught in the middle.
Americans by and large don't like the notion of "regulation" but they do value their environment and the health of their children. Over 70 percent of Americans want the U.S. government to act on climate change. Recent polls found that 70 percent of voters support strict carbon dioxide emission limits on existing coal-fired power plants, 76 percent believe carbon dioxide should be regulated as a pollutant, and 56 percent oppose withdrawing from the Paris Treaty*. I've worked with communities and industries that have no time to engage in climate-change rhetoric because they are too busy trying to find solutions to its tragic impacts.
As Americans have demonstrated time and again when their core values are threatened, they act. They take their complaints to the courts.
The U.S. has a robust judicial system. It relies on evidence. That includes scientific evidence. The Daubert Standard, for instance, ensures the quality of science and scientific experts allowed in courtroom evidence. Even if politicians and agency leaders deny scientific evidence, judges cannot. Peer review trumps political ideology. Scientific results demonstrating environmental damage, threats to human health, and climate-change consequences can determine the outcome of legal battles. The fate of natural resources, industries and communities will rest heavily on decisions made in courtrooms around the country. Expect environmental groups to use the court system effectively.
"Americans don't like the notion of 'regulation' but they do value their environment and the health of their children."
Unfortunately, we've been here before. The bitter forestry wars that raged throughout the west coast subsided only less than a decade ago. Job losses in forestry were first attributed to overzealous environmental regulations, but it soon became clear that they were due to automation and industry changes. Conservation groups felt that agencies were not doing enough to protect natural resources. Alarmed by the rate of forest depletion and its effects on water purity, stream health, and biodiversity, they repeatedly sued agencies and the industry. Often, environmentalists won.
Litigation is expensive. Companies clearly spent many millions of dollars, although amounts were often not disclosed. The Department of Justice spent at least $46.9 million on defending the EPA alone between 1998-2010. The Department of Treasury paid an additional $15.5 million in reimbursement of plaintiffs attorney fees and costs between 2003-2010. Other agencies, such as the Department of Interior, likely had similar or higher costs
During this time, I worked in helping to resolve environmental disputes through science. I saw industries that were unprepared brought to the edge, some even going under. I worked with one landowner who actively sought to balance conservation with forestry. Banks, he explained, were reluctant to lend money that would allow him to shift to more sustainable harvests because the risk of environmental litigation made his forecasts too uncertain. If environmental regulations are impulsively rolled back, and climate-change denied, this will be our new normal. Communities will reap no benefit from having old jobs return; they almost never do. Few may know that jobs in clean energy outnumber those in fossil-fuels by 2.5 to 1 and are growing at a rate 12 times faster than the rest of the U.S. economy. Just as traditional forestry jobs did not rebound, neither will fossil fuel ones.
Environmental groups have hired extra lawyers in recent months, declaring that they are ready to go to court. Many are seeing increases in donations to support these efforts. The Sierra Club reported a 700 percent increase between November and February; the National Resources Defense Council received 50,000 donations in November alone. Already one suit has been filed. Last week conservation groups and the Northern Cheyenne Native American tribe of Montana sued the Administration for violating the National Environmental Policy Act when it lifted a moratorium on coal leases on federal land.
Good regulations can build community. Many companies have found that they can achieve more, reduce business costs, and establish mutual trust and cooperation when legislation is clear and incentivizes all parties.
Litigation is a divisive tool for environmental decision-making. Those of us who have been in its trenches know too well the true costs and consequences. Companies need to re-assess their risks in this new world of regulatory uncertainty, and be strategic in defending their bottom line while promoting good corporate citizenship. Several companies have already stepped-up and called on the Administration to continue America's established leadership in environment and climate-change. Industries have a chance to act now in order to protect established trust, and forge new solutions before the courts impose them. Environmental groups are stepping into the breach, industry and government will be their certain targets.
*A Yale/George Mason poll and a Washington Post-ABC News poll, respectively
Popular in the Community