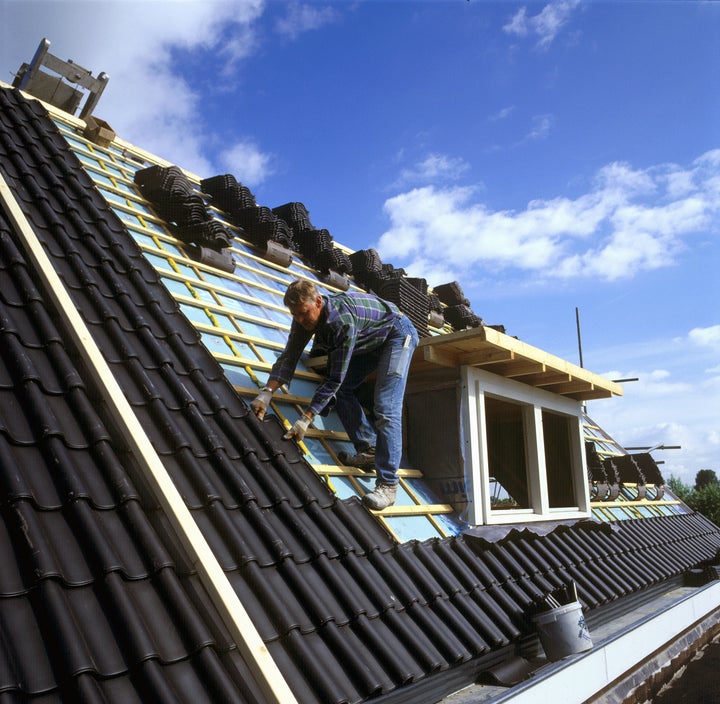 WASHINGTON -- Republicans claim the Obama administration is choking small business with burdensome workplace regulations. Democrats say the few new regulations are modest and save lives. And caught in the middle of this ideological debate are America's roofers.
On Wednesday, residential roofing and its dangers became the focus in Washington's discussion over how much regulation is too much in a sluggish economy. The Occupational Safety and Health Administration, a regulatory arm of the Labor Department, recently instituted a rule requiring that safety harnesses be used on many residential roofing projects. Although OSHA officials say the rule will prevent maiming and death, Republicans and the construction lobby say it will merely create more red tape and unnecessary costs.
The head of OSHA, David Michaels, was asked by Republicans to appear before a House subcommittee on Wednesday to justify the roofing rule and a small handful of other initiatives put forth by the agency. Last week House Republicans had proposed a labor and education budget that included a number of riders aimed at scuttling OSHA's safety plans, including the roofing rule, and slashing the Labor Department's job-training budget.
Michaels said that the workplace safety rules were "vitally important" and that, despite opposition from Republicans and the housing industry, he is "committed to moving them forward as expeditiously as possible." He noted that OSHA has developed and instituted only two new workplace safety rules under the Obama administration, one pertaining to cranes and derricks and the other to shipyards. Many of the agency's newer rules had been in the works for years.
Yet Rep. Tim Walberg (R-Mich.), chairman of the workforce protections subcommittee, described a president and Labor Department that were pummeling the country's job creators with regulations.
"It was clear from the early days of the administration [that] a new sheriff was in town, who intended to take a much more punitive approach to workplace safety and who threatened to publicly shame employers," Walberg said. "But we must not ignore the employers who are sitting on the sidelines, questioning the future cost of doing business, reluctant to hire new workers."
Homebuilders and construction companies working on residential properties were previously exempted from an OSHA rule requiring that roof workers be protected with harnesses. The rule that went into effect in September removes that exemption and requires harnesses for workers toiling six feet or more off the ground. The rule also eliminates "slide guards" -- pieces of wood, at least 2 inches by 6 inches, bracketed to a sloped roof -- as an acceptable safety precaution. (For roofers' critical reaction to the rule changes, see this article in the Palm Beach Post.)
The National Association of Home Builders had originally recommended that OSHA remove the residential exemption for the sake of industrywide clarity and consistency. But the powerful trade group has since changed its position and now wants OSHA to consider revising the rule, arguing that it could be too difficult to follow in certain situations.
"We're finding that there's a difference in interpretation as to how the standard applies," Susan Asmus, senior vice president of regulatory affairs at the homebuilders trade group, told HuffPost. "There are a number of activities for which we believe providing [harness] systems is impractical or impossible. OSHA believes that those instances are very few and far between."
One of the fiercest critics of the roofing rule on Wednesday was Rep. Reid Ribble (R-Wis.), who was involved in the roofing business for more than 30 years and previously served as the president of the National Roofing Contractors Association. Ribble said the costs of the new regulation would be passed on to homeowners, many of whom would end up forgoing roof repairs because of it.
"As the price goes up, and it has to go up, that family now can't afford it. So demand goes down as rules and regulations are piled on," Ribble said.
"Obviously, it's going to raise some costs, but it's going to save some lives," Michaels, the OSHA chief, responded. "We think this is a reasonable cost."
Financial disclosures forms say that Ribble received $17,000 in "salary" last year from the Ribble Group Inc., a Wisconsin-based roofing company founded by Ribble's father, but Ashley Olson, a Ribble spokeswoman, said the money was in fact a loan repayment. Ribble has also received $10,000 in campaign contributions from the National Roofing Contractors Association this election cycle, according to the Center for Responsive Politics. Olson said the congressman sold his interest in the Ribble Group last year and no longer has ties.
"He does not sit on the board, nor does he have any control over the operations or finances of the company," Olson wrote in an email. "He is still very passionate about the roofing and construction industry … and government regulations in general."
At the hearing, Rep. Tim Bishop (D-N.Y.) said that the roofing issue cuts to the heart of the broader political debate over regulations and the economy. Citing recent news reports and Labor Department surveys that suggest regulations have had minimal effect on hiring, Bishop said businesses are suffering not from an excess of red tape but from a steep drop in consumer demand.
"Do we have an over-regulatory problem? I think it's debatable at best," Bishop said. "This hearing is part of the majority's thesis that regulation is the problem. ... We have to ask ourselves the very real question, 'Is this a solution in search of a problem?' We can solve every regulatory problem we have today. But unless we increase demand tomorrow, we're going to have a serious jobs problem."
Several Democrats suggested that the roofing rule shouldn't be blocked just to save businesses money, arguing that it would ultimately save lives. Rep. Dennis Kucinich (D-Ohio) tried to underscore this point in an exchange with Ribble, who said his roofing company never suffered a fatality.
"I have to ask something," Kucinich said to his colleague. "Have you ever fallen off a roof?"
CORRECTION: This story originally described slide guards as being "two by fours." In fact, slide guards must be at least two inches by six inches.


"No, sir," Ribble responded.
"I'm glad for that," Kucinich said. "That's my only question."

Popular in the Community