Shoppers heading to REI's website this Black Friday are getting a picturesque reminder that the outdoor gear and sporting goods retailer is closed for the day.
CEO Jerry Stritzke announced in October that REI's 143 stores would be closed the day after Thanksgiving, and the company would be giving most of its employees a paid day off. A "handful" of the retailer's roughly 12,000 employees will remain on call, according to USA Today. On Friday, a visit to REI.com yielded this image: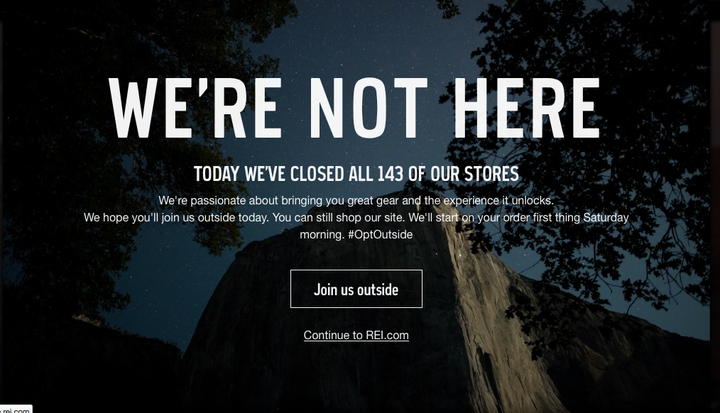 Customers can still shop online, but the company won't process any orders until Saturday.
Company representatives have been adamant that the move is not just a play for good publicity.
"If it was just a PR stunt, we wouldn't be closing down our stores for the day," REI Chief Creative Officer Ben Steele told PRWeek in October. "It is a very real action and wasn't a decision we took lightly."
Stritzke's attempt to promote the decision on a Reddit AMA ("Ask Me Anything") thread earlier this month took a turn when Reddit users accused him of avoiding a question about the pressure the company puts on employees to sell memberships. Hours later, Stritzke returned to the thread saying he had "missed an important question" and that the company was "looking into how we are using this measure."
Still, the public's response to the Black Friday store closures has been overwhelmingly positive, and other outdoor-focused companies Outdoor Research, Clif Bar and Gregory Packs have jumped on the bandwagon and are also giving their employees the day off. Those businesses are joining REI in promoting the hashtag #OptOutside to encourage would-be Black Friday shoppers to enjoy the outdoors instead.
Outdoor Research's site says that on Friday, Saturday and Sunday, each time someone uses the hashtags #OptOutside and #OutdoorResearch, the company will donate $10 -- with a donation cap of $5,000 -- to Paradox Sports, a nonprofit group serving outdoor athletes with disabilities.