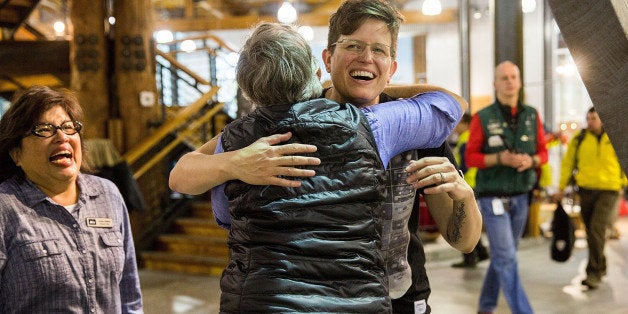 Last week, outdoor-action-sports retailer REI announced that it would be closed for Black Friday, a day most retailers hope will be their biggest sales day of the year. It's a gutsy move that reflects the compass of company CEO Jerry Stritzke. Stritzke is a relative newcomer to REI, a cooperative owned by its customers. The 76-year-old company has been on a roll since Stritzke became CEO in 2014. A veteran of Coach and Victoria's Secret, Stritzke is an outdoor enthusiast who wants his frontline sales team motivated, engaged, and happy.
The history of U.S. retail is littered with companies that have not considered the emotional state of their sales people a priority. Retail positions are challenging jobs. Typically, sales people are on their feet throughout their shifts, and work hours are compressed to the time when there is traffic: when the store opens, lunch time, right at 5:00 p.m., and much of the weekend. Peak times are frantic with multiple customers simultaneously demanding attention and answers to their questions. During the lulls, sales staff are expected to stock and fold. The wages of most two-earner households -- with both workers in retail sales -- are below the median family income. These workers often find it hard to schedule their personal lives -- they are subject to the whims of the "labor scheduler," the roster that says who works when and for how long.
REI has always been a different kind of retailer. It has earned a reputation for being very low-key. The Seattle-based cooperative puts heavy emphasis on outdoor adventure. Many of its staff members are long-term employees and outdoor enthusiasts who sell on the basis of personal experience and firsthand knowledge.
When my wife and I went on an REI vacation in Peru last March, REI provided a complete list of needed goods and a suggested-brand list. Except for two pairs of gaiters -- we did not encounter roaring streams -- everything REI recommended turned out to be necessary. REI has won our loyalty.
Stritzke's announcement that REI would be closed for Black Friday made national news.
Everyone knows that Black Friday is the biggest retail day of the year. Other retailers have gone to incredible lengths to capture this first day of the Christmas shopping season. Many even open up on Thanksgiving Day. They have taken this holiday from their employees. And with the exception of a few independent stores, Black Friday is known for "door busters," special promotions in which goods are sold at or below cost to get the first dollars of holiday money from consumers' pockets. Door busters mean -- at the very least -- long lines and chaotic store conditions.
This promotional fever is driven by many factors. First, we live in a world with too many stores chasing too few consumers. Second, the U.S. middle class is discretionary income starved. Even with low gas and food prices, the want is higher than the income. We've had a decade of middle-class median-income decline in the face of increases in the real cost of living -- primarily, for housing, health care, and education. So holiday budgets have been squeezed tight. Real spending increases have been modest since the Great Recession.
Stritzke and REI are in a unique situation. Their customers get a return on their purchases every year in the form of a co-op rebate. They sell their customers "adventure and solutions." Consumers go to REI for advice and recommendations from trusted sales people.
On Black Friday, many other sports retailers will be open. They will advertise their specials, and REI will lose some sales.
But I think REI is onto something. The company is stepping back from short-term comparable-, or comp-store sales and saying, "We can win the hearts and minds of our employees with a policy of generosity and consideration." Other forward-thinking companies are saying similar words.
In my new book, Rocket, one of the eight rules for building enduring brands is "transform your employees into passionate disciples." You see it in action at The Container Store, Whole Foods, Apple stores, Starbucks, and other high-performing retailers. They invest in training, compensation, benefits, and promote-from-within policies. They treat their employees with respect.
REI is among the first to experiment with employee-first policies. The company offers its employees, for example, health coverage, "tools" for wellness, retirement savings, and sabbaticals. The job website Glassdoor features postings describing REI's "awesome work environment for retail," work/life balance, paid days off to get outside, generous discounts on REI items and "amazing people, amazing job, amazing mission."
As far as Black Friday goes, REI risks less than most other retailers: there will be less impulse buying and most of the traffic is activity-centric. A brave CEO at the center of the decision, Stritzke gets it. The Millennial workforce is highly impressionable. Stritzke is confident and secure in his position: since his appointment as CEO, the company has enjoyed a growth spurt. Better execution. An emphasis on brands. Better understanding of consumers' needs. More expertise on the floor. Rocketing results.
Will others follow? The only retailers that can follow are those with very strong brands and very strong followers.
Only by building a stronger brand can retailers break out of the Black Friday loop. Leading brands are not so desperate. They sell must-have goods and know that they can count on customers' loyalty. Their products, with unique technical, functional, and emotional properties, have made it to the top of the list of requested holiday gifts.
In my view, 'tis the season to be jolly if you have a "rocket" retail brand. 'Tis the season for expensive purchases, extended shopping hours, flat or declining comp-store sales, and heavy markdowns if you are a retail brand with few unique benefits, no proprietary product, and an uninspired floor staff. Congratulations, REI, on a brave experiment. I'll be buying my replacement walking poles on Saturday, not Black Friday.
Michael J. Silverstein is a Chicago-based senior partner of The Boston Consulting Group (BCG) and an expert on consumer behavior and retail and packaged-goods innovation. His most recent book, published in October, is Rocket: Eight Lessons to Secure Infinite Growth (McGraw-Hill).
Popular in the Community