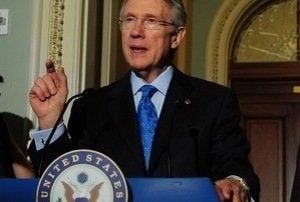 Here's a new brush off technique: "Ask Tiger, not me."
A group of reporters approached Sen. Harry Reid on Thursday afternoon and attempted to question him about Afghanistan and health care reform. Instead of answering, Reid inexplicably quipped "Get the answers from Tiger Woods."
When an aide warned Reid that his quip would "end up on the CNN Web site," the smiling majority leader repeated his previous directive.

"Ask Tiger, not me," Reid said as he walked away from the closed-door briefing he had just received on Afghanistan.
Reid's not the only one to use Woods as an excuse to walk away -- on The View Wednesday, Whoopi Goldberg brought up Tiger Woods, then nearly walked off the show, claiming the subject "bored" her.

Popular in the Community