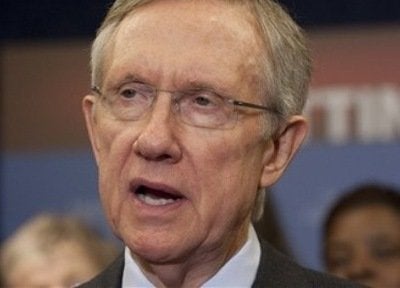 Harry Reid will make sure that an amendment to break up megabanks and cap their size comes up for a vote, the Senate majority leader said. He added that he was leaning heavily toward voting for the amendment, cosponsored by Sens. Sherrod Brown (D-Ohio) and Ted Kaufman (D-Del.).
Reid will also support an amendment from Sen. Bernie Sanders (I-Vt.) that will authorize an audit of the Federal Reserve, he said.
On Wednesday, Reid was noncommittal when asked by reporters at a briefing about the two major amendments. In an interview in his office with the Huffington Post on Thursday, Reid went further when asked if he'd considered the amendments since the briefing.
"I'll probably vote for it," Reid said. Does that mean it'll come up for a vote?
"Oh, it's going to come up. I'll make sure it comes up," said Reid of the Brown-Kaufman amendment. "Unless my staff convinces me differently. But what I know about it, I'll vote for it."
Reid said he has not been lobbied by the White House to oppose either Brown-Kaufman or the Sanders amendment. "No one's talked to me," he said.
Economists largely agree that the only way to end the bailout of big banks is to reduce banks to a size small enough so that if they fail, they don't bring down the entire system.
Reid's support gives a major boost to two amendments that have surged in the past few days and are now within a shot of passage. Brown-Kaufman is "among the most deeply dreaded by Wall Street," the New York Times wrote Thursday.
Reid's backing gives Brown-Kaufman two powerful backers. On Tuesday, Reid second in command, Majority Whip Dick Durbin (D-Ill.), said on the Senate floor he was backing the measure.
"I would say that [of] all the many amendments which will be offered, this is clearly a game changer," said Durbin. "I am supportive of this amendment, even though I know that some of my friends in the banking -- some of my friends in the banking industry won't be happy with that. What they're talking about is dealing with the concentration of wealth and the concentration of economic power to a level which can literally bring the economy down. That's what we went through leading into this recession. That's what led to the massive taxpayer bailout. And that's what the Brown-Kaufman amendment addresses foursquare."
UPDATE: Sen. Michael Bennet (D-Colo.), who had previously voted against a previous iteration of an audit of the Fed, will support the Sanders amendment, his spokesman Adam Bozzi tells HuffPost. Meanwhile, Greg Sargent reports that Sen. Al Franken (D-Minn.) will vote for Kaufman-Brown.

Popular in the Community