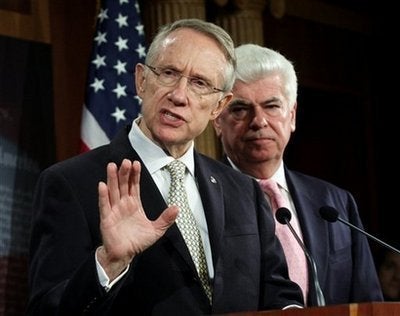 Senate Majority Leader Harry Reid held a press conference on Friday morning in which, in the most blatant of terms yet, he blamed John McCain for throwing a wrench into negotiations over a financial bailout package.
"The insertion of presidential politics has not been helpful, it has been harmful," said the Nevada Democrat. "A few days ago I called on Sen McCain to make a stand, to let us know where he stands on the issue, but all he has done is stand in front of the cameras..."
As the majority leader spoke, negotiations over a bailout were feverishly underway. Things seemed to be heading towards a resolution early Thursday morning, but after McCain arrived in Washington a rebellion was launched among the more conservative bloc of House Republicans. Aides to McCain have gone to great lengths to prove their innocence in spurring this revolt. But, Reid as well as other Democrats, were having none of it
"We had [Republican] Senator [Bob] Bennett, a high ranking official, who said these are the principles," Reid said of the early potential compromise on the $700 billion package. "And then, guess who came to town? And it all fell apart."
Appearing alongside Sen. Banking Committee chairman Chris Dodd, Reid said that negotiations had to start essentially from scratch at 8 p.m. last night. Democrats generally refused to vote in favor of the package without bipartisan support. Conservative Republicans, meanwhile, are insisting that other measures -- tax breaks to companies that buy up bad debt as well as temporary cuts in the capital gains tax -- be included in any agreement.
McCain has been stuck somewhere in the middle, not revealing exactly where he stands. In the process, he has, critics claim, done exactly what he pledged not do do: add unnecessary politics to the equation. Aides to McCain have responded by blaming the breakdown on the ills of Washington partisanship.
"John McCain's decision to suspend his campaign was made in the hopes that politics could be set aside to address our economic crisis," spokesman Brian Rogers said in a statement. "In response, Americans saw a familiar spectacle in Washington. At a moment of crisis that threatened the economic security of American families, Washington played the blame game rather than work together to find a solution that would avert a collapse of financial markets without squandering hundreds of billions of taxpayers' money to bailout bankers and brokers who bet their fortunes on unsafe lending practices."
UPDATE: Here is video of Reid's press conference from Friday morning
Popular in the Community