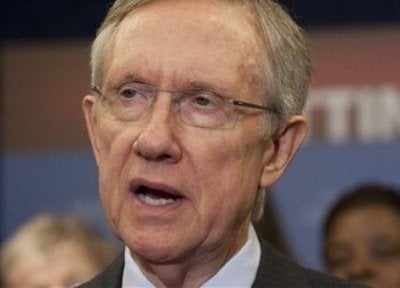 Sen. Harry Reid (D-Nev.) will file cloture on the Wall Street reform report on Tuesday, paving the way for a final vote later this week. On the Senate floor Tuesday morning, Reid said he "expect[s] to consider the Wall Street reform conference report sometime later today."
Reid spokesman Jim Manley said that the majority leader intends to file cloture, not bring the bill to a floor vote, which would require the consent of all senators.
On Monday, Sen. Scott Brown (R-Mass.) announced he'd support the bill, apparently giving Democrats the 60 votes they'd need, along with a replacement for the late Robert Byrd, expected later this week or early next. Sen. Ben Nelson (D-Neb.) threw a wrench in the works hours later, telling reporters he was undecided on the bill. Sen. Olympia Snowe (R-Maine) pulled the wrench back out of the works roughly an hour later, putting out a statement in support.
Given Snowe's support, Democrats have several ways to get to 60: Either Byrd's replacement arrives; Nelson announces support, a near certainty; Sen. Susan Collins (R-Maine) backs the bill, or Sen. Charles Grassley (R-Iowa) comes out for it. Collins, Nelson and Grassley all supported the final passage in the Senate. The final conference report, said Nelson, only includes "slight modifications," which he is studying nonetheless.
UPDATE: An aide to Nelson tells HuffPost that the Nebraska senator will vote yes, giving Democrats the 60 needed to break a filibuster. A vote can't come until Thursday, given Senate cloture rules, but, effectively, it's over.