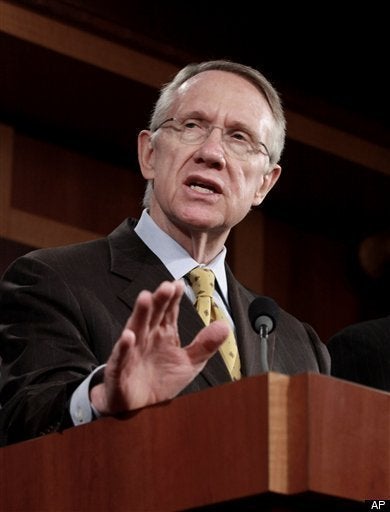 Senate Majority Leader Harry Reid will allow a vote on legislation to block the Environmental Protection Agency from regulating greenhouse gases for two years, he told reporters in the Capitol today.
Following his weekly press briefing, Reid (D-Nev.) was asked if the Senate wold vote on EPA preemption.
"Not before we leave here," said Reid, referring to the three-week congressional schedule ahead. "This year."
Reid's commitment to give preemption a vote this year means that it is headed to the Senate floor during a lame-duck session, meaning that lawmakers will be less accountable for their votes -- and those who aren't returning in January won't be accountable at all.
The commitment to give preemption a vote is related to an earlier fight over legislation from Sen. Lisa Murkowski (R-Alaska) that would have blocked EPA action. In order to defeat Murkowski's proposal, Democratic aides said, Reid promised holdout senators a vote on a two-year freeze -- a measure sponsored by Sen. Jay Rockefeller (D-W.Va.) -- later in the year.
"Senator Rockefeller's EPA Delay bill is gaining momentum every day in Congress. Rockefeller is fighting for legislation to suspend -- for two years -- harmful EPA regulations to regulate greenhouse gases because he believes that Congress -- and not the unelected EPA -- must be responsible for determining our nation's energy policy," a Rockefeller aide wrote in an email. "Rockefeller expects a vote on this important legislation this year and he is aggressively pursuing this in Congress."
In the absence of Senate action to address climate change, while scientists warn that the carbon concentration in the atmosphere is reaching a hazardous point, EPA regulation is the last resort.
Popular in the Community