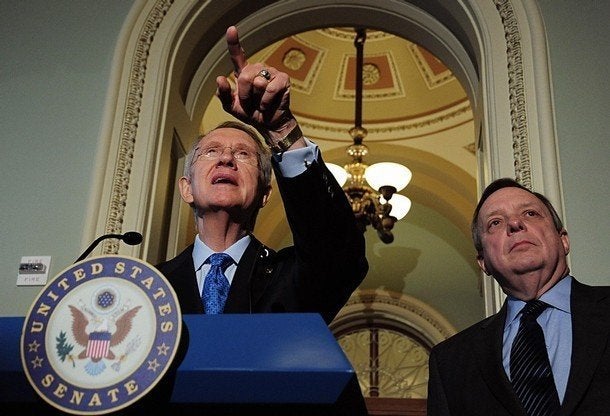 As Senate Majority Leader Harry Reid works to cobble together the 60 votes he needs to overcome an expected Republican attempt to block a floor vote on health care, there is still one powerful parliamentary weapon he could draw from his back pocket.
The process known as budget reconciliation only requires a simple majority -- and can not be filibustered -- meaning Reid (D-Nev.) would need only 50 Democrats plus a tie-breaking vote from Vice President Joe Biden to declare victory.
Is he still considering going that way?
"Sure, it's always an option," Reid said after leaving his press conference Monday, when he announced that he'd be pushing forward with a public health insurance option with an opt-out provision that would give states the right not to participate.
Reconciliation gained new relevance on Tuesday, when Sen. Joe Lieberman (I-Conn.) said that unless the public option is stripped out, he's prepared to join a GOP filibuster of the health care reform package. Without Lieberman, Democrats would only have 59 votes to end a filibuster -- one short.
Majority Whip Dick Durbin (D-Ill.), who is in charge of corralling and counting votes, also said that reconciliation is still being considered. "The failsafe on this is reconciliation," Durbin said. "I hope we don't reach it because you can only do a limited amount of things on reconciliation."
Durbin was referring to the Senate parliamentarian's ability to strip out parts of any bill going through the reconciliation process that don't have a direct impact on the budget. (More on reconciliation here.)
But reconciliation is also a club that Reid can swing at conservative Democrats and Lieberman.
If only 50 votes are needed, Lieberman becomes irrelevant, the most damning sentence that can be handed down to a Senator.
For evidence, just witness this week's fuming from Sen. Olympia Snowe (R-Maine), who was moved from the center of the debate to the periphery by Reid's decision to move ahead without her. (What would Reid have to change in the bill to win her back? "The whole thing," she snapped.)
Lieberman said he hopes that it won't come to reconciliation, but told reporters that the threat wouldn't change his vote.
"I hope not," he said, when asked if he thought Reid might go the simple-majority route. "But that possibility, which I think would be a mistake, is not enough to lead me to vote for something I think would be bad for the country and bad for the 180 or 200 million Americans who currently have health insurance."
Popular in the Community