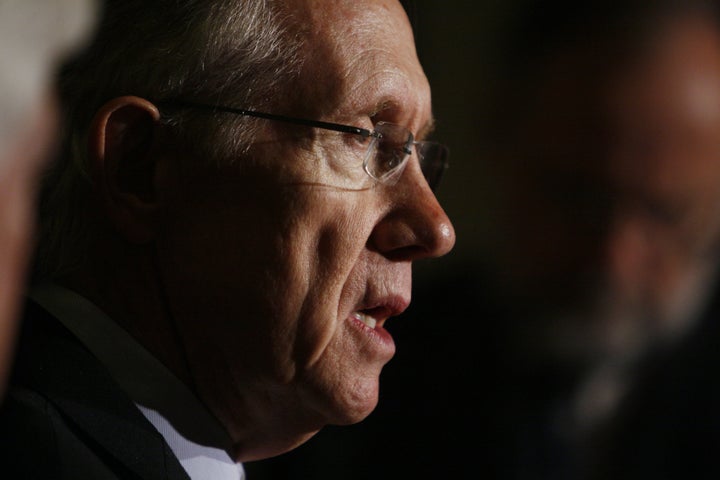 For the past week, Senate Majority Leader Harry Reid's office has been looking for a Republican co-sponsor for an utterly non-controversial resolution honoring the legacy and role of Hispanic media.
None came, his office confirms. On Tuesday, Reid introduced and passed a resolution designating October 25 through October 31, 2009, the "National Hispanic Media Week" in honor of the Latino Media of America. The Nevada Democrat was joined by Sens. Robert Menendez (New Jersey), Mark Udall (Colorado) and Kirsten Gillibrand (New York) -- all of whom are Democrats.
The resolution was your typical no-thrills, superficial fare that often takes up Senate business. Just last month, for instance, North Carolina's Republican and Democratic senators (Richard Burr and Kay Hagan, respectively) introduced a resolution congratulating "the High Point Furniture Market on the occasion of its 100th Anniversary as a leader in home furnishing" (a thrilling legislative breakthrough).

In the case of the current resolution, however, there are obvious political sensibilities at stake. The Hispanic community, which has felt demonized by harsh anti-immigrant rhetoric from congressional Republicans and conservative media personalities, has gravitated further and further from the GOP tent. By declining Reid's efforts to sign on to a rather milquetoast resolution, the party may only exacerbate the alienation.
When a similar resolution honoring Hispanic media was introduced and passed in 2005, former Sens. Pete Domenici (R-N.M.) and Mel Martinez (R-FL) attached their names to the list of co-sponsors. And that was two election cycles before it became abundantly clear that the Republican Party was losing serious ground among Hispanic voters.
UPDATE: Democratic Senators Jeff Bingaman of New Mexico and Michael Bennet of Colorado also signed on to Reid's resolution, I'm told.