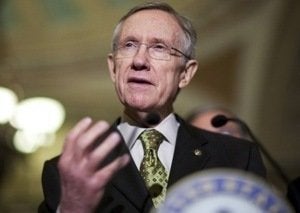 If Republicans are as serious as they claim to be about national security, they ought to stop holding up President Obama's nominees for top defense and intelligence posts, Senate Majority Leader Harry Reid said Tuesday.
"It really isn't a game," Reid said at a press conference following the weekly Democratic caucus lunch. "Their partisan obstruction of critical nominees does not merely poison our political system -- it endangers our national security."
Among the nominees forced to wait last year, Reid cited Gen. Stanley McChrystal, the commander of U.S. forces in Afghanistan; Ambassador to Iraq Chris Hill; and former GOP Rep. John McHugh, who had to wait more than a month to be confirmed as Secretary of the Army after several Republican senators placed a hold on his nomination.
Key national-security posts still being kept empty by the GOP, Reid said, include: the number-three job at the Pentagon, undersecretary of defense for personnel and readiness; the State Department's intel chief, assistant secretary for intelligence and research; Homeland Security's intel chief, undersecretary for intelligence and analysis; and the U.S. representative to an international conference on disarmament, relating to weapons of mass destruction.
To be sure, Congress has to approve a large number of candidates looking to join the executive branch. In the first year of the George W. Bush administration, a total of 791 nominees went unconfirmed, with no vote on them either way. In Obama's first year, however, that number ballooned to 1,877. Only three Bush nominees had to wait three months or more for confirmation; 46 Obama nominees have had to wait that long, and nine of those have been kept waiting for more than six months.
And the defense and intelligence nominees Reid cited aren't exactly controversial. For the Pentagon job, Obama nominated Gen. Clifford Stanley, a Marine and former White House fellow. At the State Department, he wants Philip Goldberg, whom George W. Bush appointed ambassador to Bolivia. Caryn Wagner, a veteran of the House Permanent Select Committee on Intelligence, the Office of the Director of National Intelligence and the National Intelligence Program, is up for the Homeland Security job, and another former Bush ambassador, Laura Kennedy, is the nominee for the disarmament post.
"It'd be one thing if they reviewed the nominees and said, 'This nominee is just not any good.' But they just do it to stall," he said. "When they get them on the floor, with rare exception, they all vote for them." Democrats were forced to line up to file cloture on Hill's nomination; the cloture vote was 73 to 17.
Once Senator-Elect Scott Brown is sworn in on Thursday, Democrats won't be able to simply ram through nominees via cloture. But Reid wasn't trying to make any friends across the aisle Tuesday. His frustration with recent nominee delays boiled over earlier in the day, when he ripped into the GOP on the Senate floor.
"When a young Nigerian terrorist boarded an airplane bound for America on Christmas Day, there was no permanent boss at the TSA -- the agency created after 9/11 specifically to keep air travel safe. When he tried to blow up that plane, the top positions at both of the intelligence agencies within the State Department and the Department of Homeland Security were similarly empty. Why? Because Republican senators refuse to let this body hold a vote on the highly capable people the president has asked to serve in those roles," Reid said in his floor speech. "We all know Republicans have dedicated themselves to grinding government to a halt. They do so openly and proudly, and boast about their aversion to compromise."
Watch Reid's floor speech:
Popular in the Community