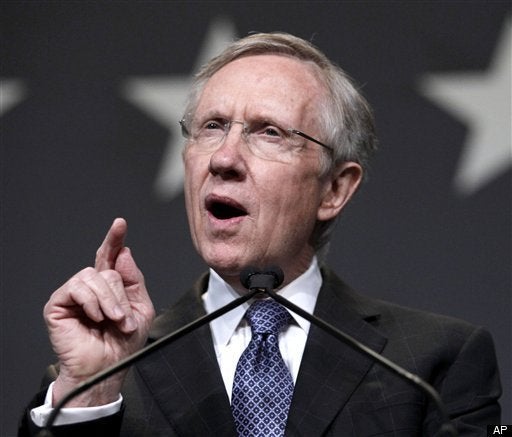 WASHINGTON -- The blame game over who, exactly, is responsible for the cancellation of a White House meeting with congressional leaders began in haste on Wednesday as Democrats saw an opening to cast the GOP as uncommitted to bipartisan outreach.
In a tweet from his account, Senate Majority Leader Harry Reid (D-Nev.) accused Republicans of wasting time while "millions of [people are] looking [for] work."
"My GOP colleagues should have accepted the President's offer 2 meet this week."
Why Republicans didn't accept the invitation has spurred a bit of genuine curiosity among political observers, who have posited that some deeper message or meaning was meant by the snub.
An anonymous Republican aide told Politico that the party wasn't yet willing to walk into a meeting with Obama, unprepared, after the debacle that happened when the president addressed the House GOP Caucus during the height of the health care debate.
A Democratic aide on the Hill suggested that Republicans were sending a bad, if not direct, message about the years of Congress-White House relations in the years ahead.
"When the President invites you to the White House," the aide said, "you go."
More settled, it seems, is the issue of how Republican leadership let it be known that they couldn't make the Thursday night summit. Both Senate Minority Leader Mitch McConnell (R-Ky.) and House Minority Leader John Boehner (R-Ohio) say that Obama presented the November 18 date without consultation.
No one "pulled out" of the meeting, a senior GOP leadership aide stressed. "When the date was first announced, members noted that this was organization/new member week and asked if another date was possible (that was Nov 3rd or 4th). The schedulers all worked amicably to find a new date. Yesterday the White House offered November 30th, which worked for everyone. The meeting will happen."
This was, generally, the tick-tock that White House spokesman Robert Gibbs offered on Wednesday morning, though with some uncertainty about when Boehner or McConnell initially expressed their concerns about the timing.
"Bipartisanship is happening," Gibbs declared, tongue in cheek. "We agreed it was inconvenient to have the meeting when it was originally happening. We moved the date.
"There is another meeting date that is on the schedule. We are flexible. We are ready to sit down with them tomorrow, on the 30th. I presume, as I said a minute ago, we will meet with them as well going forward."
Was this a bad first step for White House-GOP relations going forward? "We don't see it that way. Again I don't think this will be the first meeting that we have or the last meeting that we have," Gibbs replied. "The test of this is not when the meting is held. The test will ultimately be whether you have two sides capable of working together to make progress."

Popular in the Community