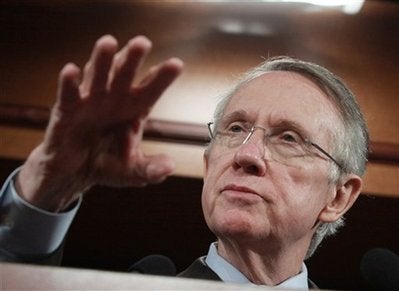 Senate Majority Leader Harry Reid took a moment Friday to lament Supreme Court Chief Justice John Robert's tenure on the court so far, which in Reid's opinion has been far more conservative than expected. "He didn't tell us the truth," Reid's said, discussing Robert's confirmation back in 2005. From Politico:
"Roberts didn't tell us the truth. At least Alito told us who he was," Reid said, referring to Samuel Alito, the second Supreme Court justice nominated by President George W. Bush. "But we're stuck with those two young men, and we'll try to change by having some moderates in the federal courts system as time goes on -- I think that will happen."

Reid's comments reflect Democratic concerns that Roberts presented himself as a neutral arbiter of the law but has wielded a relentlessly conservative agenda. Republicans reject the attacks, saying Roberts has been a fair judge and has been consistent in his opinions.
Reid explained that, in his opinion, Roberts didn't give the Senate enough information during his confirmation hearing. From McClatchy:
Reid said three and a half years ago that Roberts had left "too many unanswered questions," and was concerned about his views on civil rights, immigration and other matters. Roberts was confirmed by a 78 to 22 vote.
REAL LIFE. REAL NEWS. REAL VOICES.
Help us tell more of the stories that matter from voices that too often remain unheard.