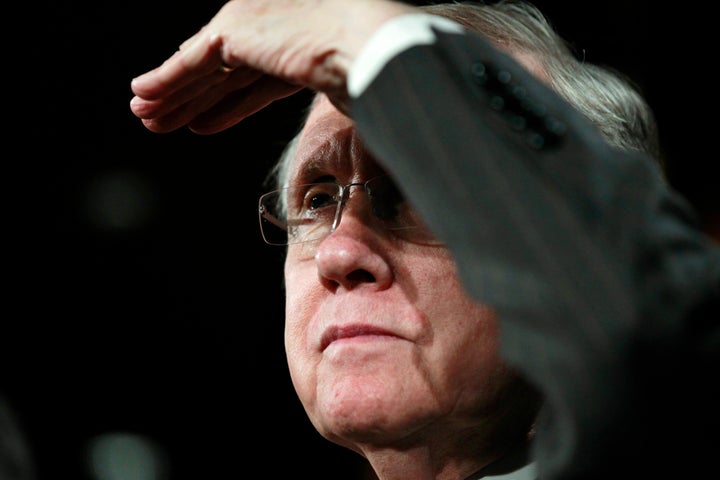 WASHINGTON -- House Republican leadership is poised to reject a Senate-passed two-month payroll tax extension on Tuesday afternoon, pushing negotiations onto a committee of lawmakers from both chambers.
But if Speaker John Boehner (R-Ohio) is pinning his hopes for an 11th hour payroll tax cut deal on a conference committee, he is basically alone. Senate Majority Leader Harry Reid (D-Nev.) will not appoint conferees, his office stressed again to The Huffington Post on Tuesday morning.
"[There will be] no negotiations until Boehner follows through and passes the compromise that Senators Reid and McConnell negotiated at his request, and which received 90 percent support in the Senate," said a Senate Democratic leadership aide. "It's shameful that he won't even give it an up or down vote. Hopefully fellow Republicans can prevail upon their wayward colleagues in the House."
Asked specifically if that means Reid wouldn't appoint conferees, the aide said Reid would not.
By declining to participate in a conference committee that would, ostensibly, hammer out the significant disagreements between the House and Senate versions of a payroll tax cut extension, Reid is effectively making Boehner's latest move moot. If only one side will appoint negotiators, why start a negotiating process?
The version of the payroll tax cut passed by the House would last one year and is paid for by spending cuts, hiked fees on Fannie and Freddie and extending federal staff pay freezes for another year; the Senate-passed version would last two-months and is paid for with those same fees on the government-backed mortgage giants.
Even though Democratic leadership first announced plans to block committee negotiations on Monday morning, Boehner's office has shown little willingness to deviate from its course.
"The Senate did produce a bill, and today Republicans will move to conference to reconcile the two measures," Boehner's top spokesman, Michael Steel emailed reporters Tuesday morning. "That's how Congress works, and we see no reason to stray from regular order."
Asked for some sort of prediction as to how the stalemate might end, Steel put the onus on the White House.
"The President has said he won't go on vacation until this is done," Steel emailed The Huffington Post. "Once the House has acted, it will be up to the President to convince Sen. Reid to appoint conferees."
But Reid isn't the only Democrat who has no appetite for starting a negotiation process that the party feels has already been completed. Democrats, after all, have acquiesced on a number of fronts: They have dropped an income surtax for those earning over a million dollars that would have paid for the payroll cuts and have allowed language in the bill that will force the president to make a quicker determination on building a trans-continental crude oil pipeline.
And since lawmakers spent weeks unsuccessfully trying to bridge disagreements on how to cover the cost of a year-long extension, there is little hope that the two parties will be able to do so in the 11 days that remain before the payroll tax cut ends.
"One other point about conference committees," Senator Chuck Schumer (D-N.Y.) told MSNBC's "The Daily Rundown," "they take time."
"[Boehner] will never get it done here. The conference committee is a graveyard and Democrats and a number of Republicans won't fall for that ploy. ... It is subterfuge; it's a joke; it is a way to kill the middle class tax cut."
UPDATE 1:25 p.m.: Boehner and the House GOP have called Reid's bluff, with the House voting by a 229 to 193 margin to reject the Senate's two-month payroll tax extension and send negotiations to a conference committee between the two chambers.
Immediately after the vote concluded, Boehner sent a letter to the president, urging him to "call on the Senate to do the right thing and work with us to pass a bill to extend payroll tax relief for a full year."
The differences between the two different bills can be quickly reconciled to provide the American people the certainty of a full-year bill. There are still 11 days before the end of the year, and with so many Americans struggling, there is no reason they should be wasted. You have said many times that Congress must do its work before taking vacation. Because we agree, our negotiators and the House stand ready to work through the holidays. I ask you to call on the Senate to return to appoint negotiators so that we can provide the American people the economic certainty they need.
Responding to the vote, Reid stuck to his guns. "I have been trying to negotiate a yearlong extension with Republicans for weeks," he said in a statement, "and I am happy to continue doing so as soon as the House of Representatives passes the bipartisan compromise to protect middle-class families, but not before then."

Calling all HuffPost superfans!
Sign up for membership to become a founding member and help shape HuffPost's next chapter