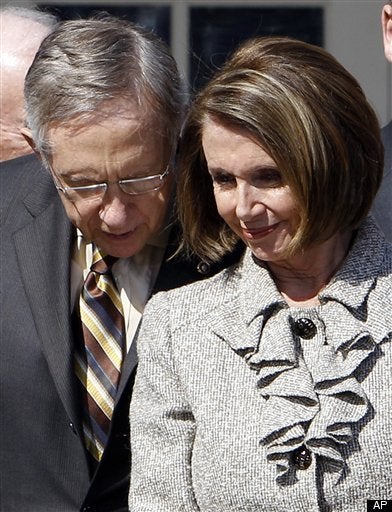 The Democratic leaders of the Senate and House said on Monday evening that Wall Street reform conference committee negotiations between the two chambers should be webcast and televised on C-SPAN. The two leaders -- House Speaker Nancy Pelosi (D-Calif.) and Senate Majority Leader Harry Reid (D-Nev.) -- relayed the comments to HuffPost Hill.
Pelosi said that she "definitely" wanted the committee deliberations televised, following a suggestion made earlier by House Financial Services Committee Chairman Barney Frank (D-Mass.). Reid seconded the motion. "This is something that he would support," said Jim Manley, senior communications adviser to Reid.
The move is significant because the Senate bill is, broadly speaking, stronger than the House version. However, the more progressive Democratic House conferees will often be happy to accede to the tougher Senate language. The C-SPAN cameras will complicate attempts to weaken the bill behind closed doors, though some talks will continue to go on out of the public view due to the nature of such negotiations. As the debate has gone on, the more the public gets involved, the tougher it gets.
Sen. Chris Dodd (D-Conn.), who confirmed on the Senate floor Monday evening that he'd be a conferee, has said he doesn't oppose televising the deliberations.
The two chambers' bills differ in marked ways: The Senate more tightly regulates the trading of derivatives; the House has a stronger consumer financial product watchdog, but one with a smaller purview; neither addresses the problem of banks that are too big to fail, though Democratic Senate leaders have pledged to Sen. Jeff Merkley (D-Ore.) that they will fight for a change to tighten restrictions on trading with taxpayer-backed money and Rep. Paul Kanjorski (D-Pa.), who is likely to be a conferee, has also promised to address the issue.
Calling all HuffPost superfans!
Sign up for membership to become a founding member and help shape HuffPost's next chapter