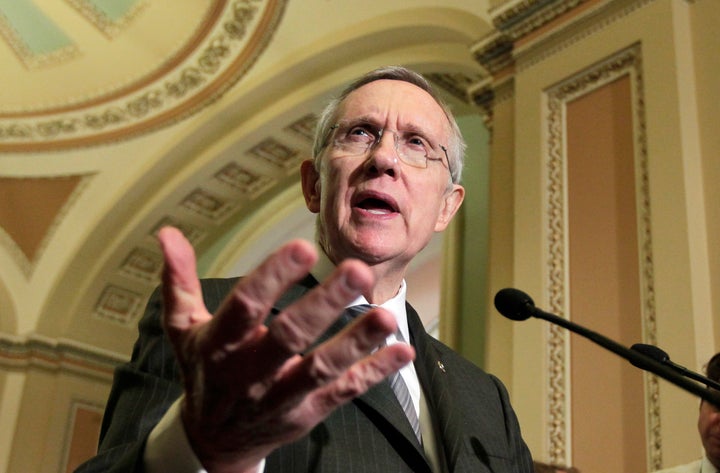 WASHINGTON -- After another round of failed negotiations with Republicans over the weekend, Senate Majority Leader Harry Reid (D-Nev.) on Sunday night laid out Democratic leaders' latest -- and likely final -- proposal for a deficit reduction deal: $2.7 trillion in cuts, a debt ceiling hike through the end of 2012 and no revenues.
The proposal "meets Republicans' two major criteria," Reid said in a statement. It includes enough spending cuts to meet or exceed the amount of a debt ceiling raise through the end of 2012, and it doesn't include any of the new revenues Democrats have been pushing for.
"We hope Speaker Boehner will abandon his 'my way or the highway' approach, and join us in forging a bipartisan compromise along these lines," Reid said.
The Nevada Democrat said talks broke down again on Sunday night as Republican leaders insisted on passing a short-term debt ceiling increase. During a Saturday briefing with House Republicans, Speaker John Boehner (R-Ohio) announced his plan to push for a more than $3 trillion deficit reduction package that would raise the debt ceiling in increments, by $900 billion at first and then by about $1.6 trillion next year. The White House and Democratic leaders have ruled out any type of short-term extension out of concerns that it would create uncertainty in financial markets and expose the already fragile economy to greater risks.
Reid called the GOP plan "a non-starter in the Senate and with the President." He and House Minority Leader Nancy Pelosi (D-Calif.) huddled with President Barack Obama on Sunday night, just before Reid unveiled the latest Democratic plan.
Pelosi embraced Reid's proposal in a statement after their meeting.
"I applaud Senator Reid for putting forward an approach to reduce the deficit that protects Social Security, Medicare and Medicaid beneficiaries," she said.
With pressure mounting on Congress and the White House to ensure the government doesn't default on its debt, the latest Democratic offering shows just how much party leaders have compromised during the negotiations as Republicans have held their ground. For weeks, Democrats demanded that any substantial package include revenues to offset spending cuts, namely by closing corporate tax loopholes and ending subsidies for the oil and gas industry. But their demands have now been whittled away to a proposal coming from their own party with major cuts and no revenue at all.
Republicans, meanwhile, have largely gotten what they wanted in their push for significant spending cuts without new revenue.
Negotiators are running out of time to reach a deal by August 2, the day the government is expected to run out of money to pay its bills and send the United States into default. And even if lawmakers are able to pull off an eleventh-hour deal that averts that scenario, credit rating agencies have already warned lawmakers that the United States may still have its credit rating downgraded as a result of the protracted debate over the debt limit. If that were to occur, Americans would face higher interest rates on their credit cards, student loans and mortgages.
Calling all HuffPost superfans!
Sign up for membership to become a founding member and help shape HuffPost's next chapter