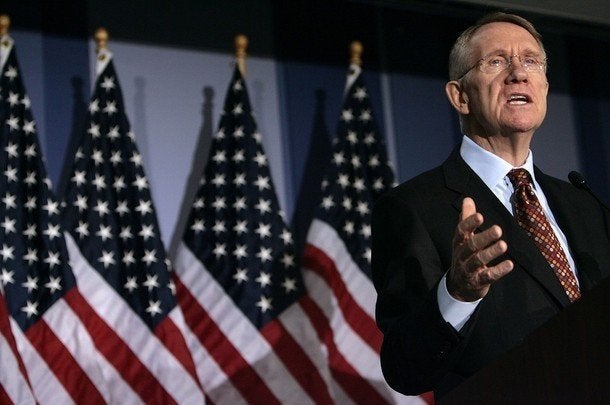 Senate Majority Leader Harry Reid (D-Nev.), on Monday, will introduce a health care bill that includes a public option for insurance coverage with a state opt-out clause, leadership sources tell the Huffington Post.
The move is a bold one on Reid's part, going against the skepticism of the White House that such a provision can overcome a Republican filibuster. But aides stress that he sees a path forward for getting the necessary 60 votes. The Nevada Democrat is hosting a press conference at 3:15 p.m. to announce the decision, though details are expected to be at a minimal for the moment.
Reid's decision to push for a public option with a state opt-out does not mean that the most-often-discussed alternative -- a public plan triggered by economic conditions -- is now dead in the water.
There is a byzantine set of parliamentary hurdles that remain in the process of getting health care reform legislation passed. Should Reid introduce a bill with an opt-out (and all indications point to him doing so late Monday afternoon or early Tuesday morning) it would set a baseline for the Senate going forward. But high-ranking aides on the Hill note that it's still possible that conservative Democrats will introduce an amendment to the bill that would drop the opt-out provision and replace it with a trigger proposal (which is the preferred choice of the one potential Republican vote: Sen. Olympia Snowe of Maine). Indeed, it seems increasingly certain such a vote will occur.
As Sen. Claire McCaskill (D-MO.) told ABC's This Week -- and Democratic aides confirmed -- Reid will likely "end up... having votes on a number of choices" including a public plan that states could opt into, one they could opt out of, and a plan that would be triggered in "if these insurance companies don't manage to bring down costs within a certain period of time."
It is unlikely that 60 Senators would support an amendment replacing the opt-out with the trigger (a progressive bloc would likely defect). But, even after that vote takes place, other critical hurdles remain. For starters, the Congressional Budget Office has to score the final bill. And once it does Reid will need to craft a filibuster-proof majority for the overall bill to come to an up-or-down vote (he is reportedly a handful of Senators short at this point). Once the Senate settles and passes a variation of health care legislation, it will have to be merged with the one passed by the House of Representatives.
Those merger talks, Senate aides say, are likely to end up being even more heated than the ones currently being waged within the Senate itself. The White House, which has continued to work with Snowe on structuring a trigger proposal, will find an even greater uphill battle with the House, which is all but certain to pass some form of a national public option -- without an opt-out provision for states.
Finally, considering that the House-Senate merger talks represent the last chance for lawmakers to tinker with the legislative product, there is wide expectation that the president's engagement will be far more aggressive than ever before.
"I really believe is that the time will come for the White House to get engaged," Rep. Jim Clyburn told the Bill Press Show last Thursday. "I do believe that if the president were to get engaged too much with the Senate, I for one would be a little concerned about him not allowing the House to be as creative as we can be. If he were to get involved in the House then the Senate would be upset. So I really believe that the time for the president and White House to be engaged is when both houses have finished their work and then we go into negotiating a final product in conference."

Popular in the Community