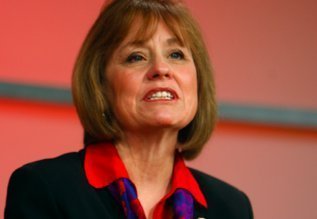 Less than 24 hours after removing a version of Sharron Angle's original unvarnished campaign website, Senate Majority Leader Harry Reid (D-Nev.) is defying a cease and desist order from his Tea Party opponent and republishing the site.
The Nevada Democrat's re-election campaign unveiled (for the second time) its website The Real Sharron Angle on Tuesday afternoon. The site is basically the same platform Angle used when running in the Nevada Republican primary, though Reid's staff tinkered with its presentation to ensure it could withstand a legal challenge from the Angle campaign.
The move is a show of defiance from the Majority Leader. Hours after launching her new website -- in which many of her more provocative positions have been scrubbed -- Angle filed a legal objection to Reid's publishing of her old campaign website material, claiming misuse of copyrighted materials. The Tea Party favorite was able to win temporary relief, with Reid agreeing to pull down the old site over the July 4th weekend. But the Senate Majority Leader's legal team clearly feels there is no standing for Angle's objections. At the very least, the advantages of highlighting Angle's now- former positions and statements outweighs the potential cost in legal fees from the back-and-forth sparring over copyright law.
"While we disagree with the assertions in Angle's 'Cease and Desist' letter, we took the website down temporarily to make crystal clear the intent is solely to point out how far Sharron Angle is running from her own embarrassing record," read a statement from Brandon Hall, Reid's campaign manager. "We are not attempting to deceive anyone. Unfortunately, that point was lost on Angle's campaign, as evidenced by the threat of legal action to get her own website taken down. We made minor changes to address her frivolous concerns and now hope the new Sharron Angle will focus on explaining why the old Sharron Angle's views are so unacceptable."
Reid has made changes in his presentation of Angle's old website. The new version does not contain the sections soliciting donations and email addresses, in an effort to disabuse the claim that he is trying to steal the names of her supporters.
Popular in the Community