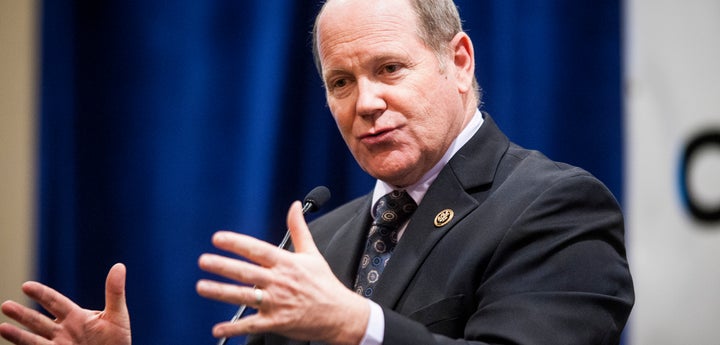 WASHINGTON -- Unlike many of the Republican Party's leaders and presidential candidates, Rep. Reid Ribble (R-Wis.) is willing to both bash Donald Trump and rule out supporting him if he becomes the party's nominee.
"My first oath is to the Constitution of the United States. Donald Trump has taken positions contrary to that document, so I could not support him and uphold my oath," Ribble told "So That Happened," the HuffPost Politics podcast. 
Top Republicans share Ribble's disdain for Trump's call to ban Muslims from traveling to the U.S., but have stopped short of saying they wouldn't support him should he become the party's presidential nominee.
Maybe it's easier for Ribble because he's had a running start. In September, he called Trump "a 3-year-old." The idea for a Muslim travel ban is Trump's worst tantrum yet. 
"Words like that violate the moral conscience of a nation," Ribble said. "The idea that we would create a religious litmus test in this country is astoundingly offensive to me." 
Though just about everyone agrees Trump's suggested Muslim ban crosses a line, other Republican presidential candidates have made similar suggestions. Ted Cruz and Jeb Bush, for instance, have said they don't want the U.S. to accept Muslim refugees from Syria, but that they would take Christians. Ribble said he didn't love the idea of preferred treatment for Christian refugees, but the fact that Syrian Christians are persecuted for their faith made it an excusable thing to propose.
"We have, throughout our history, stood up for various people groups and religious groups that have come under attack, and we have allowed refugees to come into our country as a response to those attacks," Ribble said. "I think you can make a bit of a distinction because of the nature and how heinous the crimes have been committed against Christians, particularly in Syria and in Libya."
This podcast was produced, edited and engineered by Adriana Usero and Peter James Callahan, with assistance from Christine Conetta.
To listen to this podcast later, download our show on iTunes. While you're there, please subscribe, rate and review our show. You can check out other HuffPost podcasts here.
Calling all HuffPost superfans!
Sign up for membership to become a founding member and help shape HuffPost's next chapter