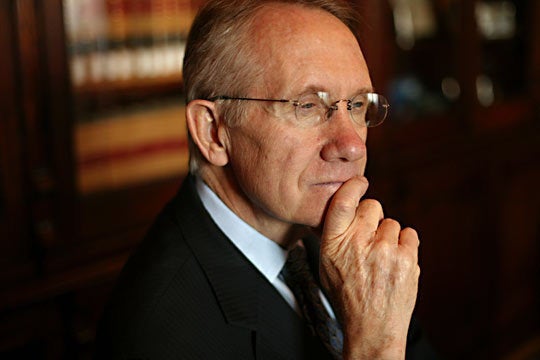 Senator Joseph Lieberman's decision to speak at the upcoming Republican National Convention is being met with deep consternation among Democrats and is compelling leadership to reassess his political assignments and future within the party.
"[Majority Leader Harry] Reid has indicated that he will take another look at things after the election specifically regarding committee assignments," said a well-connected Hill aide.
It has long been expected that Connecticut Independent Democrat's antics and surrogacy on behalf of John McCain would endanger his standing among Democrats. But for the most part, Reid and company have shied away from discussing whether Lieberman would retain his chairmanship for the Homeland Security and Governmental Affairs Committee. Asked in May if Lieberman's position was at risk, the Senate Majority Leader said "no." Later he said, without elaboration, that such a scenario was possible but very unlikely.
"He is non-committal now, said the Hill aide on Wednesday, describing it as a shift towards a more hard line stance. "He is going to take a look at things after the election."
The possibility that Lieberman would address the GOP convention has been kicked around for weeks. Democratic activists have responded by pinning for the party to kick its 2000 vice presidential nominee out of the caucus. But with the party's Senate majority at a scant one vote, it seemed nearly impossible that they would sever ties. And so, leadership, advisers, and former Lieberman supporters have been forced to swallow their pride and stomach his behavior.
"The party is clearly in a tough place," said Steve Rabinowitz, a long time Democratic media consultant. "I used to personally be there. It was a dilemma for me when Joe lost his primary for Senate and I am a big partisan Democrat. But I sucked it up and pretended to support him in the general election and he promised a million times that he would caucus with the Democrats that he would stay a Democrat. This thing, that he is supporting McCain because he is a friend -- there are a million Senators who are good best friends and drinking buddies with folks form the other side of the aisle -- they never endorse them for president, campaign for them, and trash their opponents. He really lost me with the McCain endorsement. And now I am done personally."
On Wednesday it was reported that Lieberman would be speaking at the GOP convention on Monday evening -- on the first day, but not in the most prestigious slot. The Senator is expected to continue his sharp advocacy on behalf of McCain. Whether he attacks Barack Obama's patriotism, which he has done in the past, could go a long way in determining how the Democratic Party handles the situation going forward.
Popular in the Community