Senate Minority Leader Harry Reid (D-Nev.) claims that Donald Trump's history of mismanaging casinos would prevent him from getting government approval for a gaming business in Nevada.
In a Washington Post interview published Wednesday, Reid initially asserted that Nevada denied the Republican nominee a gaming license for the Trump International Hotel in Las Vegas. The hotel, unlike many major hotels in Las Vegas, does not offer gambling.
"I may not be an expert on a lot of stuff, but I'm an expert on gaming licenses," Reid, a former chairman of the Nevada Gaming Commission, told Post reporter Ben Terris. "You can't have filed 14 bankruptcies, cheat people out of stuff. In gaming circles, if somebody does something bad once, you can't get a gaming license. He's done something bad his whole life."
Terris' story notes that Trump did, in fact, secure a gaming license from the state in 2004, but has chosen not to use it. Reid, however, insisted that the state would not allow Trump to build a casino now, even if the real estate mogul wanted to do so.
Reid doubled down on the line of attack in a Senate floor speech on Thursday, though it was unclear if he was maintaining that Trump would still be prevented from entering the casino industry in Nevada.
Trump "applied for a license a number of years ago in Nevada and was a passive owner. He got one. It was just perfunctory," Reid said. "If he applied for a license after what he did in Atlantic City and what he has done since, he couldn't get a gaming license in Nevada."
Reid is known as a shrewd political tactician and mudslinger who is sometimes unwilling to let the precise facts get in the way of a sharp attack on an opponent. In 2012, Reid stirred controversy when he claimed, without evidence, that then-GOP presidential nominee Mitt Romney was not releasing more than two years' worth of tax returns because he hadn't paid taxes for 10 years. Reid said this information came from an unnamed investor in Bain Capital, the private equity firm Romney co-founded.
Reid told The Washington Post he stands by the attack on Romney.
"It's one of the best things I've ever done," he said.
Reid is certainly correct that Trump's record as a casino owner in Atlantic City, New Jersey, is clouded by accusations of financial mismanagement. Trump squeezed his struggling casinos for millions in personal payouts, even as their financial failure cost stock- and bondholders $1.5 billion, according to a June investigation by The New York Times.
In a period from the mid-1990s to the mid-2000s, when other casinos prospered, Trump's casinos were hemorrhaging money, the Times noted.
Small businesses that helped furnish and supply Trump's casinos in Atlantic City were among the hundreds of outfits that Trump has systematically stiffed, according to a USA Today investigation in June.
And Trump has a long history of business dealings with known organized crime figures. At least one such deal involved purchasing land from mobsters, which allowed Trump to build a parking lot for one of his Atlantic City casinos.
Reid, who is retiring from the Senate in January after three decades, told The Washington Post that he plans to campaign for Democratic candidates in down-ballot races, rather than campaigning for Democratic nominee Hillary Clinton directly. He argues that voters should reject Republican candidates across the board, since the party, he says, enabled Trump's rise with its reliance on racist dog whistles, climate change denial and other irrational ideas.
"Donald Trump was created by Republicans in the House and Senate," he told the Post. "Every crazy idea he's come up with was originally with them."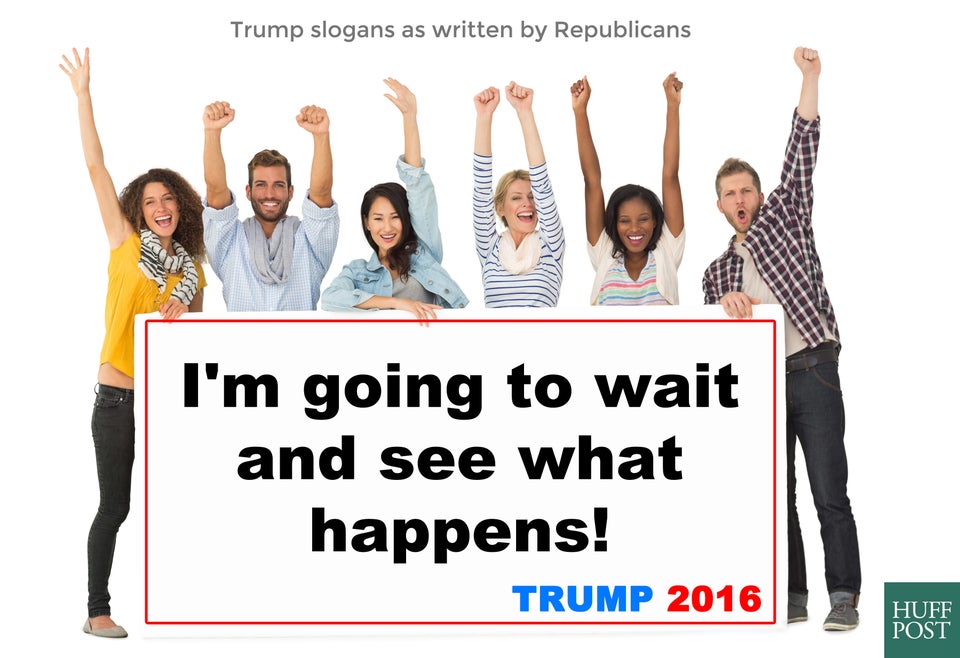 Here Are Enthusiastic Trump Campaign Slogans Using Real Republican Quotes