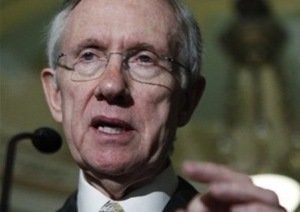 Senate Majority Leader Harry Reid (D-Nev.) said Wednesday that the Senate would vote move forward with reauthorizing unemployment benefits on Tuesday morning, after the replacement for the late Sen. Robert Byrd (D-W.Va.) has been sworn in.
Republicans and Nebraska Democrat Ben Nelson have been preventing a final vote on the bill because of its $33 billion cost. Reid said the GOP filibuster, which has prevented more than 2.1 million people from receiving checks, is designed to crater the economy. "They're betting on failure. They think the worse the economy is come November, the better they're going to do election wise," said Reid. "Almost two million people who are long-term unemployed. These are not numbers. They are people."
Congress allowed extended benefits for people who've been out of work for longer than six months to lapse at the beginning of June. Since then Senate Democrats have repeatedly failed to muster 60 votes to overcome the deficit reduction demands of the Sen. Ben Nelson (D-Neb.) and the Republican party. In the final vote just after Byrd's death at the end of June, Democrats came up just one yea short.
Democrats in the House and Senate held press conferences on Wednesday to blast Republicans for holding up the benefits. House Democrats in particular highlighted statements from Republicans suggesting extended benefits discourage people from looking for work.
"These are not people that are unaccustomed to work," said Rep. Shelley Berkley (D-Nev.). "I've heard this absolute nonsense from the other side of the aisle that we better not extend unemployment benefits because people are going to get used to them. As if people enjoy living on the brink. The insult of that is beyond me."
Rep. Sander Levin (D-Mich.) lamented the fact that because layoff victims get their checks through electronic systems, there are fewer places for reporters to go and meet them for stories. So on Wednesday, Levin brought several unemployed people who've been affected by the lapse to a press conference at the Capitol.
"I cannot think of one person who is unemployed who is losing their benefits who would walk up to their boss and say, 'I would like to be unemployed starting tomorrow,'" said Barbara Banaszewski of Baltimore, Md., who was laid off in August and whose benefits will prematurely expire next week unless the Senate acts. "Let us have our integrity."
Rep. Donna Edwards (D-Md.) said in the early 1990s, she received unemployment benefits after a layoff to pay bills until she found her next job. "I had to demonstrate every single week that I was looking for employment. It pays your basic bills," she told HuffPost. "And then I went back to work, because that's what workers do. The point is, people want to work, and unemployment compensation's just the bridge that gets them there. This notion that somehow people will be conditioned to be lazy and not working, it wasn't my experience on unemployment and it's not these people's experience on unemployment."
If the Senate approves the measure next week, it will end a seven-week lapse and people affected will be paid retroactively. The bill will not provide more benefits to the 99ers -- people who managed to get through all available weeks of benefits before the lapse.
Popular in the Community