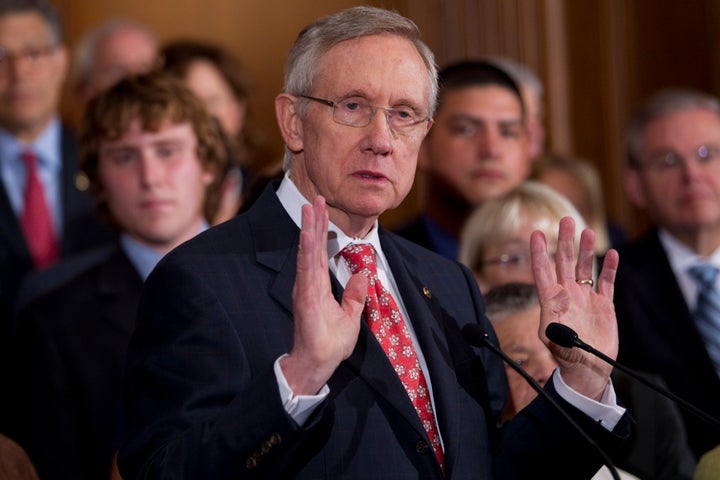 WASHINGTON -- A final Senate vote on raising the nation's debt ceiling was put off 12 more hours as the two sides inched toward a long-sought agreement.
Senate Majority Leader Harry Reid (D-Nev.) announced late Saturday evening that he would be delaying a previously scheduled 1 a.m. vote in an effort to give more breathing room for negotiations between his counterpart, Senate Minority Leader Mitch McConnell (R-Ky.), and the Obama administration.
"There are many elements to be finalized and there's still a distance to go before an arrangement can be completed," Reid said. "And I believe we should give everyone as much room as possible to do their work."
The vote to postpone the vote was passed without objection, offering an additional suggestion that the two sides were nearing a deal.
What that deal will actually look like has been as unclear as the chances of a deal occurring at all. But on Saturday some important pieces of information surfaced. Several Democratic lawmakers and top aides told The Huffington Post that the party had not moved from its position that any extension of the debt ceiling go through the 2012 elections, something that Reid himself conveyed in his remarks.
"There can be no short-term agreement, and I'm optimistic that there will be no short-term arrangement," he said.
Currently, Republicans and Democrats have agreed on the rough outlines of approximately $1 trillion in spending cuts. House Speaker John Boehner (R-Ohio) has insisted that those cuts would only be applied to extend the debt ceiling through, roughly, December. After that, he has demanded that a select committee of lawmakers be tasked with finding an additional $1.8 trillion in cuts and entitlement reforms. Should that committee fail to pass its recommendations (and it would be granted extraordinary procedural powers to get them into law) then, under Boehner's plan, Congress would have to extend the debt ceiling all over again.
Democrats have insisted that such a position is a non-starter. But they're in serious disagreement over how to ensure that the proposed super-committee's recommendations get passed into law. On Saturday, reports surfaced that the Obama administration was offering reforms to entitlement programs as such an enforcement mechanism; specifically, negotiators floated a change to the payment structure of Social Security benefits as a means of triggering the committee's recommendations.
One Democratic lawmaker confirmed to The Huffington Post that cuts to programs like Medicare and Social Security were part of the discussions, as were additional across-the-board spending cuts. But when pressed as to whether the party would be willing to change Social Security's cost of living adjustment, Senate Majority Whip Dick Durbin called such reports "fragmentary and inaccurate."
Whether Democrats could stomach such a trigger, should it end up in the final package, is a major question confronting the party. In a fiery speech on the Senate floor, Sen. John Kerry (D-Mass.) mentioned the absence of complementary revenue raisers five separate times. Behind the scenes some of the party's more progressive voices are demanding that the final trigger be rounded out to ensure mutual pain or benefit if it is ultimately hit. One idea floated again on Saturday would be to have the Bush tax cuts de-coupled if the committee's recommendations were not acted upon. Under that scenario, the rates for wealthier Americans would expire as they are scheduled to do at the end of 2012 while those for middle and lower class Americans would continue at the current level.
Even that, however, might not be enough to placate the full rank-and-file.
"The Bush tax cuts expire at end of 2012 anyways," one Democratic operative emailed HuffPost. "How is that a good trigger for Democrats in return for entitlement cuts? They get that no matter what."
There was also some concern that Congress would not be able to act in time for a bill to pass by midnight August 2nd, when the Treasury is supposed to run out of borrowing authority. On Friday, Democratic officials suggested that a two-day extension of the debt ceiling might be passed to prolong the deadline. Speaking late on Friday, Sen. Kent Conrad (D-N.D.) said he "hoped" such an extension could be avoided.
For all the griping over the potential contours of a debt ceiling deal, by the end of the day lawmakers were at least trying to put their best face forward. Durbin, while scurrying from the Senate floor, said that "there's certainly a more positive feeling that we're reaching an agreement this evening than I've felt in a long time."
Conrad, meanwhile, relayed that the "people in the room" –- ostensibly, party leadership -- were "telling me real progress has been made."
And then there was Sen. Amy Klobuchar (D-Minn.). While eager to get the debate over with, she nevertheless saw the bright side in delaying the Senate vote till Sunday at 1:00 p.m.
"Your piece for tonight ends without acrimony," she said. "In Washington, that's rare."
Popular in the Community