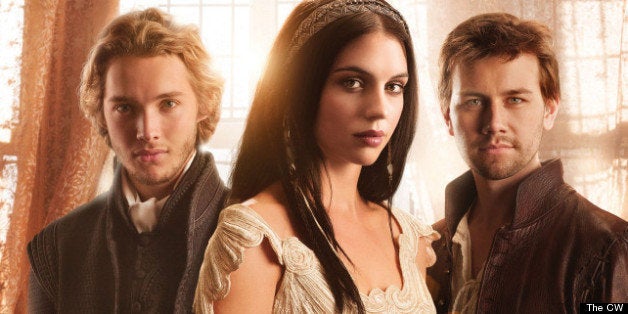 Stars Adelaide Kane, Toby Regbo, Torrance Coombs and Megan Follows, and executive producer Laurie McCarthy were at the Television Critics Association Summer 2013 press tour to preview the new series and to clear up exactly how much of it will be historically accurate.
On the topic of Prince Francis, who took the throne in France at the age of 15, a year after marrying Mary, Queen of Scots, only to die a year later, Regbo joked: "Our show is like '24' -- every episode is an hour, so I'm going to live until Season 6."
"We won't shy away from that," McCarthy said of Regbo's character's inevitable death. "We'll actually embrace it at a certain point in the series."
But how much of the show will rely on historical accuracy? "In each episode, we'll educate people on what element of history helps our story. There's a certain amount of latitude in terms of dramatizing events," McCarthy said.
"It's not the History Channel," chimed in Kane, an Australian actress who plays Mary, Queen of Scots and is half-Scottish herself. (Fun fact: Saying "the Tartan on my mother's side" in her audition was what won her the role -- they didn't audition anyone else for the part.)
"I, for one, am thankful for a certain amount of creative license, because historically I don't exist," Torrance Coombs, who plays Bash, Francis' half-brother who has an immediate flirtation with and connection to Mary.
Another element that has been TV-ized: Nostradamus, who has been repeatedly described as "hunky," which is not what most people think of when they think of the figure. But he was an advisor to Queen Catherine, who's played by Megan Follows in "Reign."
Follows, who is best known for playing Anne of Green Gables, says that the role that made her famous also gave her an appetite for "fabulously strong female characters that are driving a story," which are rare. She says "Reign" is one of them.
When Kane chimed in and laughed that Catherine is a bitch, Follows defended her onscreen alter-ego: "I don't think she's a bitch -- I think she's fabulous."
The modern touch that CW viewers will respond to most is no doubt the music -- like every other series in the network's lineup, the soundtrack will be chock-full of current hits, including an original song from the Lumineers in the show's pilot.
Tell us: Are you excited to see The CW's "Reign"?
PHOTO GALLERY
TCA Quotables, Out Of Context
Calling all HuffPost superfans!
Sign up for membership to become a founding member and help shape HuffPost's next chapter
BEFORE YOU GO